We were recently looking through the cookbook collection and came across a tofu dish we thought looked interesting…well it turned out it was totally #fire! So good. It's spicy, in a different kind of way, as all the heat is generated from black peppercorns. This dish has stood up really well for many groups, even those who are not fans of tofu, which I find ridiculous as it takes on the flavour of whatever you are cooking and has a great texture. Anyway…even THOSE people are impressed by this dish!
Also, I know what you're going to think when making this dish; "Andy must have made a mistake with the amount of pepper he is saying to use." I didn't. It's a ton of pepper. Roll with it.
Anyway, this version is close to what we came across in the Ottolenghi cookbook, but we made a couple of adjustments to make it more approachable. Give this a go!
Enjoy.
Black pepper tofu. One of our new favourites. A MUST TRY
Print Recipe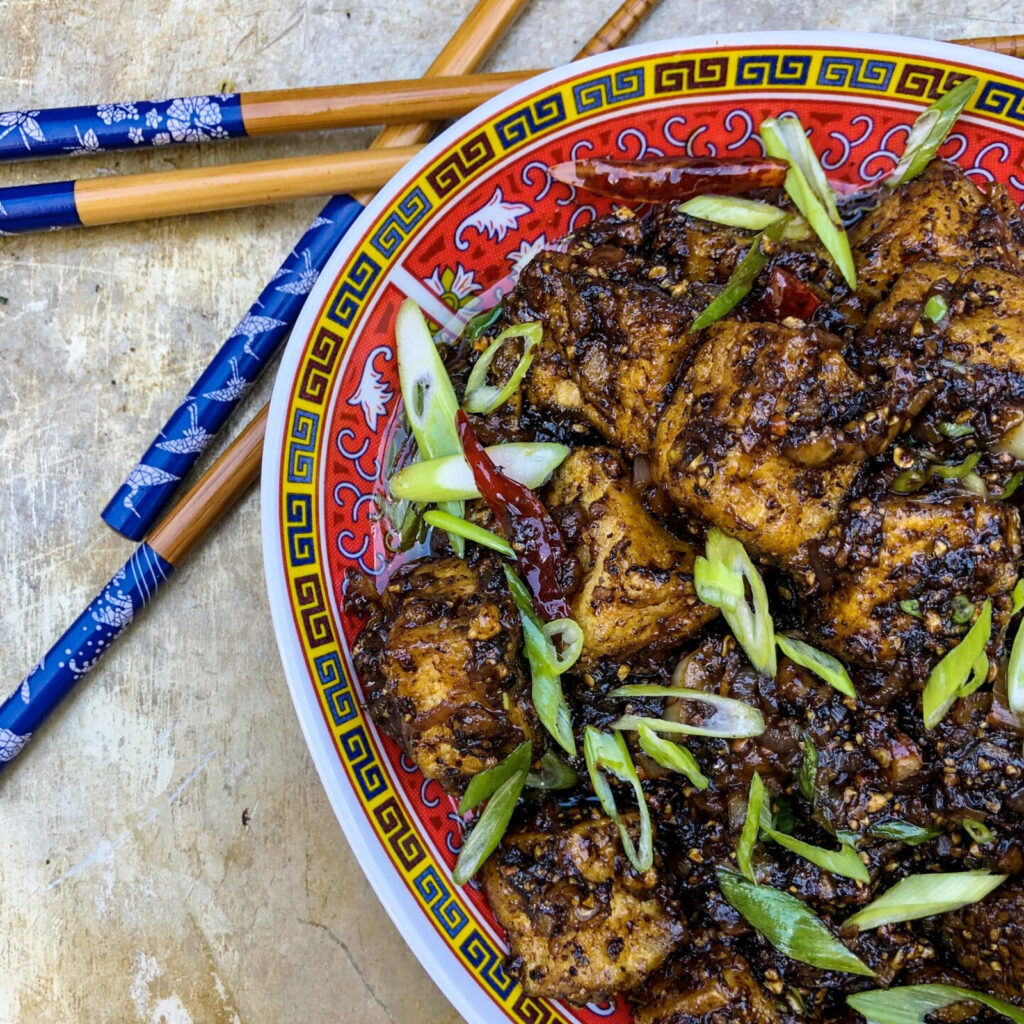 Ingredients
1

lb

firm tofu

8

large

garlic cloves

7

inch

chunck of ginger

5

large

shallots

10

stalks

green onion

3

dried thai chillies

5

tbsp

course black pepper (not fine pepper)

2

tbsp

Szechwan pepper

10

tbsp

melted butter

½

cup

cornstarch

1

lime, zested
Instructions
Remove tofu from the packaging, cut into bite sized cubes. On a baking sheet put down a few layers of paper towel. Place the tofu on the paper towel and layer a second sheet on top. This helps remove some of the liquid and keep the tofu nice and firm when fried.

In a spice grinder or a pestle and mortar, grind the peppers until they're coarse but not whole or too fine. Set aside.

Chop the garlic, ginger, shallot and green onion. If it looks like way too much garlic and ginger don't worry, it will all balance out.

In a traditional recipe you would put all of this in one pot. You can do that but here's an easier method: toss your dry cut tofu in the cornstarch. Try to get it as even as possible. In a large pot or deep fryer at 350F, fry your little tofu nuggets until crispy, about 4 min. Remove from pot and allow excess oil to drain off.

In a large frying pan or pot on medium low, add melted butter, garlic, shallot, ginger, green onion and chillies. We want to cook these bad boys down, but we don't want any colour to form. Once 10min has gone by, add in the peppers. Again, if it looks like it's a lot, you did it right. Allow that to cook down and soften all the pepper corns. After 5 min add the crunchy tofu, toss until fully coated. Serve hot with some chopped green onion, lime zest and enjoy.
Print Recipe
(Visited 1,041 times, 1 visits today)