Blueberry grunt is the most iconic East Coast dessert. Homey, approachable, and just feels like a hug for the soul! It's the perfect dessert to make all year round, but if you can get your hands on fresh Nova Scotian Blueberries in the summer, this dessert can really sing!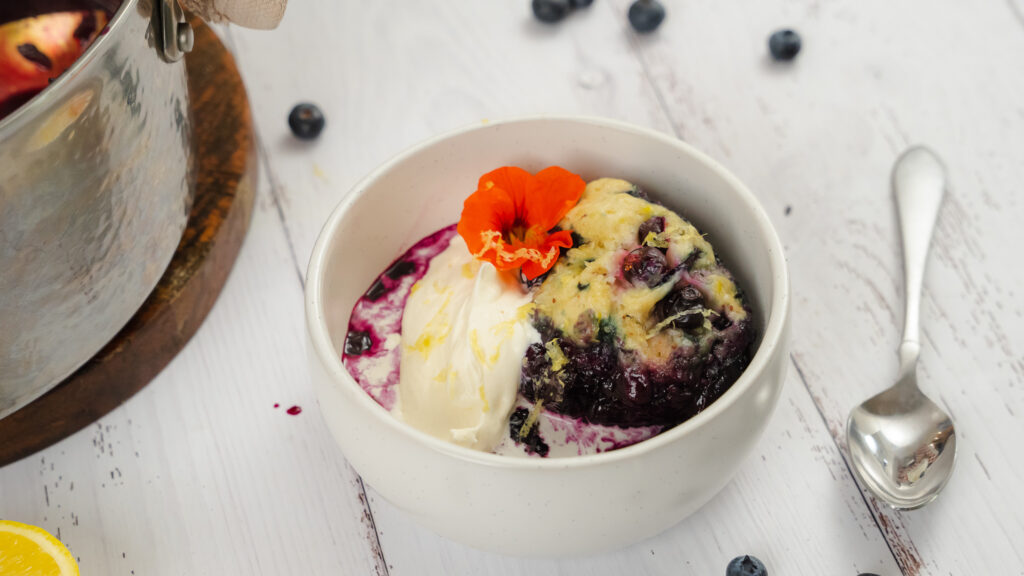 What is a blueberry grunt?
Blueberry grunt is an East Coast dessert that has been around as a staple of these parts for a long time. Essentially a grunt is a cobbler using blueberries. A blueberry sauce is made using blueberries, sugar, maple syrup, lemon juice, and water, and then a basic dumpling dough is dropped in and steamed in the blueberry sauce. A very comforting, no-fuss dessert that is full of nostalgic vibes.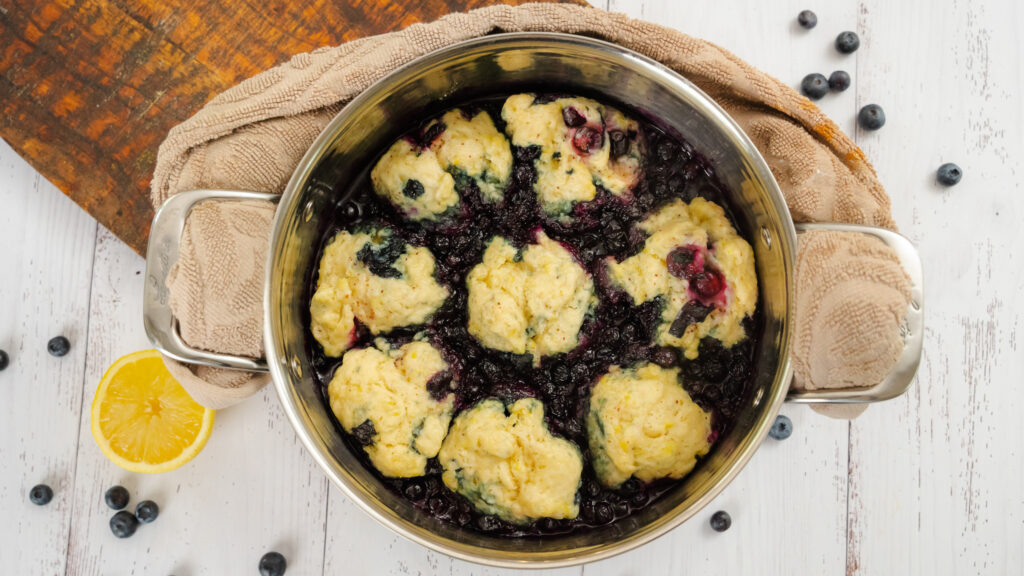 While other cobblers would be made in the oven, blueberry grunts are normally made in a large pot or dutch oven on the stovetop. The blueberry sauce in the pot where the blueberries breakdown releases its liquid and begins to reduce. After about 20 minutes of simmering uncovered, the dumpling dough is scooped into the simmering sauce, and the lid is placed on the pot or dutch oven. The steam cooks the dumplings, which results in pillow-soft, moist dumplings that are perfect!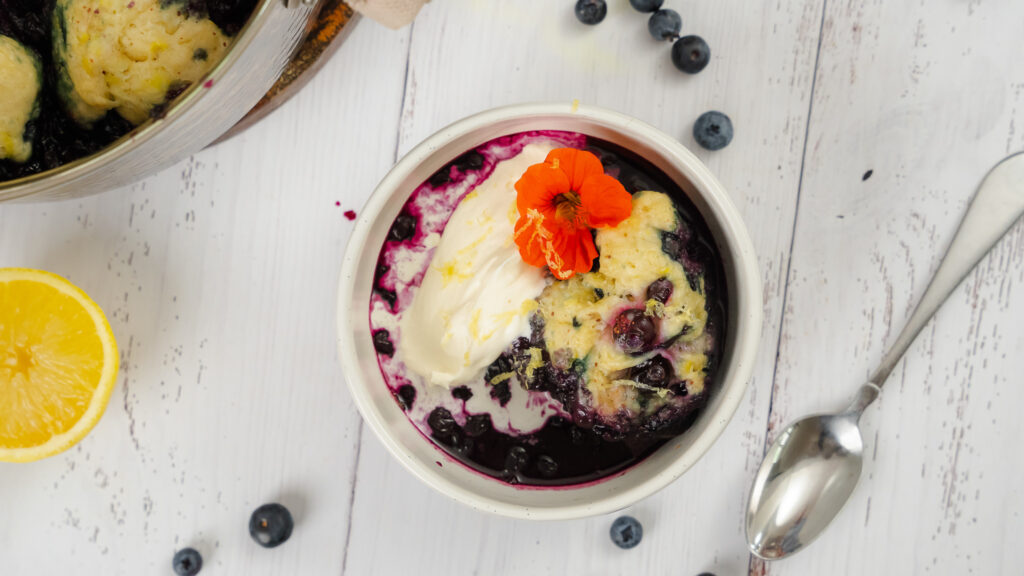 Let's chat dumplings
The dumpling dough is essentially biscuit dough. For those of you who have been following along with The East Coast Kitchen for a while, you will know my long-standing love affair with team biscuits. (Check out my homemade tea biscuits recipe here). The only difference is instead of baking the tea biscuits in the oven, the cooking happens in the blueberry sauce, and the biscuits are steamed. The result is really lovely.
One tip I would suggest for nailing the dumplings is making sure you use cold/frozen butter. I always use a cheese grater to shred my frozen butter as this keeps the butter cold and allows the butter to get well distributed throughout the dough.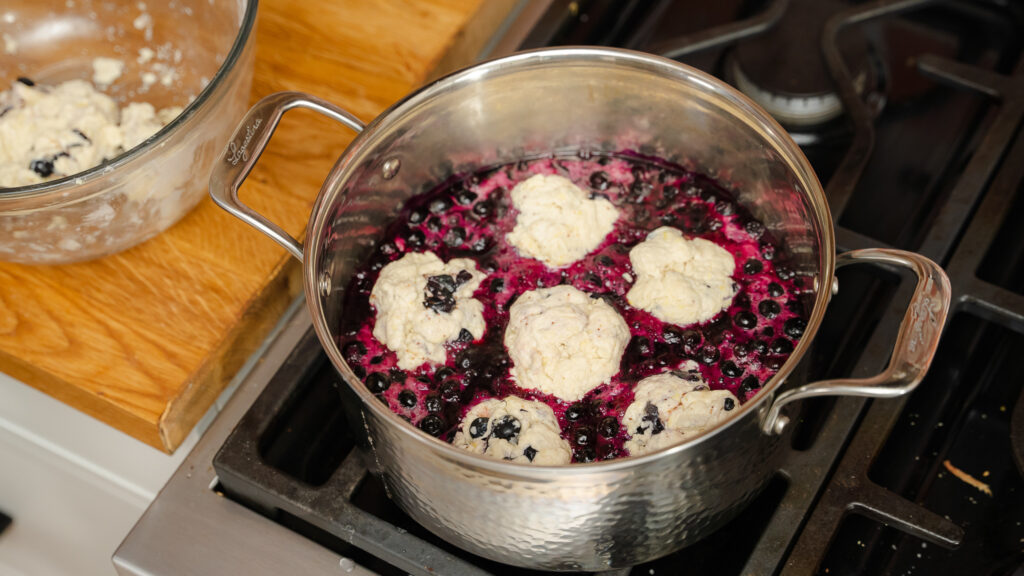 Let's Breakdown The Ingredients
There are essentially 3 parts to this dessert; the blueberry sauce, the dumplings, and the whipped cream. Let us start with the blueberry sauce.
I suggest using fresh Nova Scotian blueberries if possible. Frozen works great as well. We will also add in granulated sugar & maple syrup for sweetness. I love baking with maple syrup as it adds sweetness and depth to whatever you are baking. I also added fresh lemon juice, which helps provide freshness but also helps activate the natural pectin that is in the blueberries. This gives the sauce more body when it reduces. Finally, I toss in a bit of melted butter for flavour as well as to give the sauce a bit of roundness.
Ok, now the dumplings. For dry ingredients, you are doing to need flour, baking powder, baking soda, and salt. From there, add in frozen shredded butter and toss until the butter is coated. Lastly, pour in some whole milk, and I also tossed in blueberries as well as lemon zest just to make it my own. My the dough together, and that's it!
Last step is the whip cream. You can use whip cream or vanilla ice cream, depending on your mood!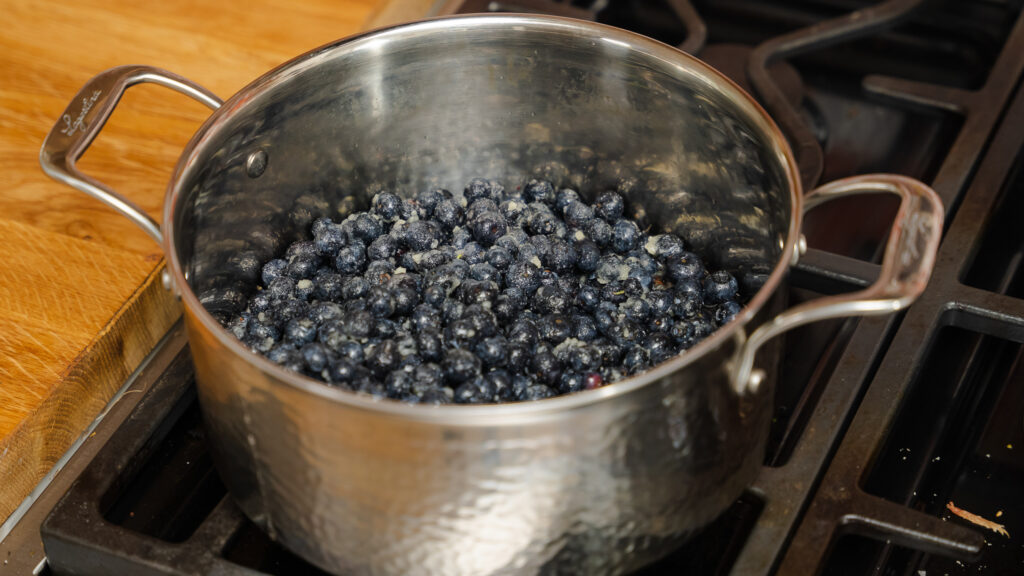 Blueberry Grunt
Print Recipe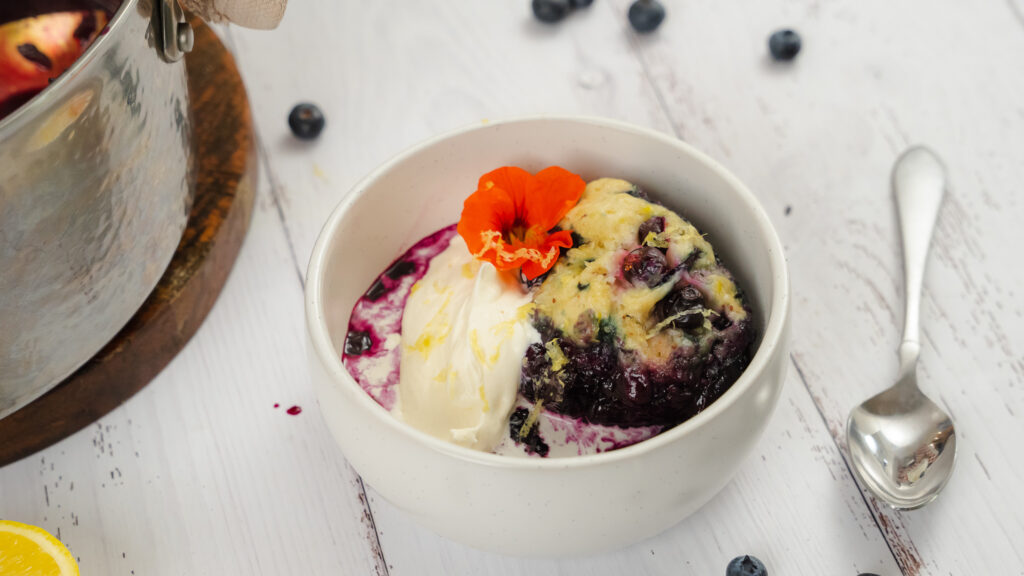 Ingredients
Blueberry Sauce
5 1/2

cups

Blueberries

1/4

cup

water

1/2

cup

sugar

1/4

cup

maple syrup

3

tbs

butter

1/2

lemon, juiced
Dumpling Dough
2

cups

flour

2

tsp

baking powder

1/2

tsp

baking soda

1/2

tsp

salt

1/3

cup

Frozen butter, shredded

1

cup

milk

1/2

cup

blueberries

1

lemon, zested
Whipped cream
1/2

cup

whipping cream

1/2

tsp

vanilla

1/2

cup

icing sugar
Instructions
In a pot mix together blueberries, water, sugar, maple syrup, butter, and lemon juice. Place pot over medium high heat and bring to a light boil. Once boil is reached, reduce heat to low and allow the blueberries to simmer for around 20 minutes.

While sauce is simmering let's kick onto the dumplings. In a bowl toss in flour, baking powder, baking soda, and salt. Whisk this all together. Now drop in shredded frozen butter and using your hands mix everything together to make sure butter is all coated with flour and distributed throughout the mixture. Now pour in the milk, blueberries, and lemon zest. Using a wooden spot mix together until a dough forms. Do not over work the dough.

Next up we are going to form dough balls with our hands. The dough balls are about 3 tbs worth of dough. Gently drop them into the blueberry sauce. Half of the dough ball should be submerged in the sauce. Once all of the dough balls are in the sauce tie a tea towel around the lid of the pot and place lid over sauce and dumplings. Allow to steam for 15 minutes. We tie the tea towel around the lid in order to absorb the steam so water doesn't accumulate.

While the dumplings are steaming whip up the whip cream. In a bowl add all of the ingredients and then using a hand or stand mixer whip the cream until they for stiff peaks.

After 15 minutes of steaming remove from heat and remove lid. Allow to cool for 10 minutes prior to serving. The blueberry sauce will thicken as it cools! Enjoy!
Print Recipe
(Visited 18,162 times, 1 visits today)