I love making pizza at home. This Boursin, Broccoli, Mushroom, White Pizza ranks up there at the best pizza I have ever made at home. Creamy, garlicky, and just overall very satisfying!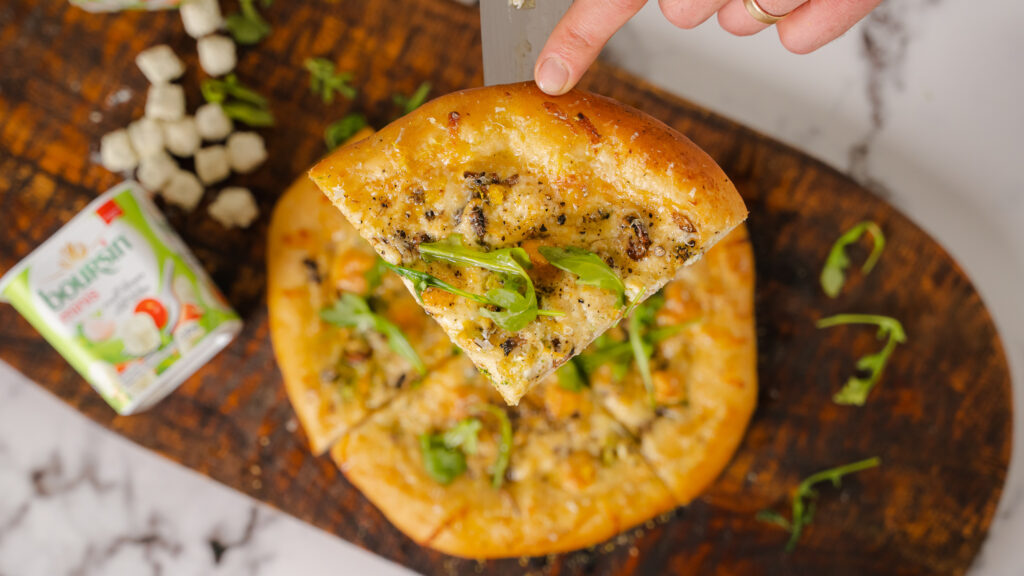 This pizza is made with a white creamy sauce called béchamel. Bechamel is a sauce that is made from butter, milk, and flour. I then seasoned the sauce with garlic, cheese, and spices. Very similar to a basic cheese sauce, but less cheese and wayyy more garlic.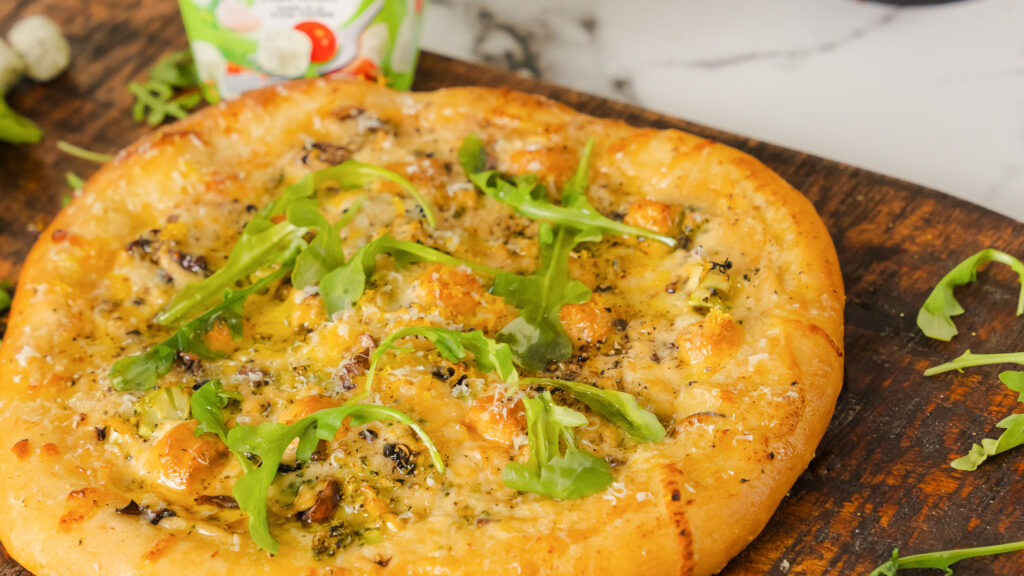 For this pizza I decided to bake it on my charcoal bbq. I had never cooked a pizza like this before but it was so fun. It added a lovely smokey flavour, but you can absolutely make this pizza in a standard oven!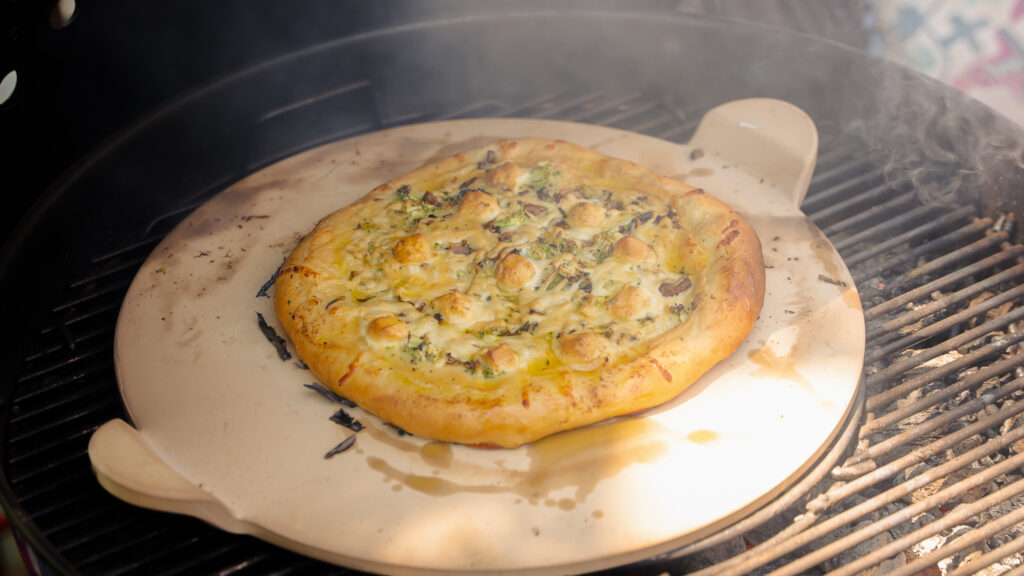 How to bake a pizza on a charcoal grill.
Here is the step by step process for baking a pizza on a charcoal grill.
Get your coals ripping hot. I have a chimney that helps get the coals white hot. Don't rush this process.
Pre-heat your pizza stone in your standard oven. I place my pizza stone in the oven and turned the temp to 500 and let it warm up for 30 mins.
Once coals are red hot, drop them into the bbq and keep them to one side. Place to grate over the coals and place the pizza stone on the grill rack over the side of the grill with no bricks.
Make sure you allow air to get into the grill to keep the coals hot. You want the temp to remain around 500F for the full cook.
Place the pizza onto the pizza stone and allow the pizza to bake and smoke for around 12-15 minutes.
Remove the lid and season with olive oil, lemon zest, and parm.
Creamy Mushroom and broccoli pizza
Print Recipe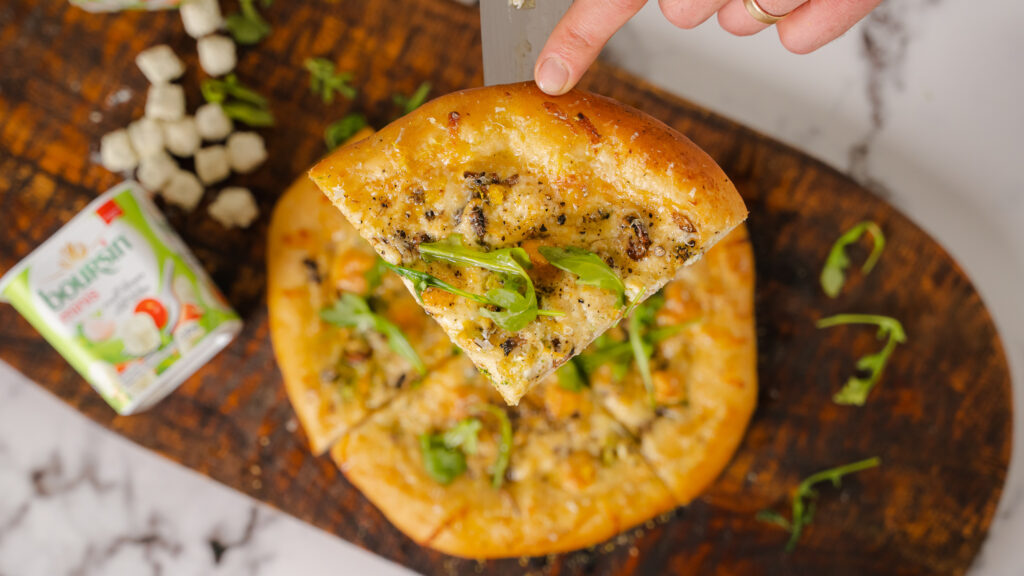 Ingredients
2

balls

pizza dough

Check my website for recipe or buy store bought frozen dough
Béchamel sauce
3

cloves

garlic, minced

2

tbs

butter

1/4

cup

flour

1

cup

whole milk

+1 tbs if to thick

1/4

cup

Parmesan, shredded

1

tsp

salt

1

tsp

garlic powder
Pizza topping
4

Mushrooms, chopped

1

cup

broccoli, chopped

2

cups

mozzarella cheese

1/2

cup

Boursin Cheese
Pizza Finishing
1

tbs

olive oil

1

tbs

fresh lemon zest

1

tbs

Parmesan

1/2

cup

arugula
Instructions
Let's start with the sauce. In a small pot placed over medium heat add in the garlic and butter. Allow to melt and bubble. Once melted add in the flour and stir. Allow the flour to "cook out" for about 1 minute. Next pour in the milk and stir until smooth. Continue to stir and you will notice sauce begins to thicken very quickly. Add in parm, salt, garlic powder. The long you cook the thicker it will get. Add in a tbs of milk to thin out sauce if needed. Set sauce to the side.

Preheat the charcoal grill or the oven to 500F. I like to place a pizza stone in the oven to get hot as this results in a crispy bottom pizza.

Grab your pizza dough and form to 12 inch pizzas. Top with béchamel sauce, chopped broccoli, and chopped mushrooms. Add on cheese, and boursin. I like to build my pizzas on parchment lined cutting board paper topped with a bit of cornmeal. This allows you to build the pizza and then easily slide it onto the pizza stone when the time comes.

Once bbq or oven is at temp, slide the pizza onto the pizza stone allow the pizza to bake for 10-15 minutes.

Once pizza is done cooking, remove from heat and top with fresh lemon zest, arugula, parm, and olive oil. Enjoy!
Print Recipe
(Visited 6,167 times, 1 visits today)