Here is a little spin on a classic broccoli salad! I have lots of memories of eating broccoli salads at bbq's and potlucks growing up. I feel like it's a staple dish for group dinners and one that I really love. I didn't want to mess around too much with a classic so we made a couple small changes, but this Broccoli Salad will still have some of the notes you love from the original.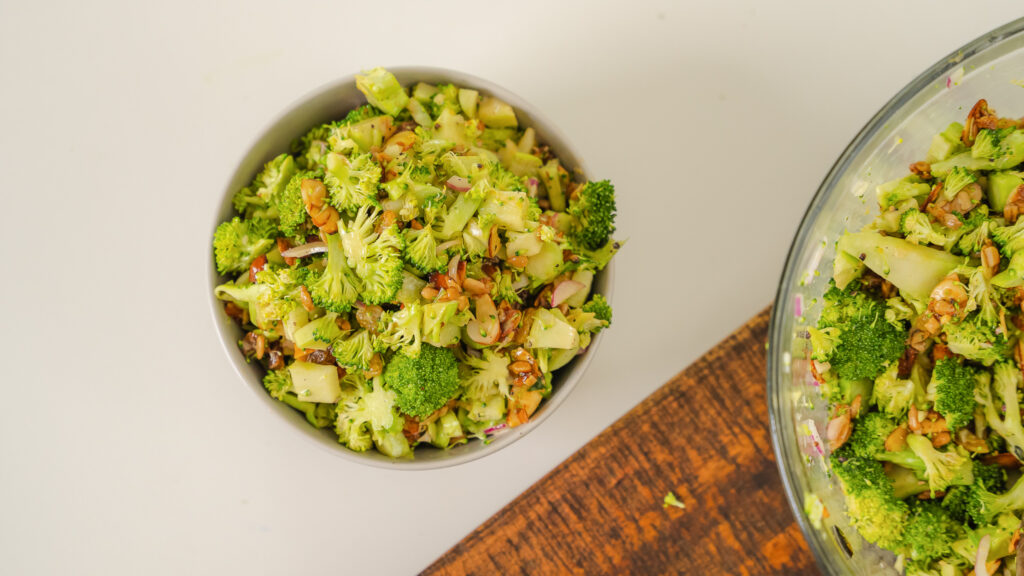 Sweet and salty nut granola
The texture and flavour that is added by this nut granola is a game changer. Nothing overly complicated, but this small addition to this salad really brings everything together. In a pan I toasted some slivered almonds and sun flower seeds. Once they were golden brown I added a small amount of soy sauce, maple syrup, and smoked paprika. This combination is amazing as it provides sweetness, saltiness, umami, as well as some smokey depth from the paprika. You can pour all of the nut granola onto the salad or just munch on it as a snack!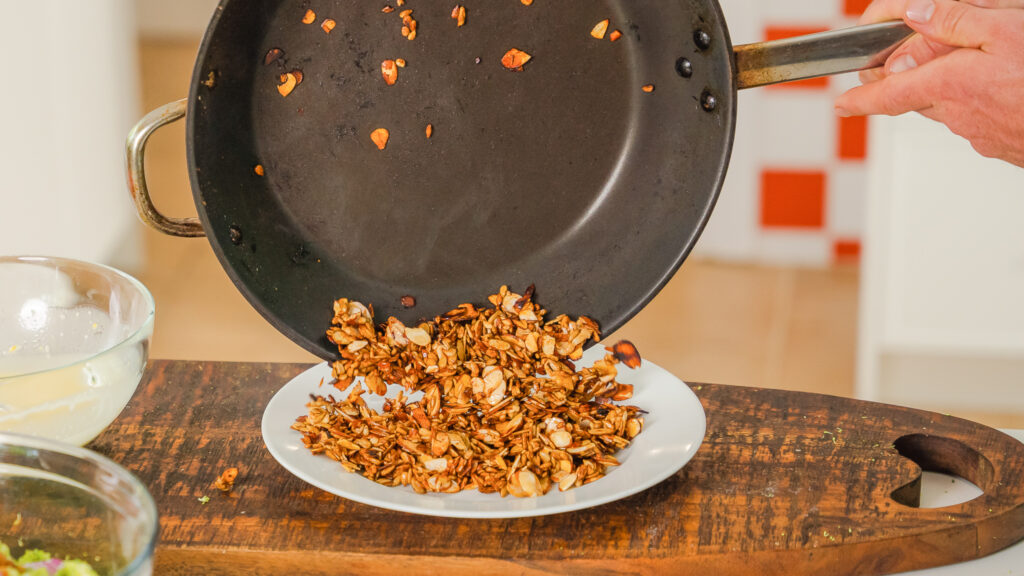 Let's breakdown the ingredients!
Obviously broccoli is the backbone of this entire dish. I love broccoli and it is truly a super food! Great texture, tons of nutrients, and keeps you full!
The dressing for this salad is really simple but plays well with the rest of the ingredients. The dressing is made up of olive oil, mayo, red wine vinegar, maple syrup, lemon zest, and lemon juice. A fun balance of richness and zip.
The nut granola, which is talked about above, really brings this dish together. Crunchy, savoury, with a hint of sweetness. The texture also compliments the rest of the salad perfectly!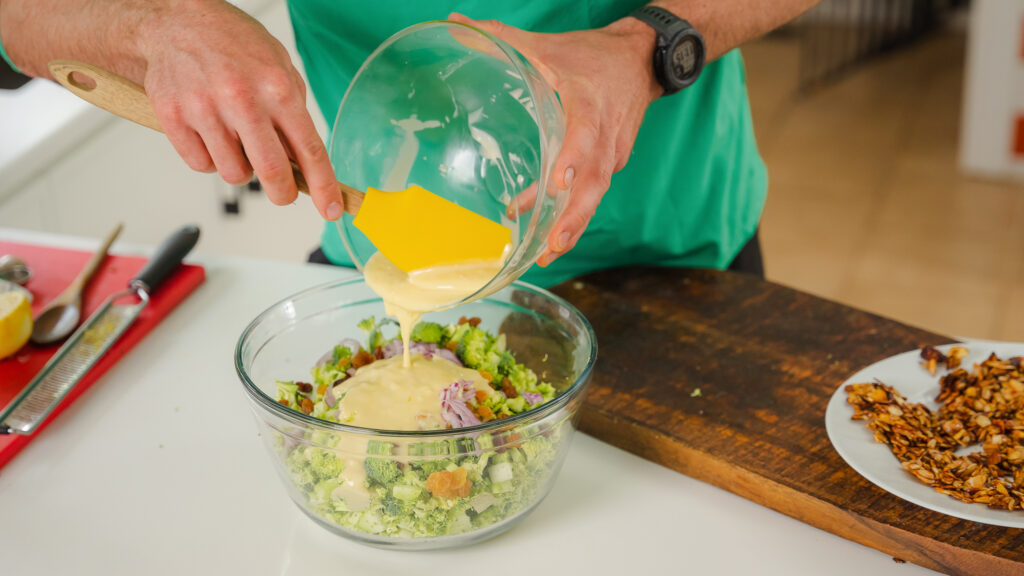 Enjoy this salad as an amazing meal prep option or this is a really great dish to bring to a potluck or family bbq! Enjoy!
Broccoli salad with sweet and salty nut granola
Print Recipe
Ingredients
5

cups

Broccoli florets and stems, chopped small.

About 4 broccoli

1/3

cup

red onions, thinly sliced

1/3

cup

raisins
Dressing
3

tbs

olive oil

4

tbs

mayo

1 1/2

tbs

red wine vinegar

1

tbs

maple syrup

1

clove

garlic, minced

1

tsp

fresh black pepper

1

small

Lemon, Juice + Zest
Savoury Nut Granola
1/2

cup

slivered almonds, toasted

1/2

cup

sunflower seeds

1

tsp

maple syrup

honey works too

1

tbs

soy sauce

low sodium

1/2

tsp

smoked paprika
Instructions
Let's start with the dressing. In a bowl, mix together olive oil, mayo, red win vinegar, maple syrup, garlic, and black pepper. Set off to the side.

Now onto the granola. Place a non stick pan over medium high heat. Once pan has reach temperature drop in the sun flower seeds and slivered almonds. Allow them to toast for about 3 minutes. Shake them often to avoid burning. After 2-3 mins pour in the maple syrup, soy sauce, and paprika. Stir and toss to make sure the nuts and seeds get properly coated. Remove from pan and let cool on a plate. Give this time to cool as it gets crispier the longer it sits.

In a large bowl toss in the well chopped broccoli, red onions, and raises. Pour over the dressing and toss using spoons or tongs. Sprinkle on the nut granola. Serve and enjoy!
Print Recipe
(Visited 17,901 times, 1 visits today)