The recipe is absolutely NUTS. It's chewy, chocolatey, salty, and of course, nutty! My wife, Jess, would always order a blondie when we are at a cafe, and now I 100% understand why!
You're going to want to stop what you are doing and make them. This recipe is extremely easy, no equipment is needed, and it comes together in under 10 minutes. Pop them in the oven for 30 minutes, and you are off the races!
These blondies will always be in my memory, Brown Butter Pecan Chocolate Blondes; lock this one in your memory bank!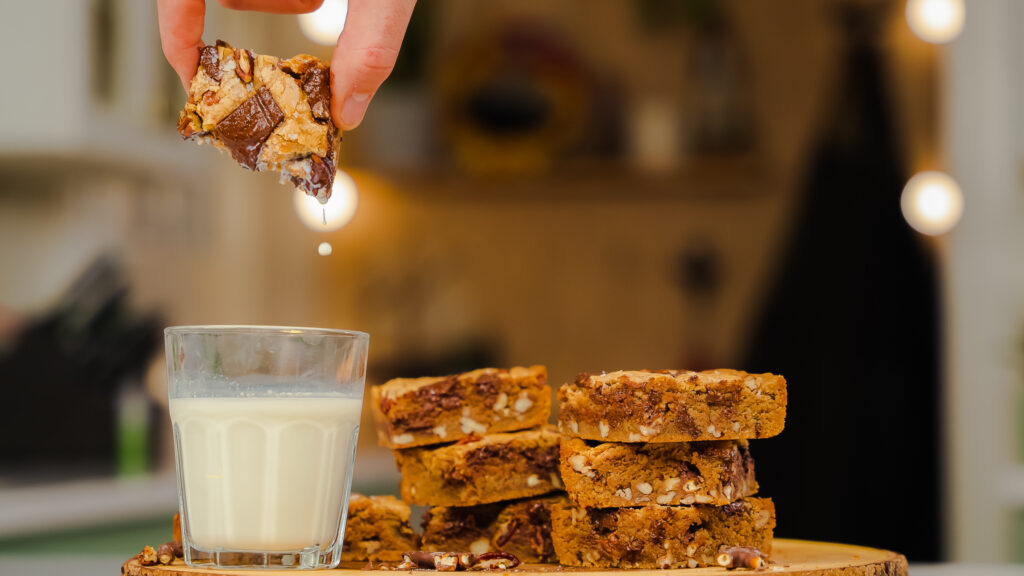 Let's Breakdown the Ingredients!
This blondie recipe is packed with flavours that make this brownie irresistible! Here are a few ingredients that bring it all together:
Browned butter is the main ingredient of this dessert. Browned butter adds a deeper nutty and caramelized flavour to any recipe.
For the perfect brownie consistency, using both brown sugar and white sugar should give this brownie the perfect structure, not too fudge and not too chewy!
To add some texture and additional flavours, chopped chocolate and pecans are used. The chopped chocolate gives this blondie that sweet and chocolatey taste everyone loves and adds a nutty and woody flavour with the pecans.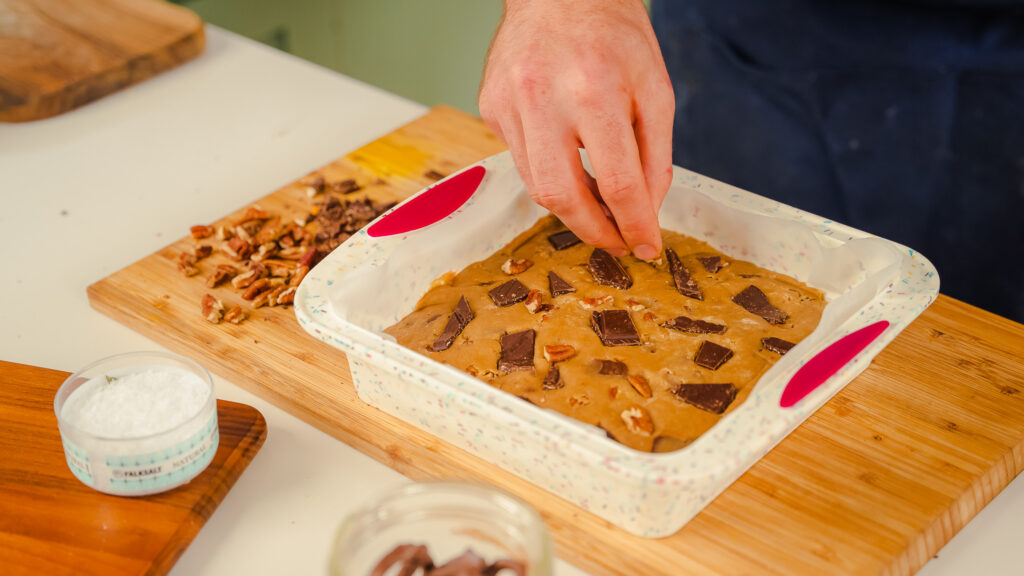 Brown Butter Pecan Chocolate Blondies
Print Recipe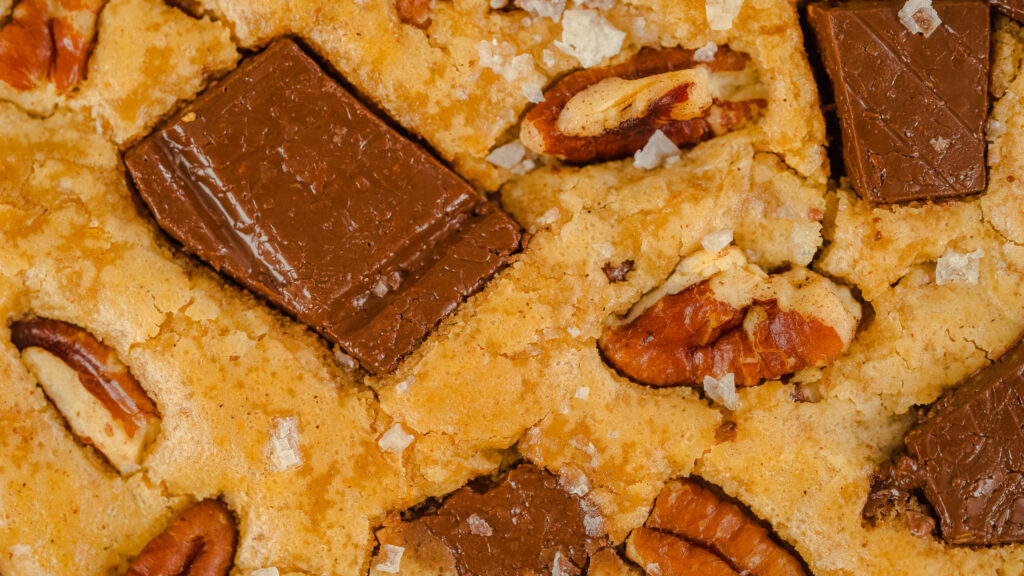 Ingredients
3/4

cup

browned butter

1

cup

brown sugar

1/4

cup

white sugar

1

egg

½

tsp

cinnamon

3/4

tsp

baking powder

1 1/4

cup

flour

1

cup

chopped chocolate (really what ever you have…chips are more than fine too)

Save some to push into top of mixture before baking

¾

cup

chopped pecans

1

tsp

sea salt to finish with
Instructions
Preheat the oven to 350 and put parchment paper inside an 8X8 square pan. Spray with cooking spray.

Browned butter is a secret to a happy life. It's dead easy and delicious. All you need to do is put a 3/4 cup of butter in a small saucepan over medium heat. Allow the butter to melt and bubble away until it turns amber and has a nutty aroma. Once that happens take off the heat and let cool for 5 mins.

In a mixing bowl add butter and brown and white sugar. Stir with a spoon or a the mixer until combined. Next crack in the egg and stir until well incorporated.

Now dry ingredients: add in the flour, baking powder and cinnamon. Be careful not to overwork the dough here. Just mix until everything is incorporated.

Next up, fold in the chocolate and pecans. Save a couple tbsp of each to stick on the top once the dough is in the pan.

Spoon the dough mixture into the pan and pat down flat. Press the left-over chocolate and pecans onto the top of the blondie.

Bake for 28-30 mins. Remove from the oven and let cool in pan for 10 minutes. After that remove from pan and again let cool for another 10 mins. Cut them up, get a cup of coffee, and go to town!!! These are SO GOOD!
Print Recipe
(Visited 15,268 times, 1 visits today)