I love these buttery pull-apart dinner rolls. So many of my evening meal memories include these pillowy soft buns. They're perfect for sopping up soup, tomato sauce, or for making a snack-sized sandwich. This is an easy recipe to follow. The only slightly "advanced" aspect is forming each bun into a small ball. Nothing we can't handle though, right? Give these a try and hopefully they bring you some great dinner memories too!
Buttery pull-apart Dinner Rolls
Print Recipe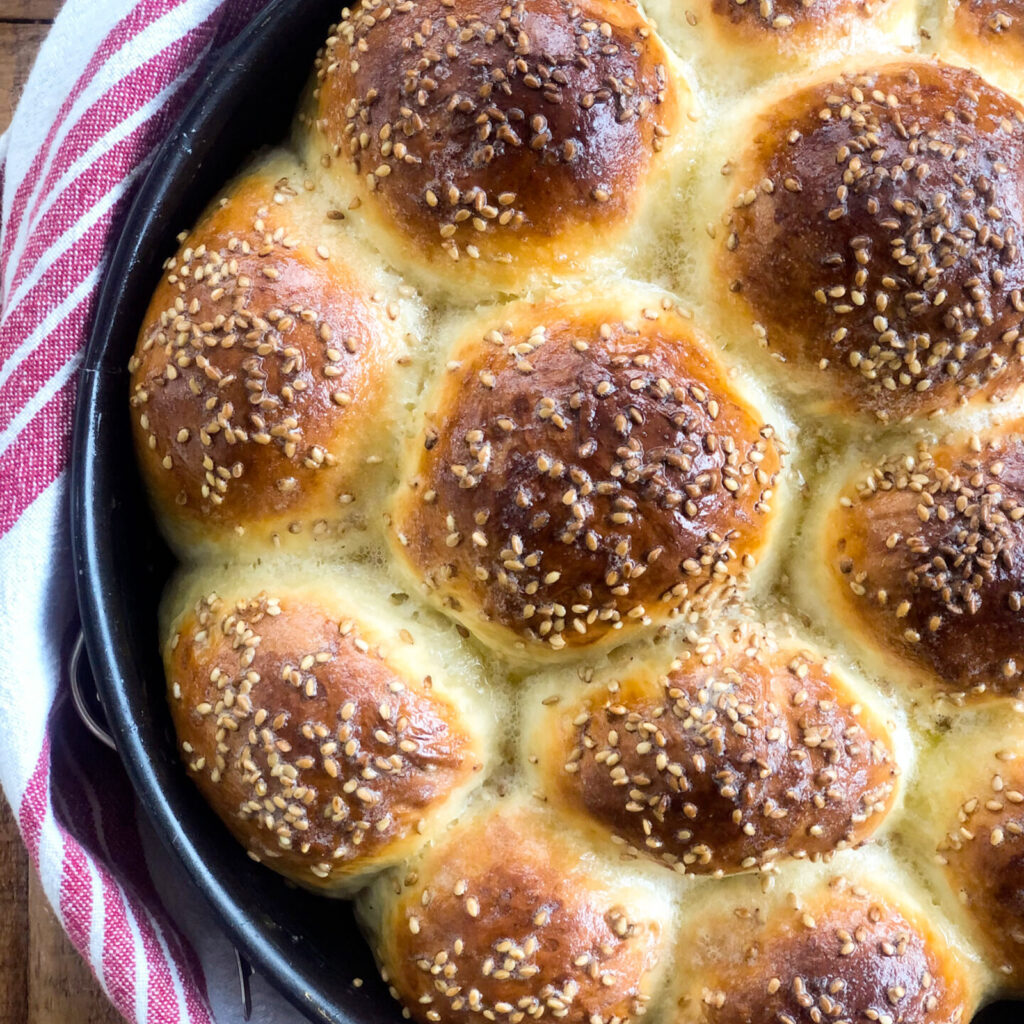 Ingredients
2

tsp

active dry yeast

1

tbsp

honey

1

cup

plus 5 tbsp warm water (not too hot)

3

cups

AP flour

2

tbsp

olive oil

1

tsp

salt

1

egg, beaten in a small bowl

2

tbsp

melted butter for final brushing
Instructions
Okay, let's do this. First, in the bowl of a stand mixer (or just a regular bowl if you don't have a mixer), combine water, yeast and honey. Let the yeast wake up and start to bubble. Usually around 5-10 minutes.

Once yeast is awake, attach bowl to mixer affixed with dough hook. Turn on low speed and slowly incorporate flour, oil, and salt. This can all be done by hand if you don't have a mixer. As dough begins to come together, turn up the speed to medium high and let the mixer do its thing kneading away for 8-10 mins or until dough is nice and smooth.

Form into a ball and place in a lightly oiled bowl and cover. Find a nice cozy spot for it to relax and double in size, around an hour or so. I like putting mine in an oven that is turned off.

Have a coffee and take a deep breath…you earned it.

Using butter or cooking spray, grease a 9 inch springform pan. Also, while you're at it, preheat the oven to 380.

After dough has doubled in size, punch down and turn onto surface. Divide dough into 10-12 pieces. Form each piece into a nice round ball.

Place the dough balls in the pan and then cover and let rise for a second time for at least 20 minutes. This is the magic rise. The balls should now fill the pan.

Once the second rise is done, crack an egg into a bowl, scramble it up, and brush the top of the buns with the egg mixture. If you have sesame seeds sprinkle them on top. Place pan in preheated oven for 20 minutes. Remove the pan from the oven, crank the heat to 450, brush the tops of the buns with melted butter and place pan back in oven for 5 minutes. Keep an eye on them… wouldn't want your hard work to be for nothing!

Once perfectly golden, remove from oven and again brush with melted butter. Let cool, and then sneak one before anyone else noticed they are done…You deserve it, chef!
Print Recipe
(Visited 3,639 times, 1 visits today)