Pizza night is a big night in our household. I mean who doesn't love pizza! The ultimate vessel for any ingredient and I just can't get enough of it. Basically every Friday night since I can remember has been marked by a pizza feast. While not every week we make our "Za" from scratch, when I get hit with the craving, this is my go to pizza dough recipe. The best part of pizza is that you can take it in so many different directions!
The Meatball Pizza is a classic for a reason. It hits so many notes for me. The juicy Canadian Beef Meatballs give this pizza some serious nostalgia points. I grew up LOVING meatball pizza and that love affair has not diminished. What's not to like? Cheese, Canadian Beef, and sauce. Simple but ohh so satisfying.
Canada Beef Meatball Pizza
Print Recipe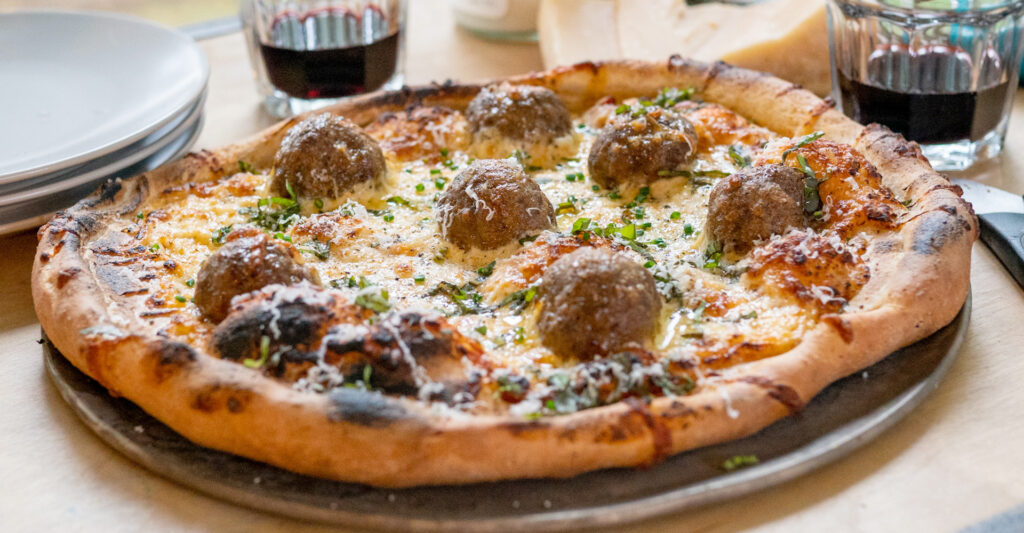 Ingredients
PIZZA DOUGH
2

tsp

active dry yeast

1

tbsp

honey

1

cup

plus 5 tbsps luke warm water

2½

cups

all-purpose flour

½

cup

whole wheat flour

2

tbsp

olive oil

1

tsp

salt
PIZZA SAUCE
1

tbsp

olive oil

½

onion diced

1

clove

garlic

1½

cups

crushed tomatoes

1

tbsp

tomato paste

2

tbsp

shredded Parmesan cheese

½

tsp

salt

1

tsp

smoked paprika
CANADIAN BEEF MEATBALLS
1

lb

(500g) best-quality Lean Ground Beef

1

large free-range egg

½

cup

panko bread crumbs

¼

cup

grated Parmesan cheese

1

tsp

Smoked paprika

½

tsp

garlic powder

½

tsp

red pepper flakes

¼

tsp

onion powder

½

tsp

sea salt

¼

tsp

freshly cracked black pepper
Instructions
Preheat the oven to 450 and place the pizza stone on the bottom rack.

Let's start with the dough. In a large bowl add in the honey, yeast, and lukewarm water. Give the mixture a stir and set off to the side for 10 minutes. You want this mixture to start to bubble. This shows that the yeast is waking up.

Once the mixture is bubbling (about 10 mins), add in the flours, olive oil and salt. Using a wooden spoon or your hands, mix the dough together until it forms a shaggy mass and then pour onto the counter. Now comes the hard work. Begin kneading the dough for around 10 minutes. The goal is to be able to form a smooth dough ball. Don't rush the process! Once the dough is smooth, place in a lightly oiled bowl and let rest on the counter until the dough has doubled in size. This usually takes around 60-90 minutes.

While the dough is rising, let's kick on with the meatballs. In a bowl add in all of the ingredients for the meatballs. Using clean hands, work the mixture until all ingredients are incorporated. From there, form the meatballs. The goal is to make them about the size of a golf ball. You should be able to make around 15 meatballs. Place them on a parchment lined baking sheet and place in the preheated oven for 12 minutes. Once cooked, remove and leave off to the side until we begin to work the pizza.

Now it's sauce time. In a sauce pan set over medium heat, add in the oil, onions and garlic, stirring constantly until onions are translucent. Next up add in the tomato paste as well as the crushed tomato. Let the sauce begin to slightly bubble before adding in the cheese and spices. Once everything is added in, reduce heat to low and you are all set.

While we still have some time before the dough is ready, increase the oven temperature to 550.

Once the dough has doubled in size, punch down the dough and transfer to a lightly floured surface. Divide the dough into two equal portions and shape into individual balls of dough.

Working one at a time, roll out the dough with a rolling pin into two 12 inch circles.

Now it's time to build your pizzas! Reminder to build your pizzas on parchment paper. Makes life a lot easier.

For the meatball pizza begin with a thin layer of sauce, followed by the meatballs, and the mozzarella cheese. Next up slide the pizza (which is on parchment paper) onto a large cutting board or an upside down baking sheet. Next slide the pizza onto the preheated pizza stone. From here you can close the door of the oven for 1 minute. After 1 minute you can reach into the oven and quickly pull the parchment paper out and close the door. Allow the pizza to cook for an additional 8 minutes.
Andy's Notes
Couple tips for nailing the pizza dough:
Really work the dough in the initial knead. Ideally you want the dough to be smooth as an egg. Perfect time to get a little workout in before the pizza feast!
Let the dough fully rest and double in size. About 60-90 minutes.
Use a pizza stone and allow it to get very very hot in the oven. Traditional pizza ovens can heat up to more than 900 degrees and cook pizzas in 60 seconds. Standard stoves don't get much hotter than 550 degrees so allow your pizza stone to hang out in the hot oven to absorb as much heat as possible before cooking. 
Build your pizza on parchment paper. This makes the transfer from counter to stove that much easier. 
Don't be afraid to burn your pizza a bit. A little bit of char adds to the flavour!
Print Recipe
(Visited 4,728 times, 1 visits today)