My wife and I spent 6 months in Southeast Asia a couple of years ago and it totally changed my food life. I came home with cravings for foods and flavours I had never tasted before. It really was why I started taking cooking more seriously. Where I come from, at least at that time, we had very few options when it came to unique international restaurant options. I had to find a way to cure my own cravings.
Cashew chicken, while not an overly adventurous Thai dish, really is super delicious. It is very easy to throw together and can be a great weeknight meal in a hurry. Fresh, with a ton of flavour – my kind of meal!
Cashew Chicken stir-fry. Cure those takeout cravings with this easy weeknight meal!
Print Recipe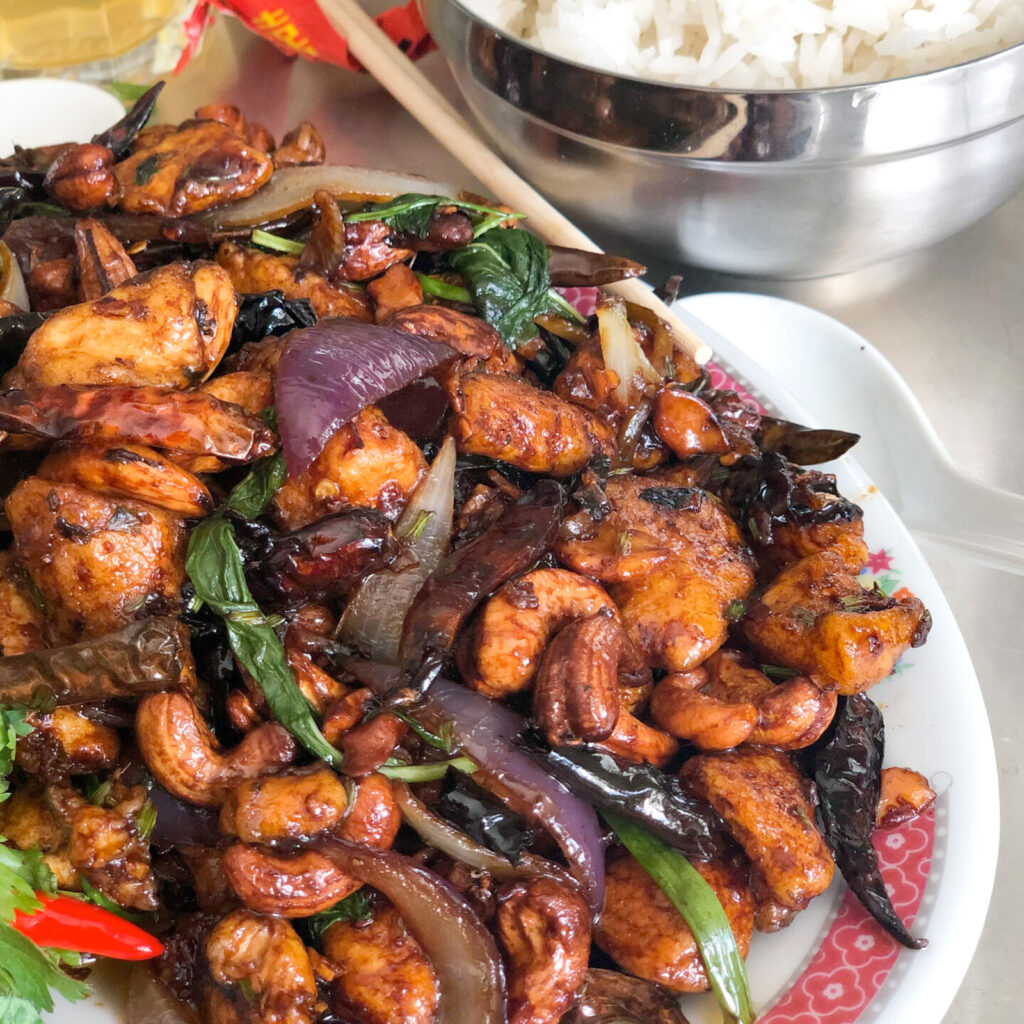 Ingredients
2

chicken breasts cut into bite-sized chunks

3

tbsp

corn starch

½

cup

cashews

¼

cup

dried chiles

¼

cup

canola oil

5

cloves

garlic, minced

1

inch

ginger, minced

¼

cup

chopped, cilantro

½

cup

thickly slice portobello mushrooms

½

cup

julienned broccoli stems

½

cup

thinly sliced red pepper

½

white onion sliced into wedges

½

red onion sliced into wedges

½

cup

fresh basil leaves

¼

cup

sliced green onions
Sauce
1

tbsp

light soy sauce

1

tbsp

dark soy sauce

1

tbsp

oyster sauce

½

tsp

sugar

1

tsp

rice wine vinegar
Instructions
Get the sauce out of the way first. Mix the light soy, dark soy, rice wine vinegar, oyster sauce and sugar in a bowl and let sit until it's go time.

Mix chicken and cornstarch together.

Pour canola oil into wok and turn heat to medium high. Once to temp, add in the cashews first. Just toast them up, they will burn quickly. Remove and place on paper towel. Next, dried chiles. Same thing, they burn quickly. 30 seconds and out onto the paper towel. Then add the chicken and let cook, stirring constantly for about 5 minutes until it's totally browned. Remove and place on paper towel to drain.

In the same oil add the garlic, ginger, and cilantro. Keep stirring as they can burn quickly. After about 15 seconds add in the rest of the vegetables. Keep them moving as much as possible. Next add the cashews, chiles, and chicken, followed by the sauce. Keep the mixture moving. Sauce should be bubbling away. Keep heat high.

After about 3 minutes of stir-frying add in the fresh herbs. Toss and remove from heat.
Print Recipe
(Visited 8,035 times, 1 visits today)