I'm a real sucker for easy, healthy, delicious weeknight meals. Something that you can get on the table quickly, without sacrificing flavour. This is one of those meals you are going to want to add to the rotation. And best of all it's 100% kid- and picky-eater friendly!
Chicken schnitzel is not difficult whatsoever. The most complicated part is slicing the chicken breast in half horizontally and then pounding the meat to make it thinner. This step makes the meat more tender, and reduces cooking time. Overall win-win!
Another reason I love this dish is it's so incredibly versatile. You can really add any topping you have on hand. Want to make crispy chicken Caesar salad? Easy. Chicken Parmesan? Boom, done. This dish can easily be taken in so many directions which is what I really love about it. Even with regards to equipment needed there are very few barriers. All you really need is a pan and heat! If you wanted to add melted cheese, you could broil in the oven, or even just throw a lid on the pan to allow the cheese to melt. Easy peasy!
Chicken Schnitzel with Fresh Mozzarella, Cherry Tomatoes and Pesto
Print Recipe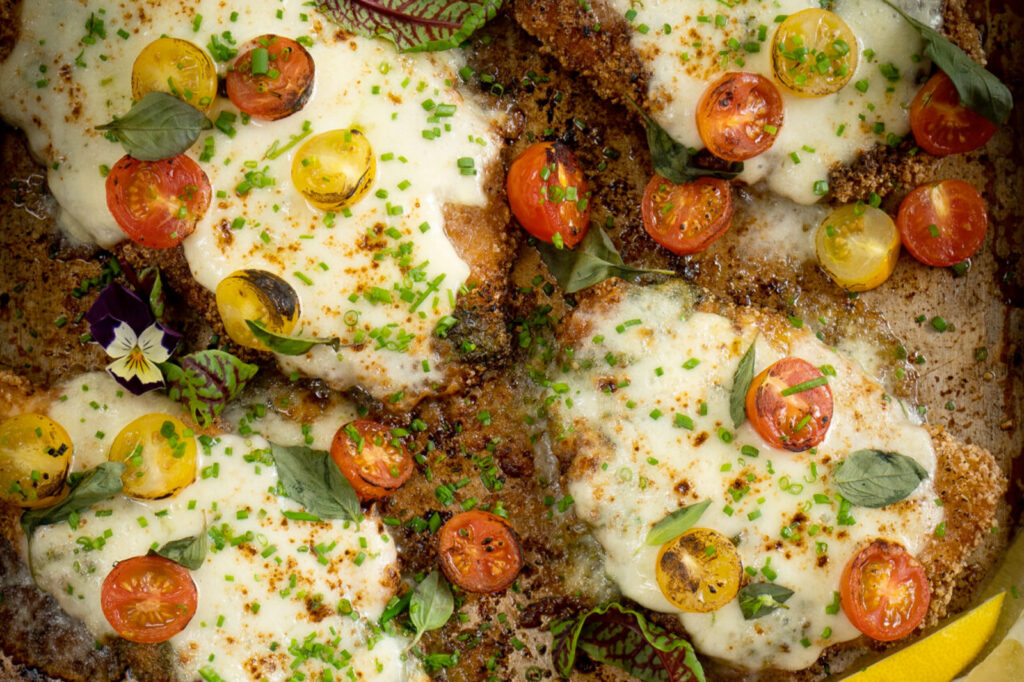 Ingredients
4

chicken breasts, halved horizontally

2

cups

panko breadcrumbs

½

cup

flour

2

eggs

¼

cup

milk

2

tsp

salt

1

tsp

pepper

Vegetable oil for shallow frying
Toppings
20

cherry tomatoes, halved

2

cups

fresh mozzarella, pulled into pieces

½

cup

homemade or store bought pesto

1

cup

basil leaves
Instructions
Here we go! Firstly, let's get totally set up. Get out three large bowls. In bowl one, place the flour and season with salt and pepper. Next up in bowl two, crack the 2 eggs and add in the milk. Give this a stir. Lastly, in bowl three add in the panko crumbs and season with salt and pepper. Set all three bowls to the side.

Next up we are going to flatten out the halved chicken breasts. Don't get intimidated by this. We want to make them about 5mm thick. So, what you are going to do is slice the breasts in half horizontally. After doing this you will have 2 similar sized halves. Next, lay one piece on a cutting board, cover with a piece of plastic wrap, and then flatten the breast with a meat mallet or rolling pin.

Once all of the chicken is pounded thin, let's kick on with the crumb. Firstly, drop the breast into the bowl of flour and make sure chicken is fully covered. Next up, the egg mixture. Again, make sure breast is fully covered by the egg mixture. Finally, into the panko crumbs. You can give the crumbs a bit of a pat to ensure they stick to the chicken.

Now, place a pan with about a 1 cm of oil onto the stove over medium high heat. Once oil is hot but not smoking, slowly place the chicken into the oil. Let fry until golden brown, (about 3 minutes) then flip and fry the other side. Once golden on both sides, remove from pan and let drain on a piece of paper towel or a wire rack. Continue until all pieces are cooked. Place on a sheet pan.

Next up, get the oven ripping hot. Set to 500. While oven is heating, dress the chicken with the pesto, then the mozzarella, and then the cherry tomatoes. Once oven is to temp, slide tray in oven and let cook for 8 minutes or until cheese is melted. I finished the cooking by turning the broiler on high to brown the cheese and tomatoes slightly.

If you don't have access to an oven, simply place dressed chicken back into the pan over medium heat and place a lid on the pan. Let the locked-in heat melt the cheese and BOOM! Done!
Print Recipe
(Visited 4,553 times, 3 visits today)