Enjoy the Most Delicious Breakfast without Skipping on Protein – Chocolate Peanut Butter Overnight Oats. Have you ever wanted to start your day off with a delicious and nutritious breakfast that would give you energy throughout the morning? If so, chocolate peanut butter banana overnight oats is the perfect recipe for you! This creamy overnight oat mix is packed with protein and complex carbohydrates to keep you full and fueled up all morning long. The best part is that it's so easy to make – just mix the ingredients together the night before and let it sit in the fridge overnight. When you wake up, you'll have a ready-made breakfast that is sure to get your day started off on the right foot.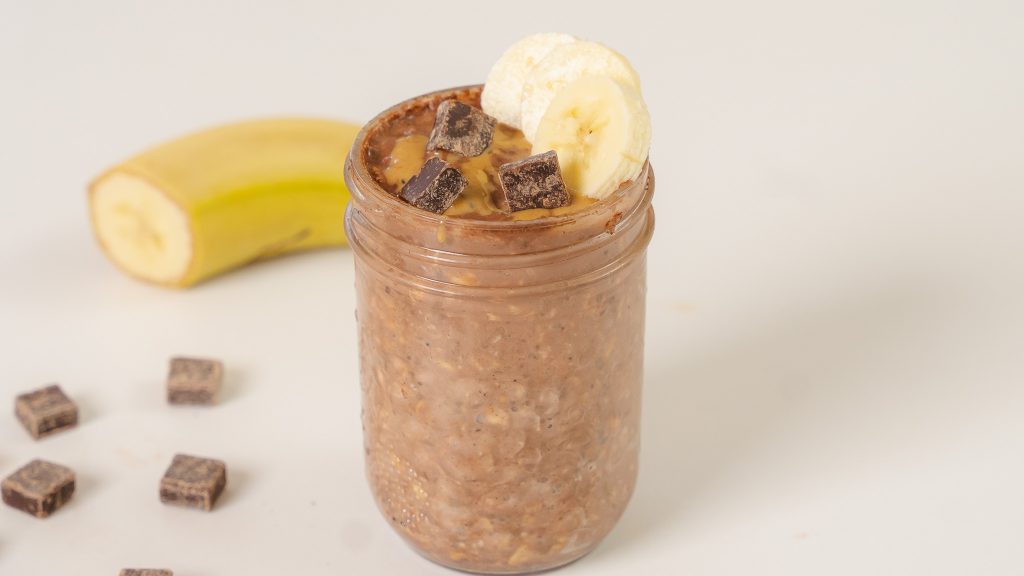 This recipe is a perfect for meal prep. I like to make 5 or 6 jars of these Chocolate Peanut Butter Overnight Oats on a sunday so I have easy, nutritious, grab and go breakfast or snack all week. It is also so incredibly easy to make. It really is as easy as mixing all ingredients together, dividing into jars, and then letting it sit overnight in the fridge. Boom, done!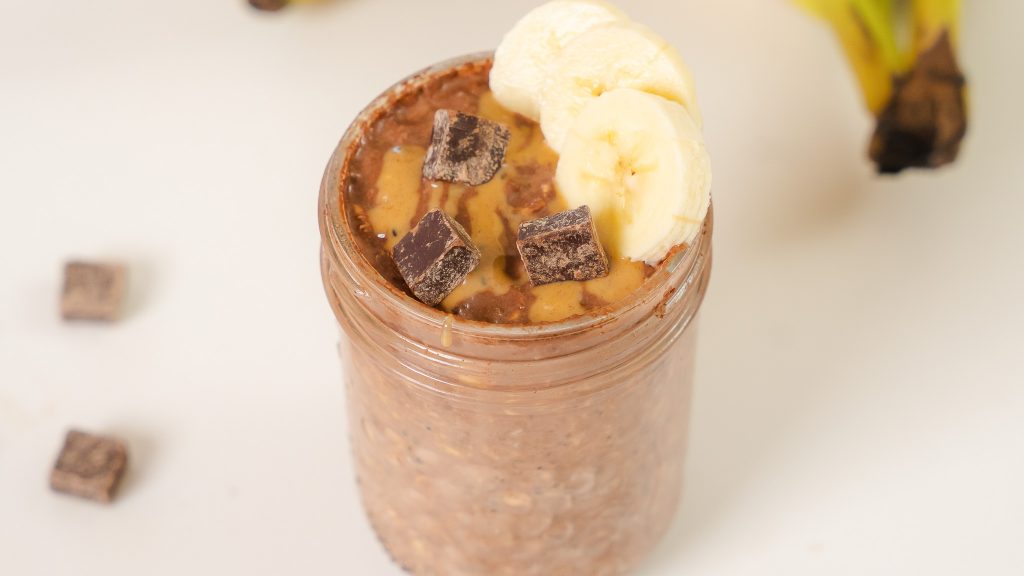 Protein rich breakfast option. Overnight oats
I have been trying to eat more protein and it can be tricky to do so in the morning. By having all of the heavy lifting done, there really isn't an excuse. The protein is coming from natural sources here too. Old fashioned oats, greek yogurt, chai seeds, natural peanut butter, and milk. This chocolate peanut butter overnight oats will keep you rocking all day!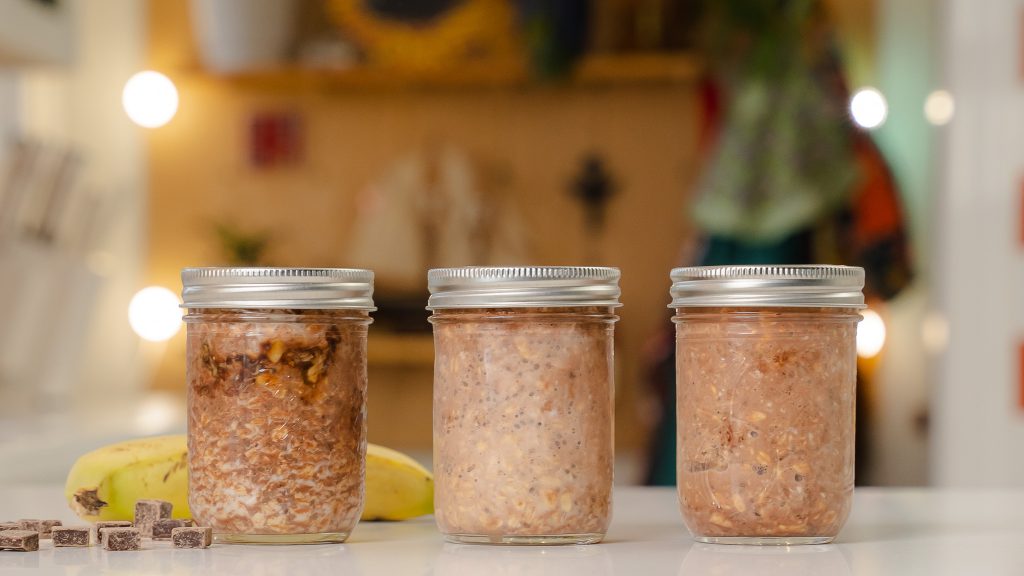 Overnight oats love Old Fashioned oats
Make sure you are using old fashioned oats as they are able to absorb the liquid without totally disintegrating. Quick oats aren't ideal for this recipes and wouldn't have the same level of nutrition as the old fashioned oats.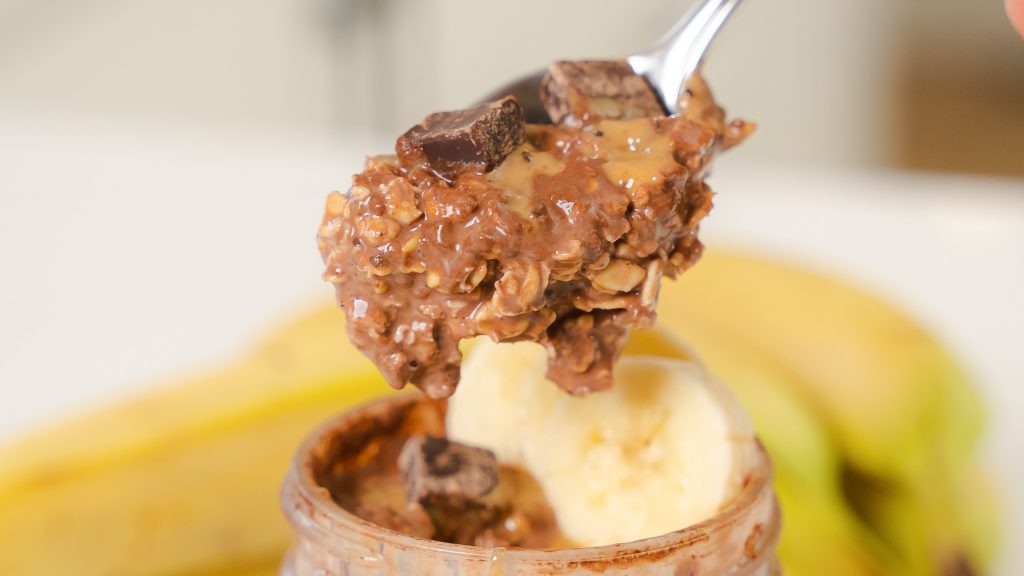 Let's breakdown the ingredients
Old Fashioned oats – These are key and packed with nutrition.
Chia seeds – This superfood packs an amazing amount of protein and other nutrients into its small little body. Don't skip these!
Cocoa powder – this gives us that delicious chocolate flavour
Cinnamon – just a hint for flavour
Natural peanut butter – lots of energy and protein
Milk- Any kind will do the trick! I used whole milk
Greek yogurt – One my favourite ingredients. Creamy, rich, and so nutritious
Maple syrup – Just for a hint of sweetness.
Bananas
Chocolate chips – Optional.. But come on!I like to serve this in mason jars, but you can just mix all the ingredients together in a bowl and let them sit overnight.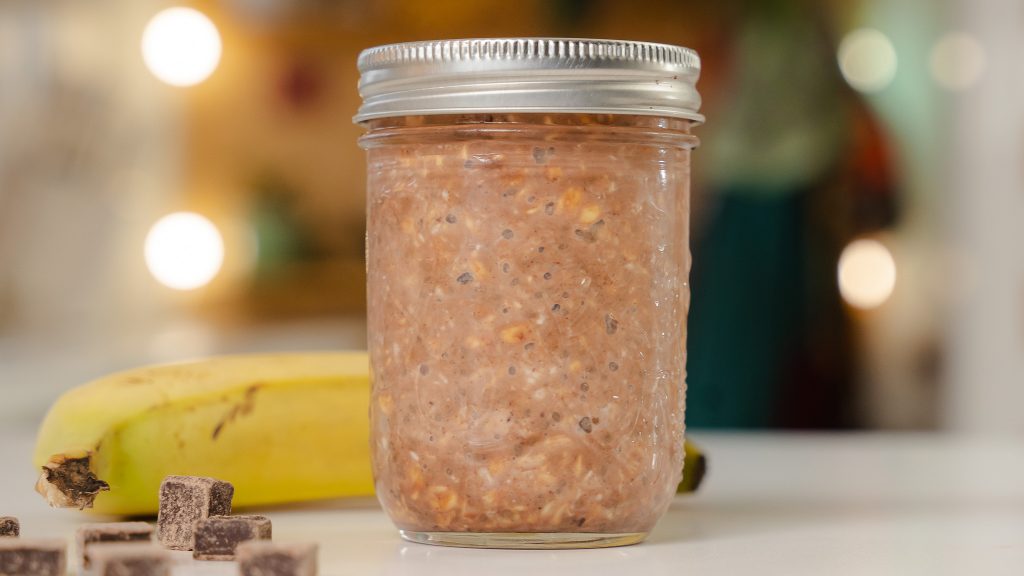 Looking for other amazing breakfast ideas?
Chocolate peanut butter overnight oats
Print Recipe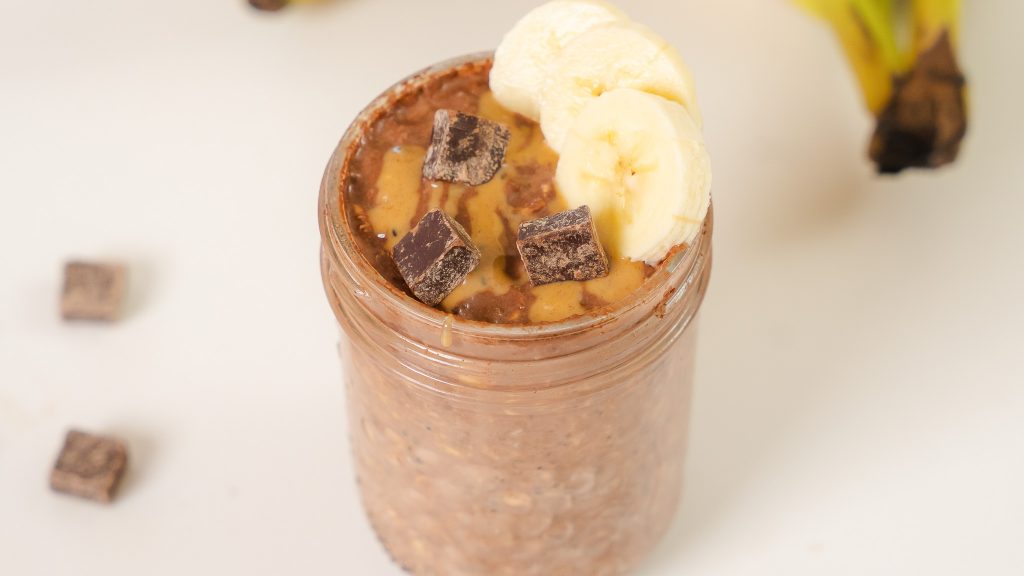 Ingredients
1/2

cup

old fashioned oats

1 1/2

tbs

chia seeds

1

tsp

cocoa powder

1/4

tsp

cinnamon

1

tbs

natural peanut butter

1/2

cup

whole milk

1 1/2

tbs

greek yogurt

1 1/2

tsp

maple syrup
toppings
1/4

sliced banana

5

chocolate chips

1

drizzle

peanut butter
Instructions
Mix all of the ingredients in a mason jar. Screw on top and let sit in the fridge for at least 3 hours or best case over night. Open in the morning, top with bananas, chocolate chips, and peanut butter. Enjoy!
Print Recipe
(Visited 14,306 times, 11 visits today)