Today we are doing a really classic dessert that sounds fancy, but is really quite simple; a basic creme brûlée. Silky smooth, sweet, creamy, crunchy, one of the ultimate desserts.
While it may sound intimidating, this recipe only requires 5 ingredients. With a bit of technique, you can impress your friends and family with this delicious treat.
Classic Creme Brûlée
Print Recipe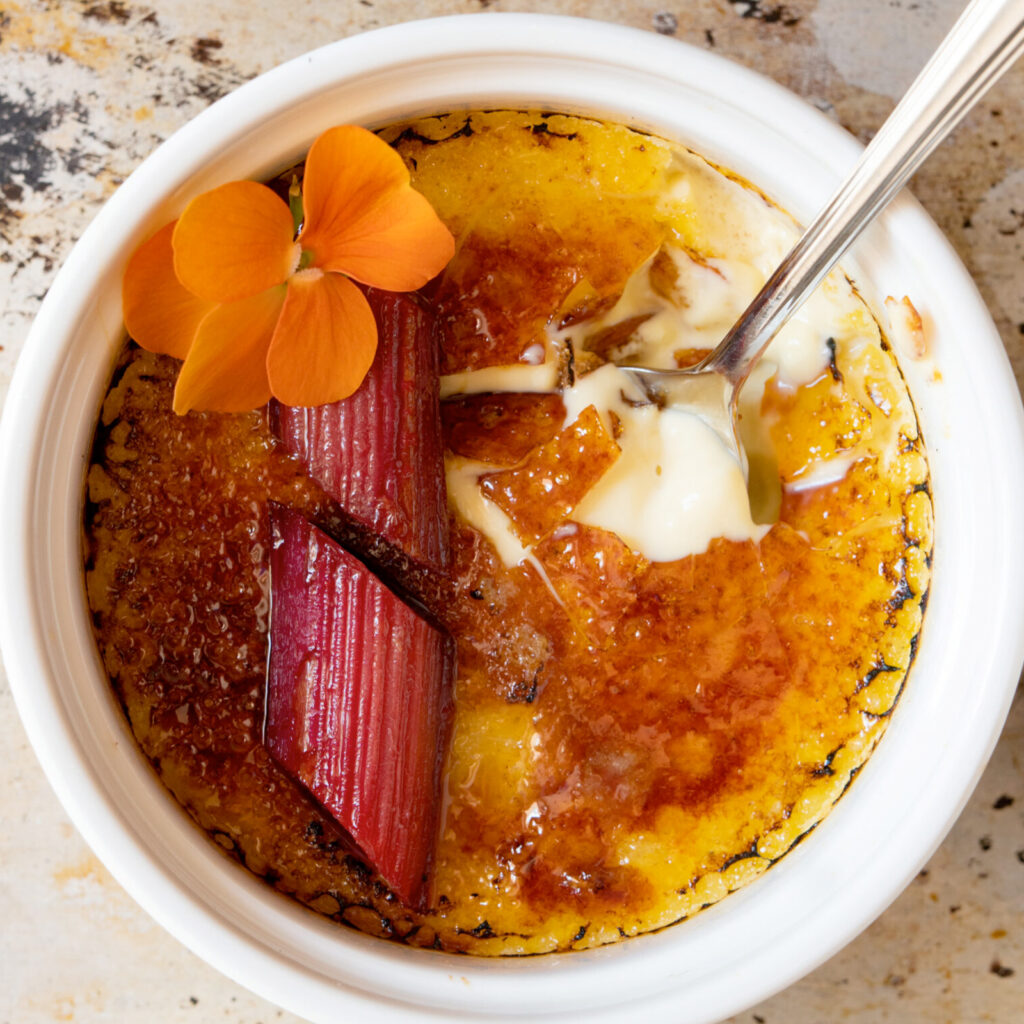 Ingredients
6

egg yolks

4

tbsp

white sugar + 2 tbsp for sugar to burn at the end

½

tsp

vanilla

½

tsp

cinnamon

2½

cups

whipping cream
Instructions
Let's get going! Preheat the oven to 300.

Next, add the egg yolks, sugar, and vanilla to a bowl and whisk together until pale yellow and smooth, about 1 minute. Set aside.

In a small saucepan, add the cream and bring to a light simmer. Add in the cinnamon. Once the edges of the cream start to bubble, slowly stream the cream into the egg mixture. Be sure to be whisking and move slow.

Once all of the cream has been added into the eggs, pour the mixture back into the saucepan and turn the heat to medium low. Using a wooden spoon, keep stirring the mixture until it lightly coats the back of a spoon, about 3 minutes. Remove mixture from heat immediately and pour into a shallow heat-proof dish. Ramekins work best.

For best results, place ramekins into baking pan with high walls and add boiling water to the pan. Film pan up so half of the ramekins are covered in water. Place whole pan in oven (carefully) for 30 minutes.

After 30 minutes, remove ramekins from water (careful, they are hot! use tongs) and place in fridge to cool for 2 hours.

Once cooled, remove from fridge and sprinkle a thin layer of sugar on top of the custard. Using a blow torch or the broil function of your oven, slightly burn the sugar until it melts. Let cool and it will harden into a crust. Serve.
Print Recipe
(Visited 1,361 times, 2 visits today)