A couple of years ago my wife and I joined some great friends on a trip to Italy. It sounds very romantic, and it was at times, but we had 4 kids under 3 with us. We realized pretty early that we may have bitten off more than we could chew!
While we spent more time at playgrounds than trattorias, we still got a chance to eat some incredible food. One night at our rental home, we had an Italian Nona come over and cook us a traditional Umbrian feast. It was incredible! She could tell I was really interested in what she was doing and let me taste her ragu by feeding it to me with a wooden spoon…an Italian dream come true!
This Bolognese is right in line with how she made hers. The hint of nutmeg is really traditional and a lovely tasting note!
Give this a try with some freshly made pasta and a nice Italian red.
Classic Umbrian Bolognese. Traditional ragu from my time in Italy
Print Recipe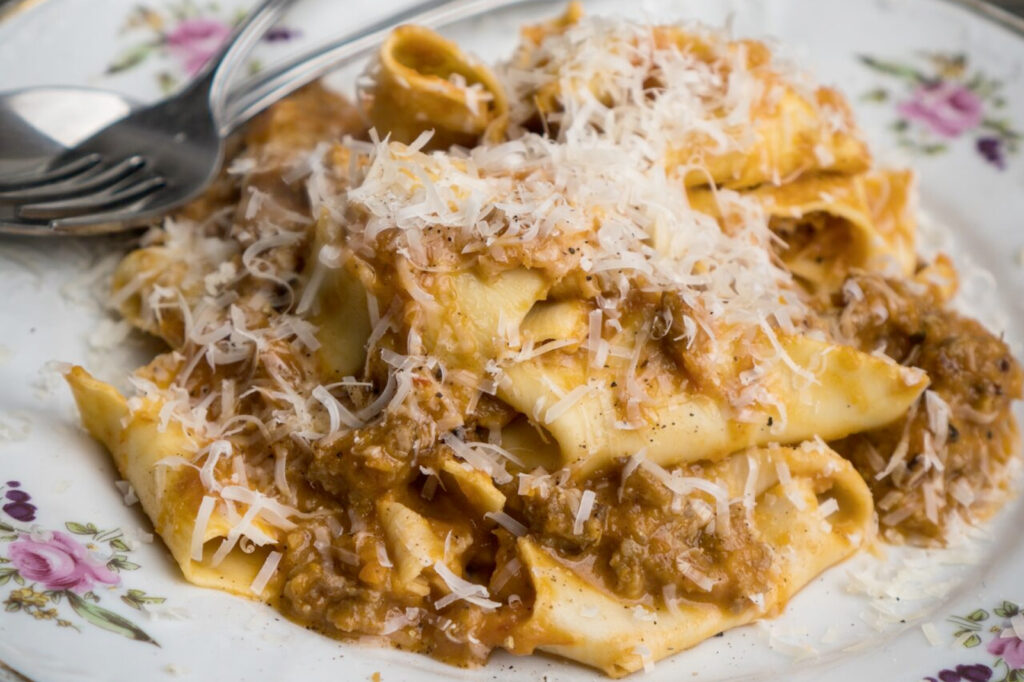 Ingredients
500

g

ground meat (we like to use sausage but ground beef is great too)

½

cup

tomato paste

1

large

carrot

1

medium

white onion

2

stalks

celery

3

large

cloves of garlic

1

tsp

chili flakes

1

cup

white wine

2

bay leaves

2

cups

chicken stock

3

tbsp

olive oil

1

cup

whole milk

As much parmesan as you can handle

1

lb

fresh pasta (we like a wide noodle like pappardelle)
Instructions
Starting with your vegetable base, remove the skin from the onion. Roughly chop all your veg (onion, carrot, celery, garlic) and place in a food processor; blitz until fine. There should be no recognizable chunks of any one vegetable left. Remove from processor and set aside.

In a large pot, heat 3 tbsp of olive oil over medium-high heat. Brown loose sausage meat for about 5-6 min. We want to get lots of colour on both the chunks of sausage and the bottom of the pot. Remove meat from pot and set aside.

Turn the heat down to medium-low and add your blitzed veg. We want to slowly sweat the veg, not adding any colour. Cook down for 10-12 min. Once nice and soft add back your meat and deglaze with one cup of white wine. As the wine evaporates and cleans the bottom of the pot, break up the sausage as finely as possible with a wooden spoon. Add 2 bay leaves and a pinch of nutmeg. Add tomato paste, and cook until the paste turns dark red in colour, about 7-8 min.

Add 2 cups of stock and 1 cup of milk. Let simmer for 1 – 1 1/2 hours.
Print Recipe
(Visited 5,427 times, 2 visits today)