This pasta salad gives off old school Italian submarine sandwich vibes. I love this recipe as its the perfect kind of meal that you can throw together using what ever veggies are kicking around in your fridge. Don't get to hung up on the individual vegetables I am tossing in, aim to use up what you have!
Let's Breakdown the ingredients!
The base of this pasta salad was some whole grain fusilli I had made the night before for my daughters. This acts as an amazing base to this salad and has great structure so it will not go soggy if it sits in the fridge.
I wanted to emulate some of the classic flavours from an Italian submarine sandwich. We do this with the addition of slice salmami, olives, pickles, lemon zest, black pepper.
When it comes to the vegetables I added in, I used what I had on hand and I hope you do too! I threw in some broccoli, red peppers, onions, garlic, and parsley. Really any vegetable would do well in this simple pasta salad.
The dressing for this pasta salad is really simple and all I used was the juice of a lemon, a couple tablespoons of apple cider vinegar, and olive oil. Pumped up with a good healthy pinch of salt and a heaping table spoon of freshly ground black pepper, enjoy this one 🙂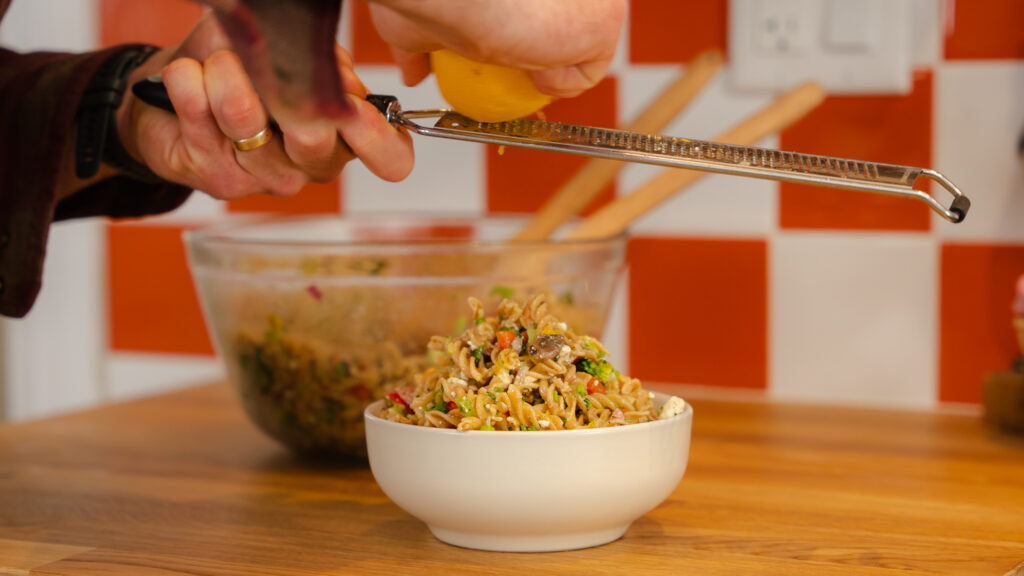 Finishing touches
Prior to serving this dish, I suggest adding on some fresh parmesan cheese, as well as more salt and pepper.
Cold Cut pasta salad
Print Recipe
Ingredients
4

cups

cooked and cooled fusilli pasta

1/4

cup

red onions, diced

2

cloves

garlic, minced

1

cup

broccolli, chopped

2

dill pickles, diced

6

slices

salami, sliced

5

mushrooms, chopped

1/4

cup

parsley

3

olives, sliced

1

lemon, zested and juiced

1/2

cup

olive oil

1/4

cup

feta, crumbled

2

tbs

apple cider vinegar

1 1/2

tsp

salt

1

tbs

black pepper
Instructions
In a large bowl mix all ingredients together! Easy as that 🙂 Enjoy!
Print Recipe
(Visited 7,851 times, 2 visits today)