This Creamy, Cheesy, Queso Dip is definitely a crowd pleaser! This recipe is rich in flavour, has an amazing silky texture to it, and is visibly stunning! I love making this dip when I have a get together with my family and friends!
This dip comes together really quickly and you will want to add it to your recipe book. Give this one a try you will love it!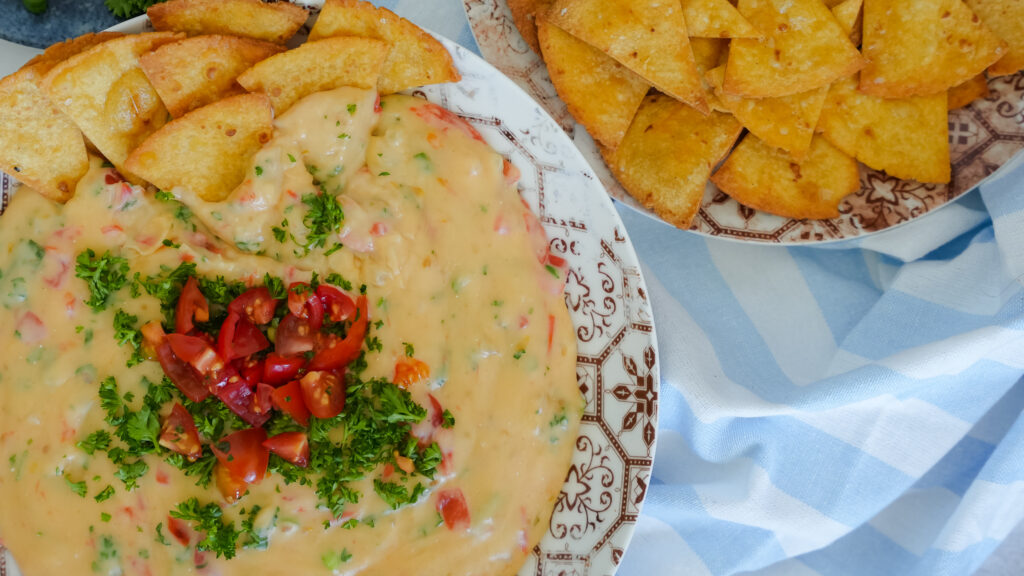 Let's Breakdown the Ingredients!
This cheesy queso dip is made with tons of ingredients that make it super cheesy, creamy and delicious!
The Freshly grated cheddar cheese is the main ingredient in this recipe, and it has a sharp and earthy flavour that balances perfectly with the other ingredients. I used unsalted butter, evaporated milk and regular milk to lighten the melted cheese in the dip, making it easier to combine all the ingredients.
The use of cornstarch is important to make sure that the dip is not too silky and not too thick. With the ingredients of cheese and milk, the cornstarch helps balance the dish's consistency.
This recipe also added a handful of fresh vegetables to add additional texture and flavours. Minced garlic has a warm spicy taste that comes to life when cooked, and the finely chopped white onion has a stronger and spicer intense flavour to them. The finely chopped tomatoes add a balanced sweet, tart, and tangy flavour to the dip.
The cilantro adds a fresh citrus taste to the recipe, while the green chile adds a tangy, sharp, savoury, earthy flavour to the dip.
I seasoned my dip with onion powder and garlic powder to add an extra flavour of onion and garlicky taste. The cumin adds a rich, warm and earthy taste to the silky cheese dip and of course, always add salt to taste!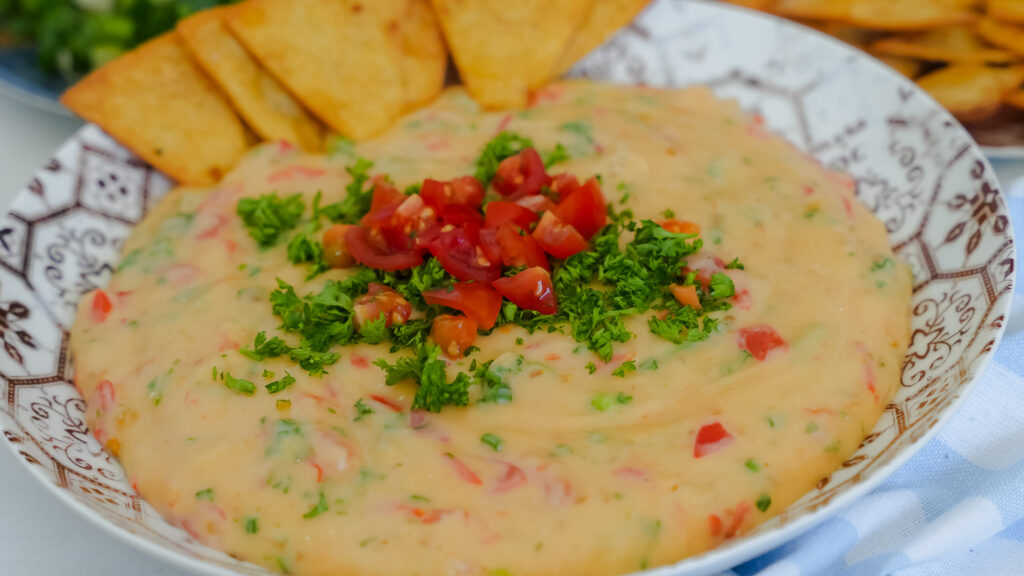 Creamy, Cheesy, Queso Dip
Print Recipe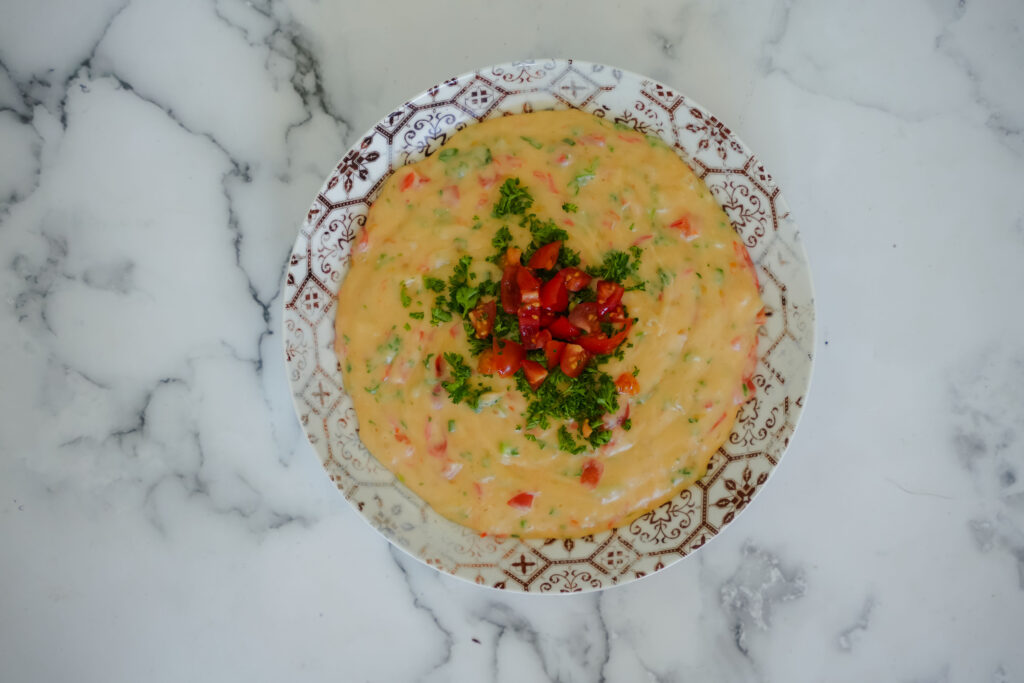 Ingredients
2.5

cups

Cheddar Cheese, freshly shredded

1

tbsp

Cornstarch

1/2

tbsp

Unsalted Butter

1

Garlic Clove, minced

1/4

cup

White onion, minced

1

can

Evaporated Milk

1

Tomato (small), finely diced

1/4

tsp

Onion Powder

1/4

tsp

Gralic Powder

1/4

tsp

Cumin

Salt

2-3

tbsp

Milk

Cliantro, finely chopped
Instructions
In a bowl, add your shredded cheddar cheese coat it with cornstarch by tossing it together.

In a large saucepan, melt your butter on medium heat. Once melted add your garlic and onion and cook until the onion is transluscent. Then add your tomato, including the juice, and cook for 2 minutes.

Next, add the can of evaporated milk and cheese. Stir in the spices as well, and mix the ingredients together until the cheese is melted and becomes a silky sauce.

Add salt to taste, depending on how salty your cheese was. And stir in the cliantro.

Stir in the milk to help the consistency of the dip.

Finally, remove the dip from the heat and serve warm. Enjoy!
Print Recipe
(Visited 2,226 times, 6 visits today)