This is a fun little snack that I really think you should try. SO satisfying. Crunchy, creamy, fatty, spicy. Hits so many notes.
Back when I ran a catering company this sort of dish was my go-to crowd-pleaser kind of hor d'oeuvre. Great for hosting, easy to make, and a little bit different while still being very approachable. I hope you give this a try next time you have some friends over.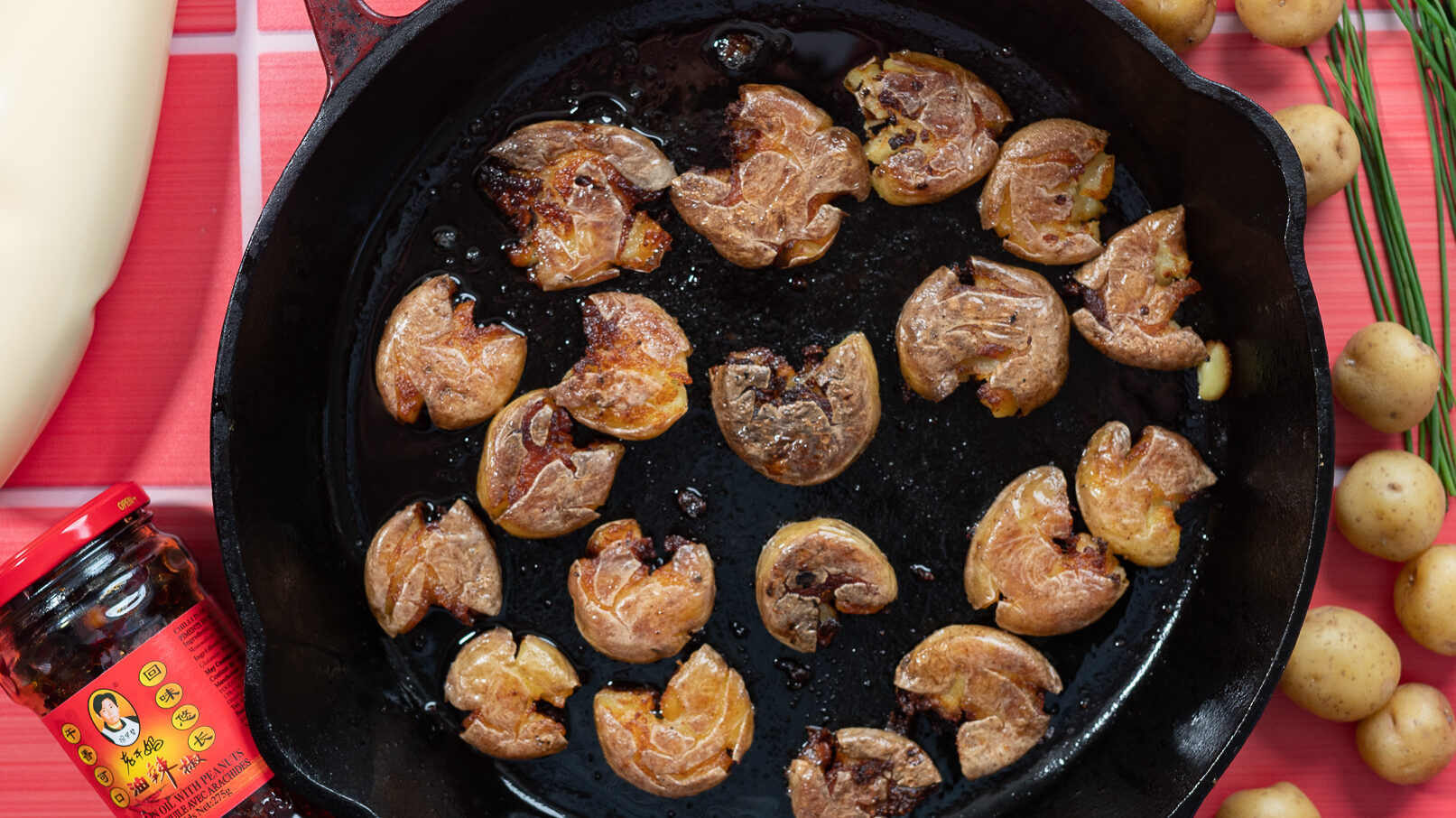 What you are going to need.
Mini golden potatoes. I love these little guys. When boiled, they become so creamy in the middle. Once they are soft (boiled for around 20 minutes), you can easily crush them using the bottom of a cup. You want to make sure you don't totally smush them but apply enough pressure for them to flatten but still stick together.
Mayo. Any mayo will do the trick, but I am a big fan of Hellmann's or Kewpie Mayo when paired with chilli oil.
Crispy chilli oil with peanuts. I love this product. I am starting to see it pop up in major grocery retailers, but if you can't find it there, you can definitely find it at your local Asian Grocer. The brand I generally buy is Lao Ga Ma. Lots of flavour with some numbing spice, but not overly spicy per se. Really great ingredient to have in your pantry. Mind-blowingly good on eggs.
Chives- Green onions could do the trick, but I just love how pretty chives look when they are sliced very thin.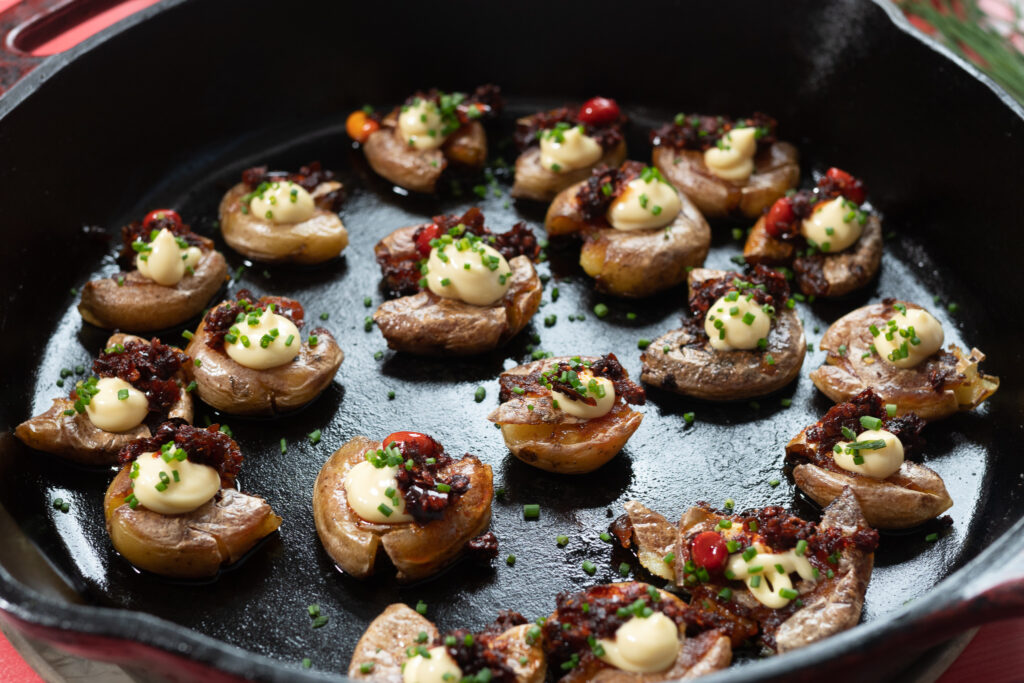 Chilli Crushed Potatoes
Print Recipe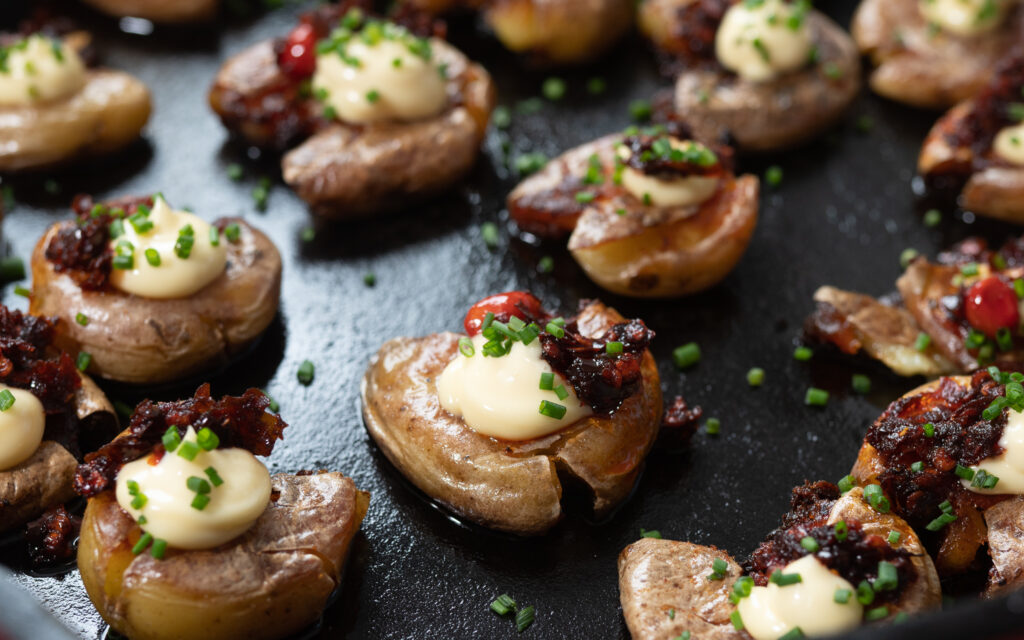 Ingredients
30

Mini golden potatoes

1/2

cup

Hellmanns or kewpie mayo (Japanese mayo)

1/2

cup

Crispy chilli oil with peanuts

1/4

cup

chives, thinly sliced
Instructions
Bring a large pot of salted water to a boil. Once water has reached a boil drop in the mini potatoes and allow to cook until you can easily pierce with a knife. Once soft, drain out the water.

Using the bottom of a drinking glass, slightly crush the potatoes. You don't want to smush them, but you want to create more surface area and have them not fall apart.

Place a frying pan over medium high heat and add in about 1/4 cup of high smoke point oil such as canola, vegetable, or sunflower seed oil. Once temperature has been reached, drop in the potatoes and fry until both sides are crunchy and golden. Better to overcook than under cook here.

Once all the potatoes are crunchy, as a dollop of kewpie mayo, a tsp of chilli oil, and finish with fresh chives. Serve on a cutting board, cast iron pan or plate. Enjoy with a cold beer.. if that's your thing.
Print Recipe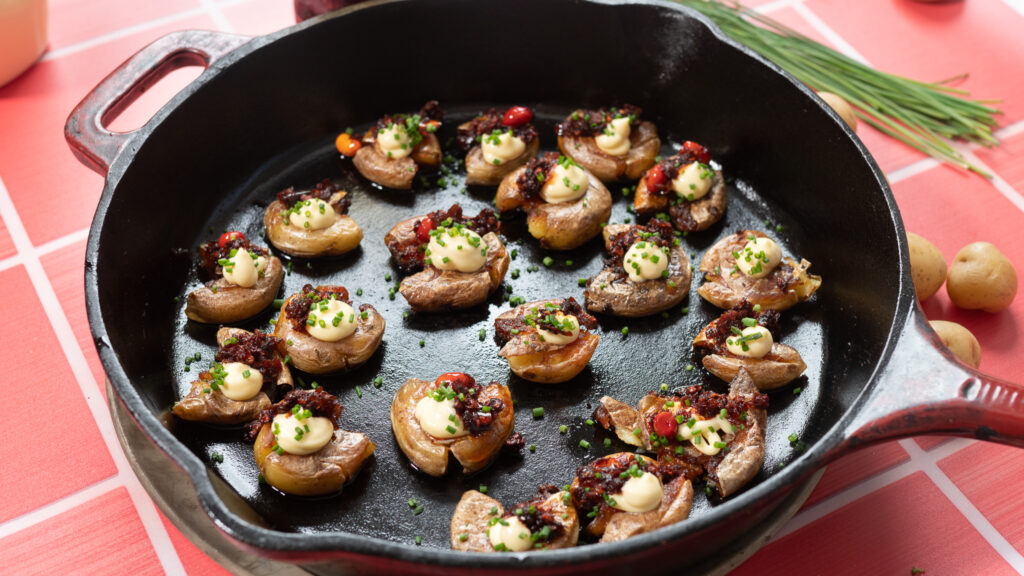 (Visited 12,656 times, 9 visits today)