This velvety smooth vegetable soup could honestly be the definition of comfort food. Great balance of flavours, sweet, spice, crunch, smooth. It has a little bit of everything and is perfect for when those cooler weather months. The bonus is this recipe is silly, easy to make and will be a crowd-pleaser for certain!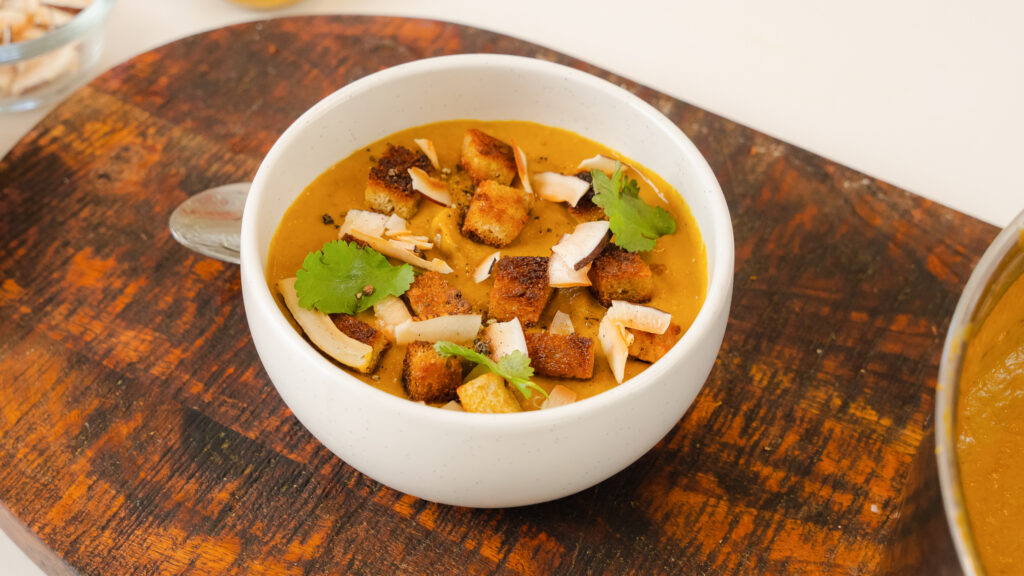 Roasting your vegetables
For this recipe, I am using a mixture of harvested vegetables like butternut squash, sweet potato, and carrots. Feel free to experiment here and use what you have on hand. I love the flavour of roasted butternut squash, as it has a depth and sweetness that is just so delicious. I had just picked some fresh carrots from my garden, which are a thing of beauty. The carrots add a great texture and a sweetness that I really enjoy. I also added some sweet potato to help bulk things up, as well as a couple of roasted onions for depth of flavour.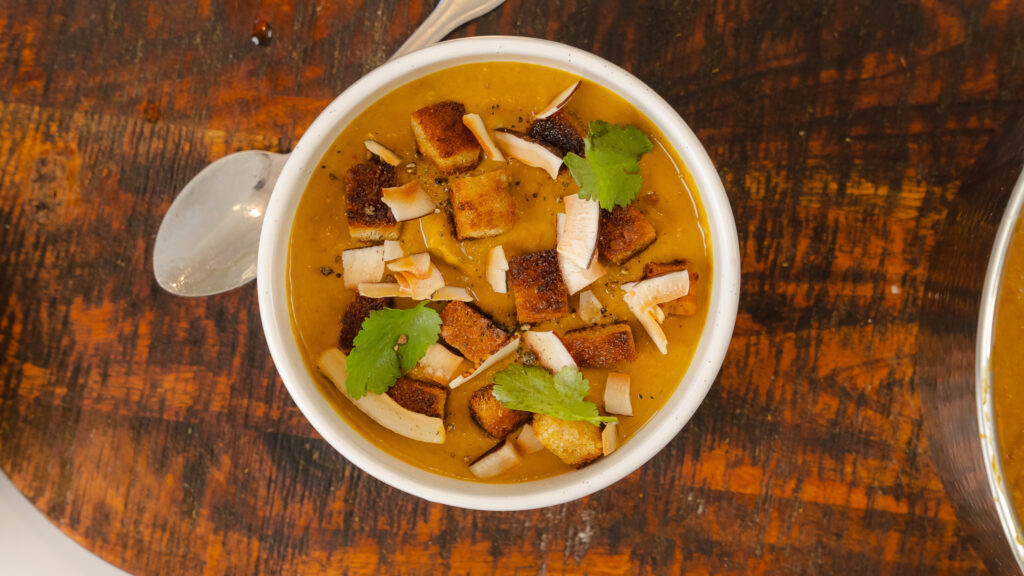 Blending your soup
You have a few options for making your soup velvety smooth. If you have a blender, you can easily pour the softened veg and broth into the blender and blend to the consistency you are searching for. If you have a handheld immersion blender, even better as you won't need to dirty the blender. If you have no blender of any sort, find yourself a potato masher and go to work! Might not end up velvety smooth, but it will still taste delicious!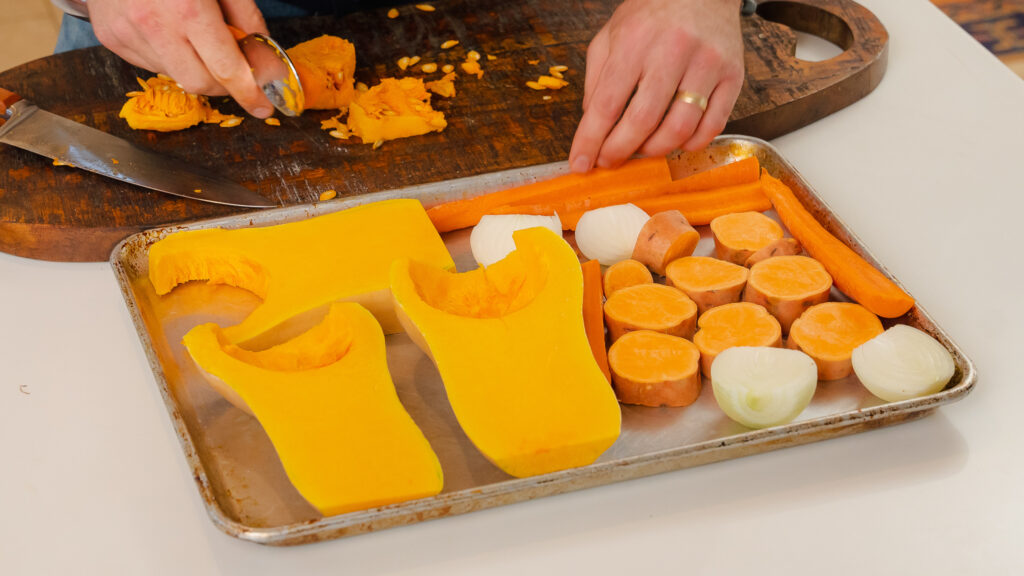 Let's Breakdown The Ingredients!
Butternut Squash – A great vegetable that just loves to be roasted! No need to take the skin off!
Yellow onions- I like to cut the onions in half and roast them until they are a lovely dark brown. Loaded with flavours!
Sweet Potato- The caramelized roasted sweet potatoes add lovely colour and flavour to the soup.
Carrots- Sweet in flavour and another amazing vegetable to roast
Coconut milk- 1 can of full-fat coconut milk gives this soup a lovely flavour and balances perfectly with the curry powder.
Stock- Homemade is best, but chicken or vegetable stock is perfect for this dish.
Spices- Curry powder, cinnamon, and cumin bring the flavour notes here!
Maple Syrup- Just a hint of sweetness to bring everything together.
Toppings- Toasted croutons, flaked coconut, and fresh cilantro.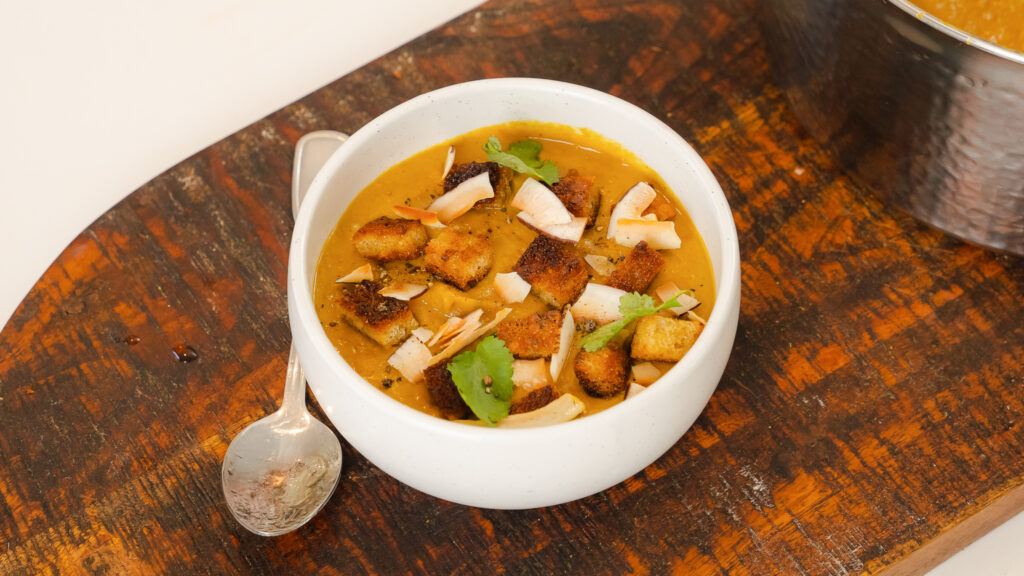 Curried Butternut Squash, Carrot, Sweet potato soup.
Print Recipe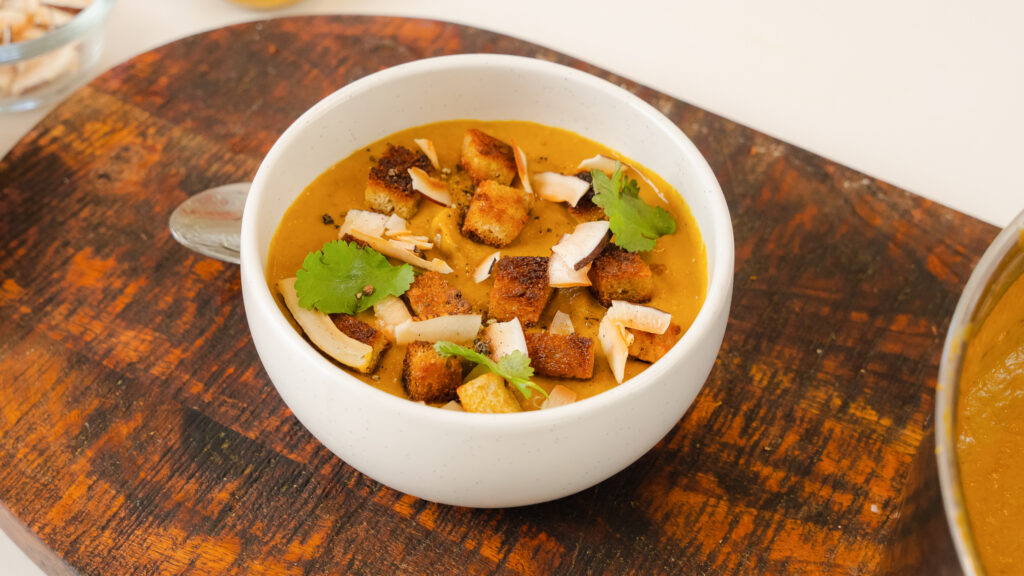 Ingredients
1

Butternut Squash, sliced lengthways. Seeds removed

1

sweet potato, slice into medallions

5

Carrots

2

yellow onions, sliced in half

1

can

coconut milk

4

cups

Chicken or vegetable stock

1 1/2

tbs

curry powder

2

tsp

cinnamon

2

tsp

cumin

1/4

cup

maple syrup

3

tsp

salt
Topping
1/2

cup

toasted sourdough croutons

1/2

cup

flaked coconut

1/4

cup

cilantro
Instructions
Slice butternut squash, carrots, onions, and sweet potatoes. Drizzle on olive oil and a tsp of curry powder. Using your hands, mix together to make sure vegetables are coated in oil. Roast for about 1 hour or until the vegetables are nice and roasted.

Once vegetables are done roasting, scoop them into a large pot placed oven medium high heat. Pour in the coconut milk, and stock. Bring the mixture to a simmer.

Add in the curry powder, maple syrup, cinnamon, salt, and cumin. Stir and allow to simmer for 15 minutes.

Using an immersion blender or regular blender, blend the soup until smooth.

If topping with croutons, dice up sourdough bread and toast in a pan with olive oil.

Serve soup in a bowl and top with sourdough croutons, flaked coconut, and cilantro. Enjoy!
Print Recipe
(Visited 19,367 times, 11 visits today)