Freshen up your weeknight meals with this bright, fresh, tropical chicken and rice meal. The deep curry flavours of the chicken pair amazingly well with the fresh mango and the aromatic coconut rice. The perfect way to add some exciting new flavour to your meal rotation!
Let's chat chicken.
I am a huge fan of cooking with chicken thighs. They are dark meat which allows you to cook them more aggressively without worry of them drying out. They also absorb seasoning extremely well and are great to pan fry, bake, or bbq.
For this recipe I tossed the chicken thoughts with curry powder, garlic powder, salt, pepper, olive oil, and maple syrup. This really works as it is a great balance of spicy, sweet, and salt. I always try to allow the chicken to marinate for at least 10 minutes but the longer the better!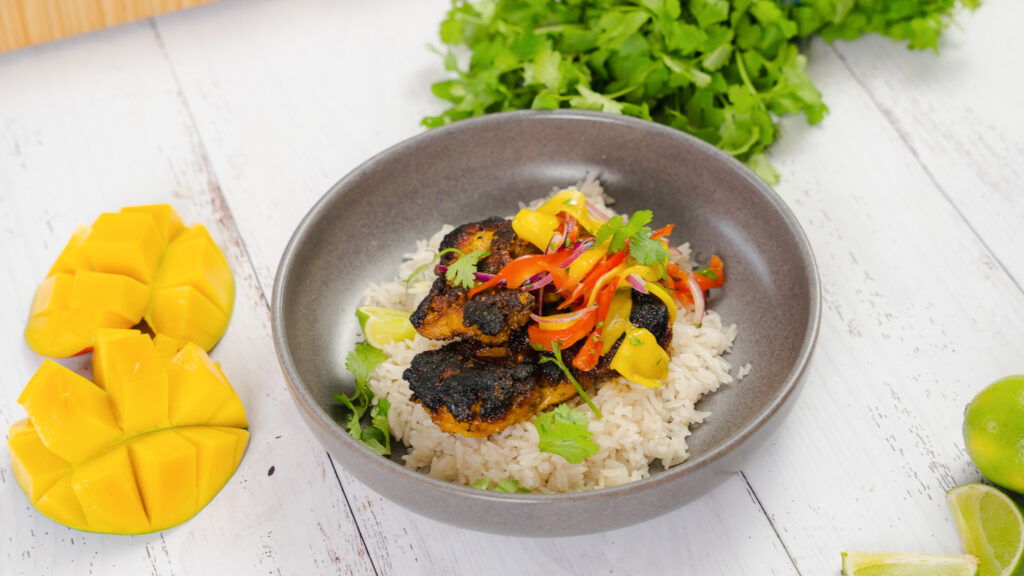 Coconut Rice
I love coconut rice but I have made it a couple times with poor results. This time, I dare say I nailed it! The most important tip I can give is to make sure you throughly rinse your jasmine rise. This is a key step to remove the starches from the rice which will result in a WAY fluffier rice. Don't skip this step.
Once the rice is properly rinsed you pour a can of coconut milk and a 1/2 cup of water into a pot with the rice. I seasoned with a teaspoon or sugar, and salt. I brought the rice to a light boil and then lowered the heat to simmer, covered, and allowed it to do its thing for 14 minutes. I then remove from heat but kept covered for 10 minutes.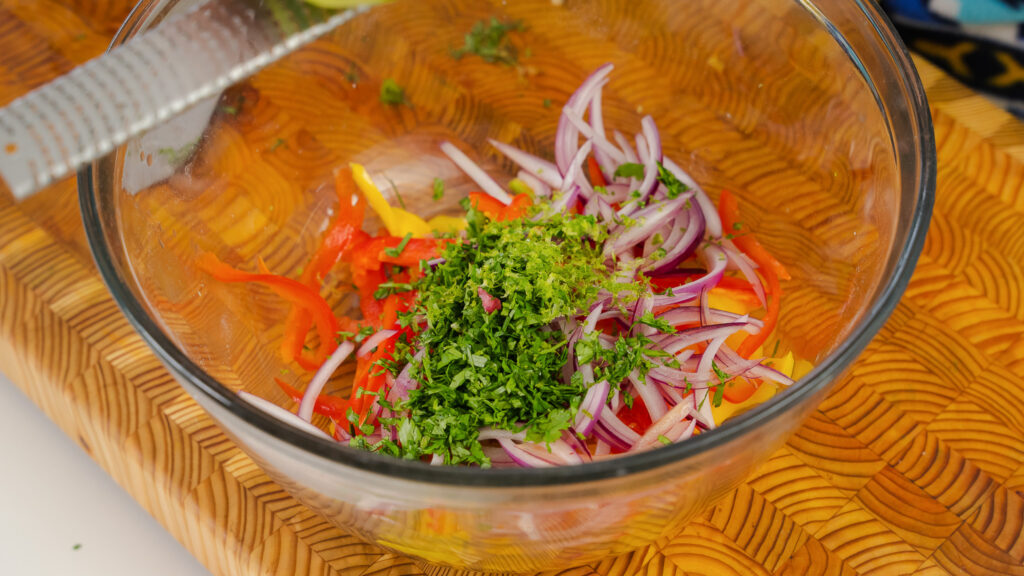 Mango Salad
This mango salad add san amazing brightness to this dish. The sweetness from the mango, the freshness from the red pepper, citrus from the lime, and then the sharp punch from the red onion. This salad is great to eat on its own, with chicken or white fish. I also use it for fish tacos!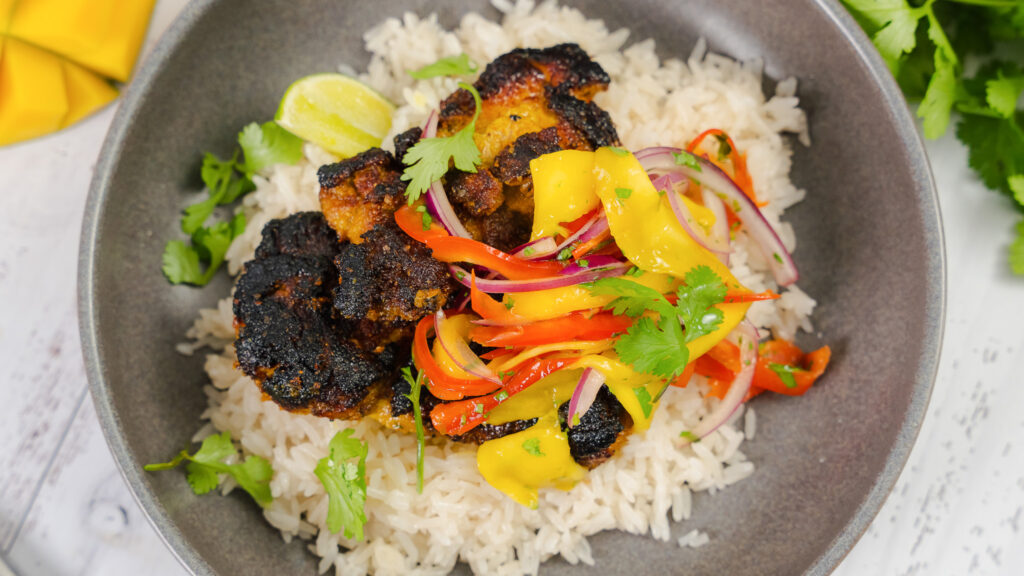 Weeknight meal and meal prep
This has become one of my favourite weeknight meals and it also makes for an amazing meal prep option. All 3 components last up to 5 days in the fridge.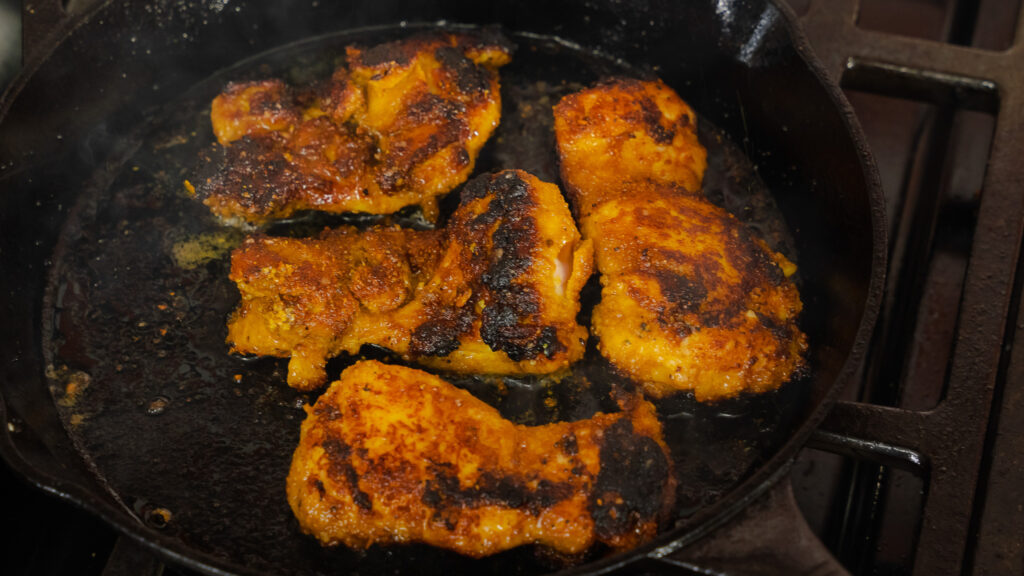 Curried Chicken with mango salad and coconut rice
Print Recipe
Ingredients
Curry Chicken
8

Boneless skinless chicken thighs

1

tbs

curry powder

I like Caribbean curry powder

1

tbs

garlic powder

1

tsp

salt

1/2

tsp

pepper

1

tbs

maple syrup

1

tbs

olive oil
Coconut Rice
2

cups

Jasmine Rice

1

can

coconut milk

1/2

cup

water

1

tsp

sugar

1

tsp

salt
Mango Salad
1

Mango, sliced

1/2

cup

red onion, thinly sliced

1/2

cup

red pepper

1

Lime, zested and juiced

1

tbs

olive oil

1

pinch

salt

1/4

cup

fresh cilantro
Instructions
In a bowl mix together chicken, curry powder, garlic powder, salt, pepper, oil, and maple syrup. Allow chicken to rest and marinate for at least 10 minutes, perfect world over night.

Ok next up let's get the rice going. Pour the rice into a medium sized pot and then rinse with cold water. Drain out the cloudy water and repeat a second time. This is key, don't skip this. Now pour in the coconut milk, water, sugar and salt. Place the pot over high heat and bring the rice to a boil. Once boil has been reached, cover the rise and then lower the heat to a simmer. Allow to simmer away for 14 minutes and then remove from heat but leave covered for an additional 10 minutes.

In a bowl mix together the mango, red pepper, red onion, cilantro, lime zest, lime juice, salt, and olive oil.

Last step, let's cook the chicken. Place an oiled pan over medium high heat. Once pan has reached temperature carefully lay the chicken thighs into the pan. Do not over crowd the pan as the chicken won't get a nice sear. Cook chicken for 4-6 minutes per side.

Ok we made it! Into a bowl add some coconut rice, top with mango salad, and chicken. Enjoy that one!
Print Recipe
(Visited 6,634 times, 2 visits today)