There are very few recipes that conjure up more memories from the East Coast than the beer-battered fish. As one of the greatest comfort foods, it's a crunchy, crispy, and oh so crave-able treat that is about as perfect of a meal as you can get!
For me, one of my greatest pleasures is sharing a plate of fish and chips with someone you love after a beautiful maritime beach day. While our summer season isn't long in Nova Scotia, when it's here, there's no other place on the planet I'd rather be. And a good piece of battered fish just solidifies that feeling much more!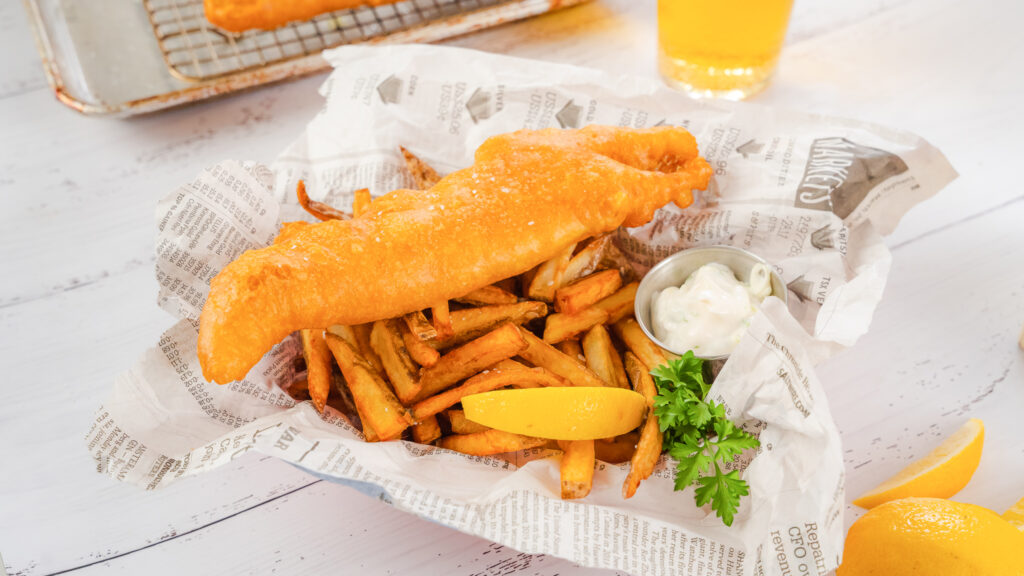 The History of Beer-Battered Fish
It is not known where beer-battered fish originated from, but many people around the world have adopted to making this varying recipe! Stirring in a different direction from the original fish and chips, the addition of beer in the batter gives the fish an extra flavour and fizz that makes the batter light, crispy and golden!
While beer does make the batter lighter, there are alternative options, such as carbonated water or pop, you can use to get that light and crispy batter.
First-Time Deep Frying? Here's What You Need to Know! 
Deep frying can be intimidating, especially if it's your first time, but I'm here to give you some tips to show it won't be as scary once you follow some basic ground rules!
Water and hot oil do NOT get along. It's important to never put water, even wet utensils, in oil as it will start to splatter like crazy.
Use a candy or digital thermometer to check the temperature of the oil.
Use a high smoke point oil such as canola, peanut, or vegetable oil, but NOT olive oil. 
Us a high walled pot or dutch oven. This helps prevent the unlikely event of oil bubbling too aggressively and helps keep the oil contained.  
Don't overcrowd the pot. It's important to maintain the temperature of the oil, and overcrowding the pot will cause the temperature of the oil to drop which can result in soggy, oil-soaked fish. 
Place a wire cooling rack or paper towel beside your pot so that you can drain what you're frying when it comes out of the oil. 
In the absolutely worst-case scenario, if the oil somehow caught fire, stay calm and sprinkle baking soda over the pot or use a fire extinguisher to stop the flames. I have never seen this happen, but it's sometimes good to know what to do in the worst case!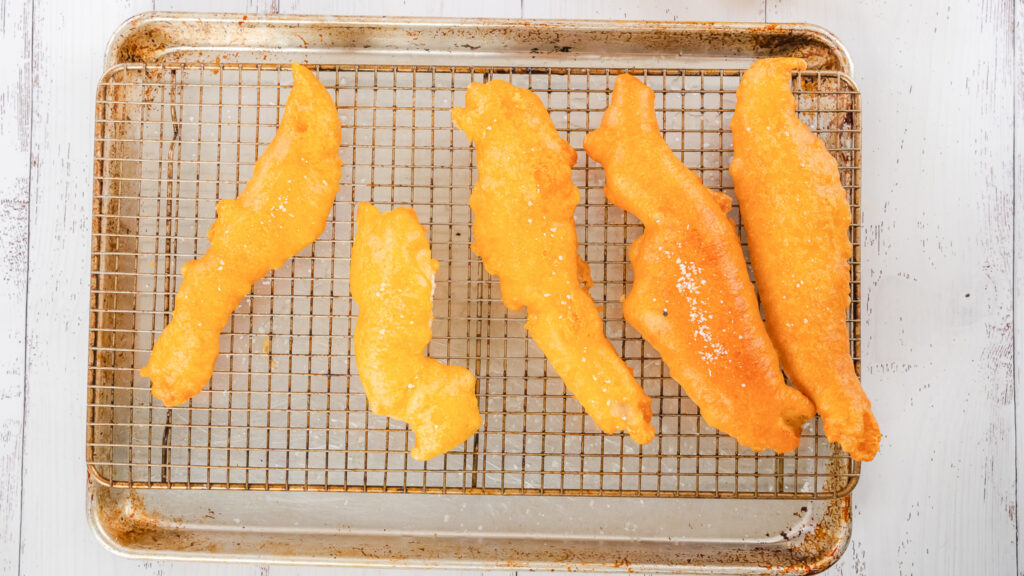 Let's Fry Some Fish! Here is the Process 
Making beer-battered fish is a bit of a multistep process. Nothing to be intimidated by, though I am going to walk you through it step by step. First things first, before you get started, get organized. Here is what you are going to need:
One bowl or tray of flour
One large bowl for mixing the batter
One large pot filled with 1.5-2 litres of high smoke point oil (canola, vegetable or peanut oil)
One large slotted for flipping fish and removing from oil
One baking sheet lined with a paper towel
One digital thermometer or candy thermometer 
Step One: Battering the Fish
The first thing you want to do is lightly season your haddock with salt. Then when we are going to drop the white fish fillet into all-purpose flour. Make sure all parts of the fish are covered in flour. This is a crucial step because it ensures that the wet batter will stick to the fish properly. If you skip this step, the wet batter will slip right off during frying.
The second thing you need to do is dip the fish into the wet batter. Make sure it is totally coated. Before dropping into the oil, allow the excess batter to run out of the fish. 
Step Two: Frying the Fish
The type of fish you fry is really up to you and based on what is available. Here in Nova Scotia, Haddock regions supreme and that is what I always use, but really any white fish will work just fine!
Once the fish is covered in the wet batter, and the oil has reached 375F, gently lay the fish in the oil. A quick tip is always to lay the fish away from you so that the oil doesn't splash on you!
Once the fish is in the oil, you will sew the batter putt up. Let the fish fry for about 6-7 minutes, and be sure to turn it over every 2 minutes to ensure both sides turn golden brown.
Once the crust is a deep golden colour, remove the fish from the oil and allow it to drain on a piece of paper towel or wire cooling rack. Be sure to season with salt while the fish is still hot!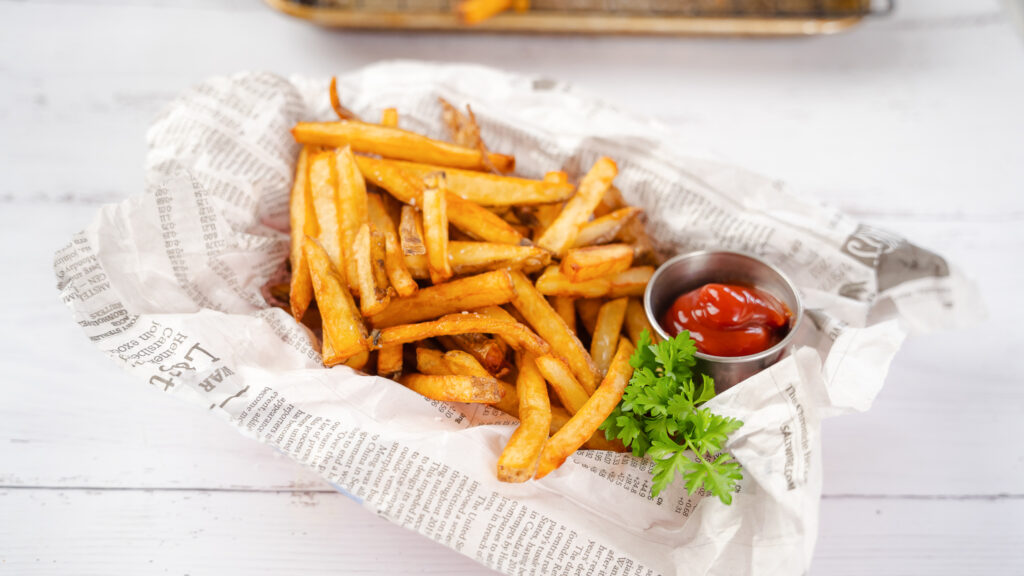 Hand-Cut French Fries
If you are looking for the best hand-cut fries to serve the fish with, look no further! Check out my recipe for freshly fried hand-cut french fries and learn the step-by-step process for nailing the perfect french fry!
Beer Battered Fish
Print Recipe
Ingredients
4

Pieces

Fresh Haddock

Any white fish will work
Wet Batter
1 3/4

cup

All purpose flour

1 1/3

cup

Beer (1 tall boy)

1

tbs

baking powder

1/2

tsp

baking soda

1

tsp

garlic powder

1

tsp

paprika

1

tsp

salt
Other Ingredients
1

cup

flour

used to dust fish prior to wet batter

2

litres

canola oil for frying

1

tsp

Salt

seasoning fish when removed from oil
Instructions
Pour oil into large pot and bring temperature of oil to 375F

In a large bowl mix together all of the ingredients for the wet batter. Flour, beer, baking powder, baking soda, paprika, garlic powder, salt. You want the batter to look similar to pancake batter.

While oil is heating prep the fish. Drop the fish into a try or bowl of flour. Make sure the entirety of the fish is coated. Shake off excess flour.

Once oil has reached temperature, Drop the floured fish into the the batter and make sure it's totally coated. Remove from batter and allow the excess batter to drip off the fish prior to dropping into the oil.

Frying time! Gently lay the battered fish into the oil. Be sure to lay the fish away from you so that the hot oil doesn't splash towards you. Let the fish bubble and fry away for around 6-7 minutes total. Be sure to flip multiple times to ensure even browning. After the fish is golden, remove from oil and allow to drain on piece of paper towel or cooling rack. Immediately season with salt.

Serve with hand cut french fries, link for my recipe above!
Print Recipe
(Visited 8,127 times, 3 visits today)