This 5 ingredients garden pasta is light, bright, and comes together in about 15 minutes. This is a great meal to whip up when you are in a rush, but also want pasta! There are 5 main ingredients needed to whip up this, cherry tomatoes, sun dried tomatoes, garlic, pasta, and basil. You very well could have all of them in your fridge now!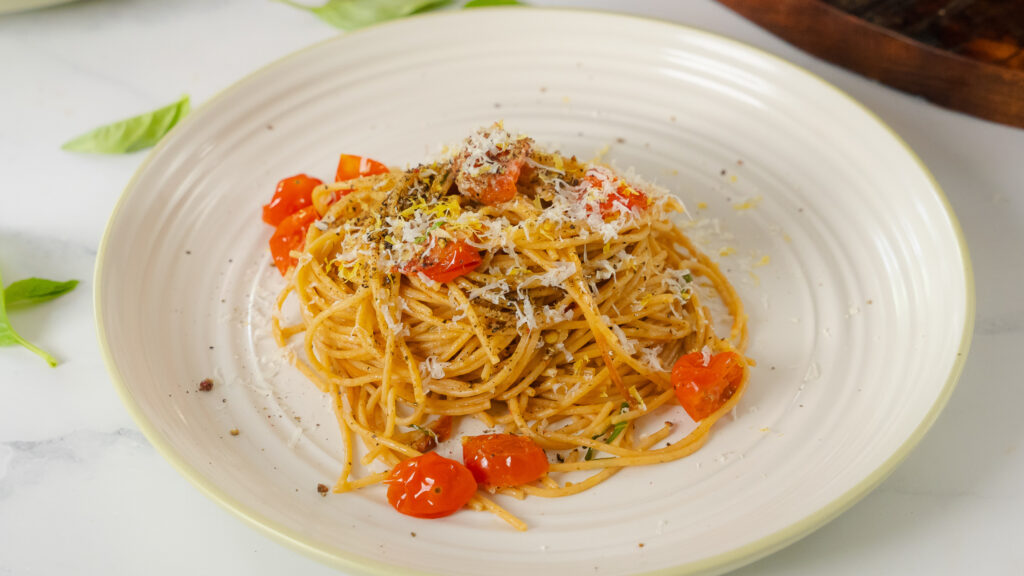 Boiling pasta correctly
For some this is obviously, but for others this may be news. It is very important to season your water aggressively with salt prior to cooking the pasta. That salt flavour helps the water boil faster, and more importantly seasons the pasta while cooking.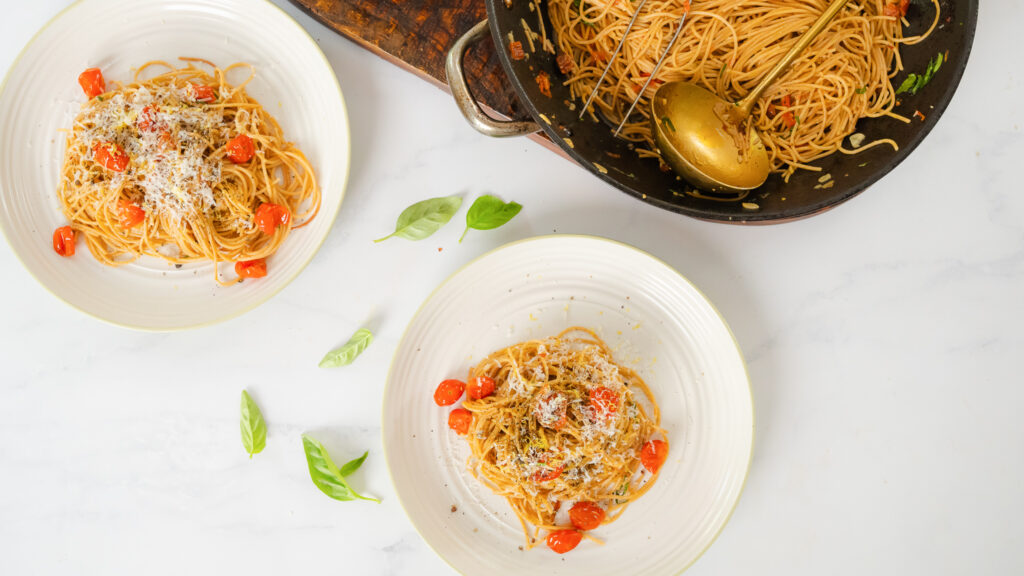 Pasta water
After you pasta is cooked, it is important to save about 2 ladle fulls of the pasta water to use in the sauce. This is referred to as "liquid gold" by Italians as it gives your pasta sauce seasoning, and body from the starch from the noodles. I always like to add the water in 1 ladle at a time while I move the noodles around. This movement encourages the oil already in the pan to emulsify with the water of the noodles. Two things that normally wouldn't combine, combine. And it's delicious.
Let's breakdown the ingredients!
The list of ingredients for this pasta is pretty short. Just 5 main ingredients cherry tomatoes, sun dried tomatoes, garlic, pasta, and basil. I season the dish with lemon zest, salt, parmesan and black pepper, which adds a lovely amount of flavour.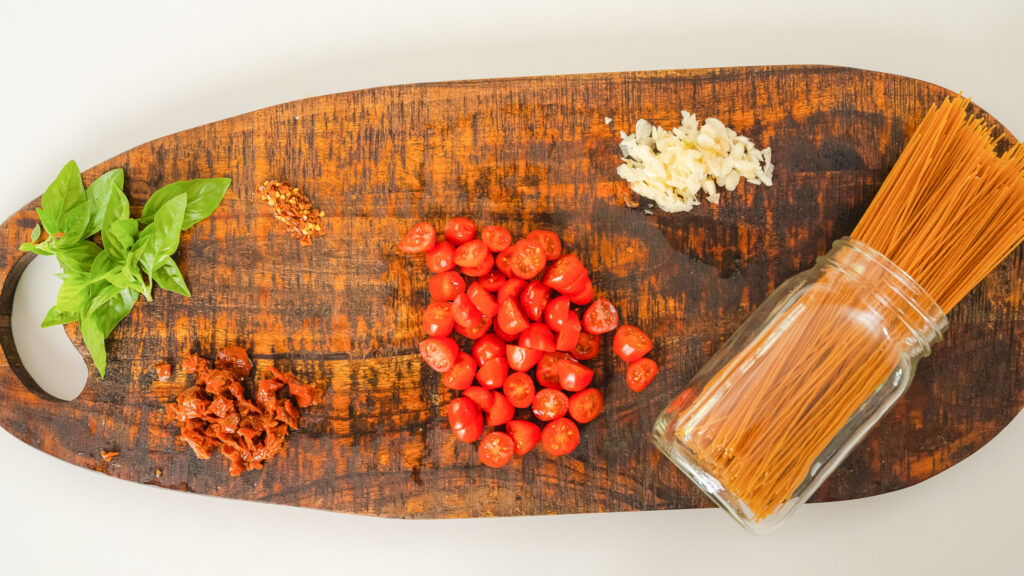 Tomato Garden Pasta
Print Recipe
Ingredients
1

box

whole wheat spaghetti

5

cloves

garlic, thinly sliced

2

cups

cherry tomatoes, halved

2

tbs

sun dried tomatoes, chopped

1

tsp

chilli flakes

1/2

cup

basil, sliced

1

tsp

salt

to taste

1

tbs

pepper

1/4

cup

parmesan, shredded
Instructions
Bring a pot of salted water to a boil. Once boil is reached, drop in pasta and cook until soft. Save 1 cup of the water the pasta cooked in and set aside. Discard the rest.

While the pasta is boiling, place an oiled on stick frying pan over medium heat. Once temperature has been reached drop in the garlic. Mix and swirl the garlic in the oil, you don't want garlic slices to brown. This flavours the oil. After 1 minutes drop in the chopped sun dried tomatoes and cherry tomatoes. Stir and cook for 3 minutes.

Next up, increase the heat of the frying pan to medium high and add in 1/2 cup of pasta water. Move the mixture around and then add in the noodles. Using tongs mix everything together and then add in the second 1/2 cup of pasta water to the noodles. Stir and add in sliced basil, salt, and black pepper.

Serve each guest hot pasta and top with chilli flakes, parmesan cheese, lemon zest, salt, and pepper.
Print Recipe
(Visited 7,637 times, 1 visits today)