Kale Caesar Salads are a regular staple in our home during the week. Simple, healthy, filling, and it always hits the spot. I am a big fan of kale. It's my favourite leafy green. However it can be a little rough, so make sure that before adding the dressing, you sprinkle on a bit of oil and give the greens a nice massage. This softens the leaf and makes it nicer to eat!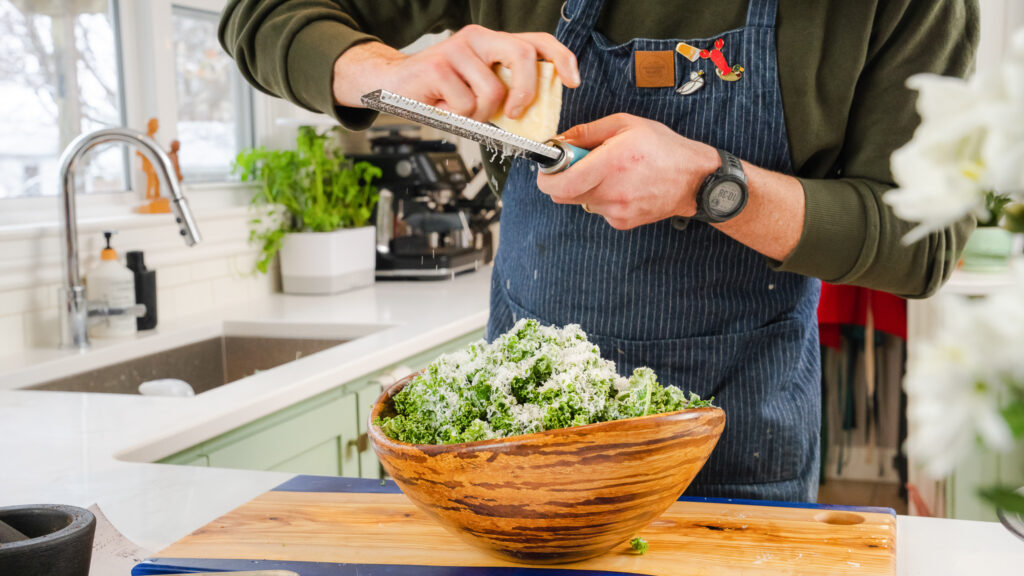 Kale Caesar Salad: My go to potluck dish
A hearty Kale caesar salad is my go to potluck dish. It's an amazing dish to bring to a party for a couple of reasons. Firstly, it's delicious and most people love a good caesar salad. Secondly, it's an amazing thing to make ahead. The kale is so sturdy that you can make this salad the day ahead without the kale going soggy.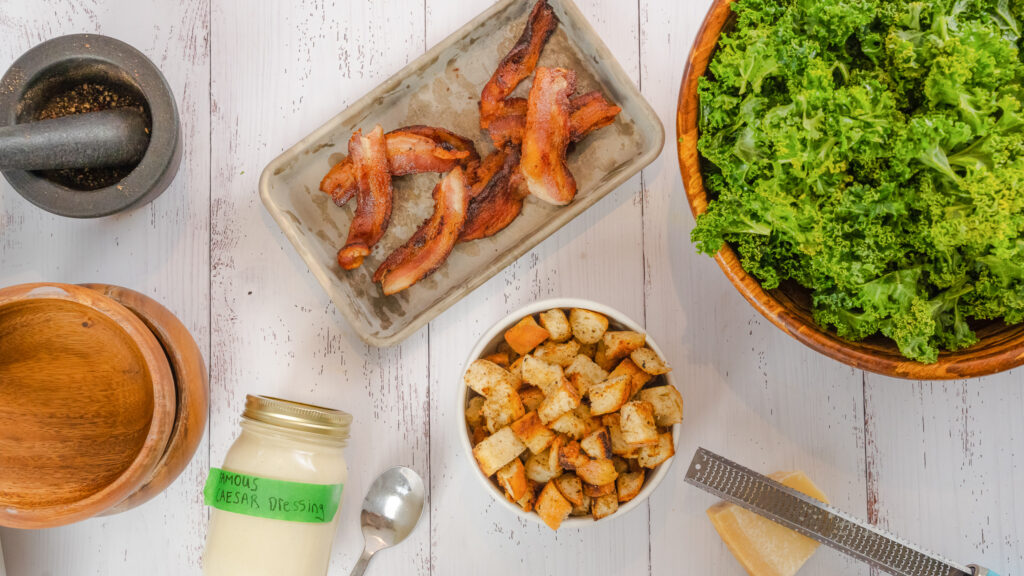 Caesar Dressing; My secret kitchen ingredient
This recipe is a riff on my Mom's Classic Caesar dressing which I absolutely love. Her's was a bit different but the flavours are the exact same. This caesar dressing is super craveable and soooo good on salads (obviously), roasted veggies, burgers, and sandwiches. I usually have a jar in my fridge just to amp up the flavour of anything I am cooking.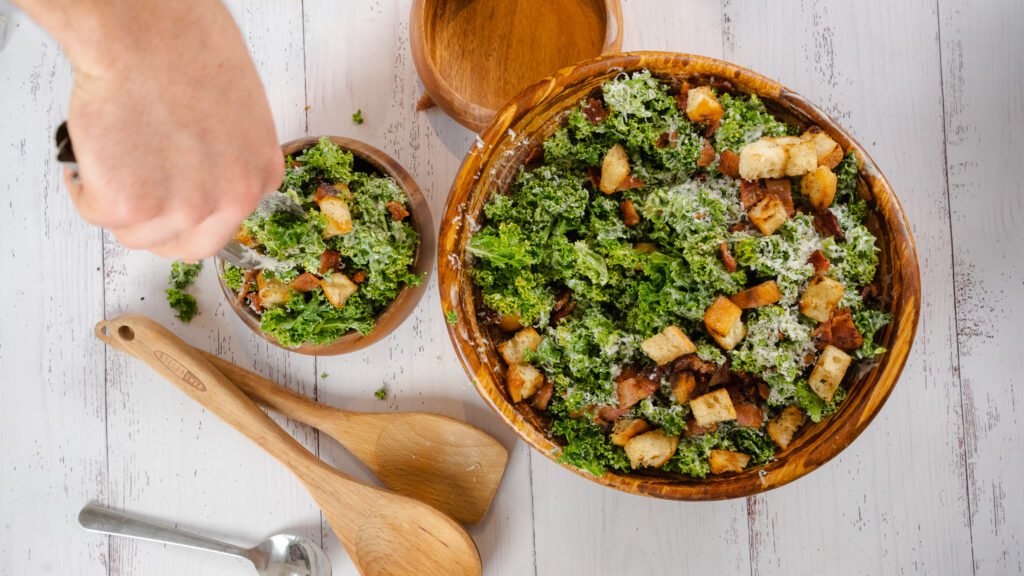 Famous Kale Caesar Salad
Print Recipe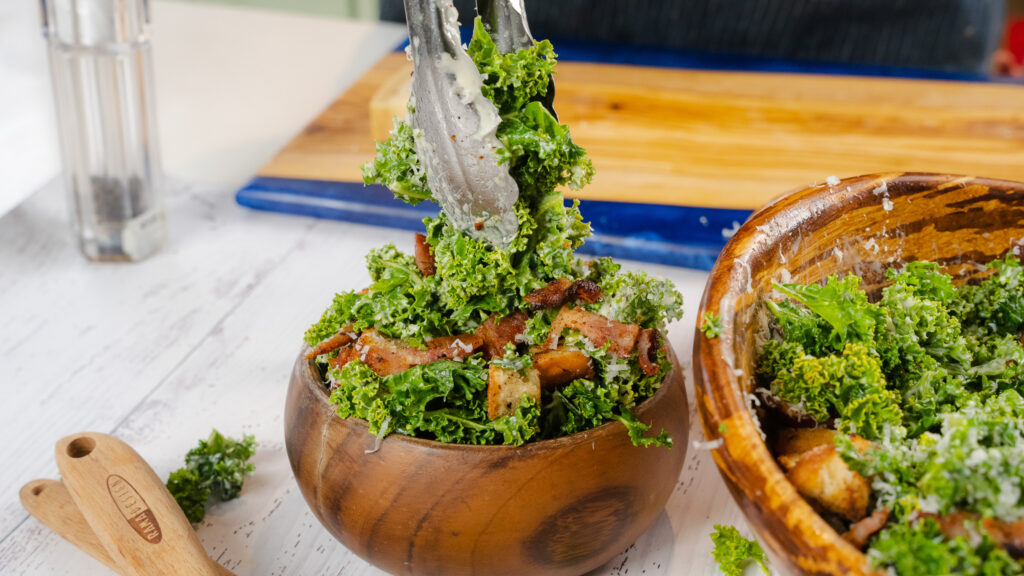 Ingredients
Caesar Dressing
3

cloves

garlic

1

egg

1

tbsp

dijon mustard

2½

tbsp

maple syrup

juice of 1 lemon

1

tbsp

worcestershire sauce

1¼

cups

shredded parmesan

5

capers

¼

cup

apple cider vinegar

1

tbsp

fresh cracked pepper

½

tsp

salt

1

filet

anchovy (optional)

1¼

cups

vegetable oil
Salad Ingredients
1

large

bunch of kale leaves, removed from stems

1

tbsp

olive oil

1/2

Baguette, cut into croutons

5

slices

smoked bacon

1/2

cup

shaved parmasean
Instructions
This is a family classic! Hope you love this. Let's start with the dressing. You are going to want a blender for this one. Food processor works too. Throw all of the ingredients except the vegetable oil into the blender and turn it on high. Let that blend for 30 seconds.

Slowly stream in vegetable oil while blender is running. Don't rush this process.

Boom. Dressing is done. Next up place kale leaves in large bowl and drizzle olive oil over top. Using your hands massage the leaves until tender.

Set a pan over medium high heat and place the slices of bacon onto the pan. Allow to cook until crispy. Drain off excess fat, add an additional tablespoon of olive oil to the pan, and then drop in the cubed baguette. Allow the croutons to toast in the pan. They will soak up some of the excess bacon fat and flavour. Once the croutons are toasted, remove from pan.

Spoon on desired amount of dressing onto the salad and toss with tongs. Top salad with chopped bacon and croutons. Finish with shaved parmesan. Enjoy!
Print Recipe
(Visited 35,880 times, 22 visits today)