This fried chicken sandwich is a real show stopper of a recipe. It's fun with oh so very crave-able flavours. It is filled with lovely flavours from the curry powder in the flavour dredge, partnered with the tartness from the apple in the slaw. 
This hits multiple notes for me, and I really hope you make this recipe. You are going to want to save this one!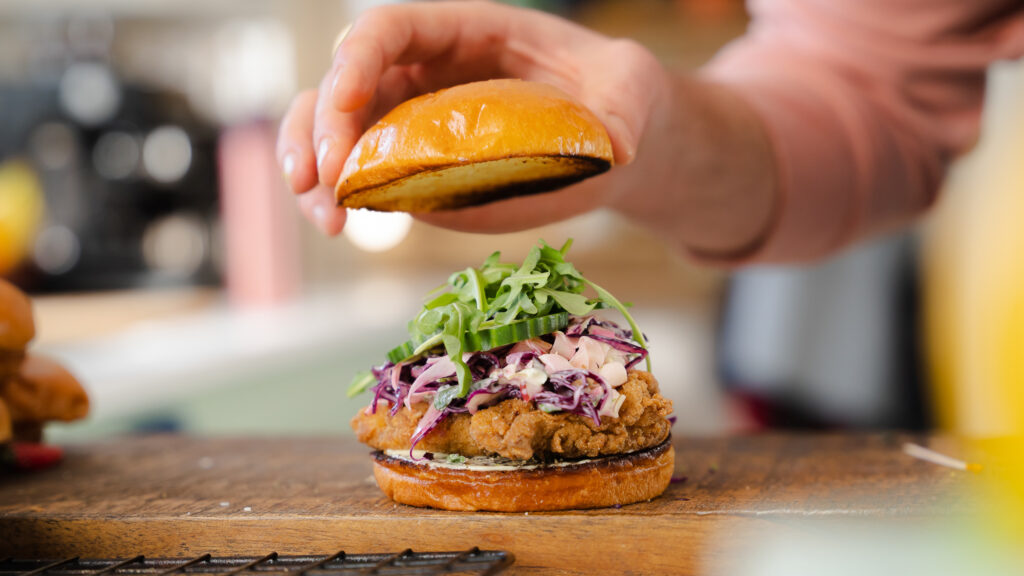 Let's Breakdown the Ingredients!
This is a simple fried chicken sandwich recipe, but it is packed with tons of flavours and crunchy textures that you'll love. Let's get straight into it and dig deep into some of the main ingredients that make this sandwich delicious!
The main ingredient I used for this dredge is all-purpose flour, rice flour, and curry powder. All-purpose flour holds well up to meat in prolonged heat and holds the different spices and herbs really well together. The rice flour is full of natural starch that enables the chicken to become crisper when fried. And the curry powder is something new I wanted to try in this recipe, and it gives it a nice kick of flavour in the crispy chicken patty.
This burger is filled with tons of fun textures, and in the slaw, there the purple cabbage and green apples add another crunchy texture and flavour to this recipe. The purple cabbage is a nutrient-rich vegetable that has a chewy texture. The green apples have a velvety smooth and crisp texture and add a bit of sweetness to balance the spices in the chicken.
To make this crispy chicken sandwich, your choice of oil is extremely important! It is important that you use a high-point smoke oil such as canola, vegetable, avocado seed, or peanut. This is to ensure that the chicken is fried at the right temperature.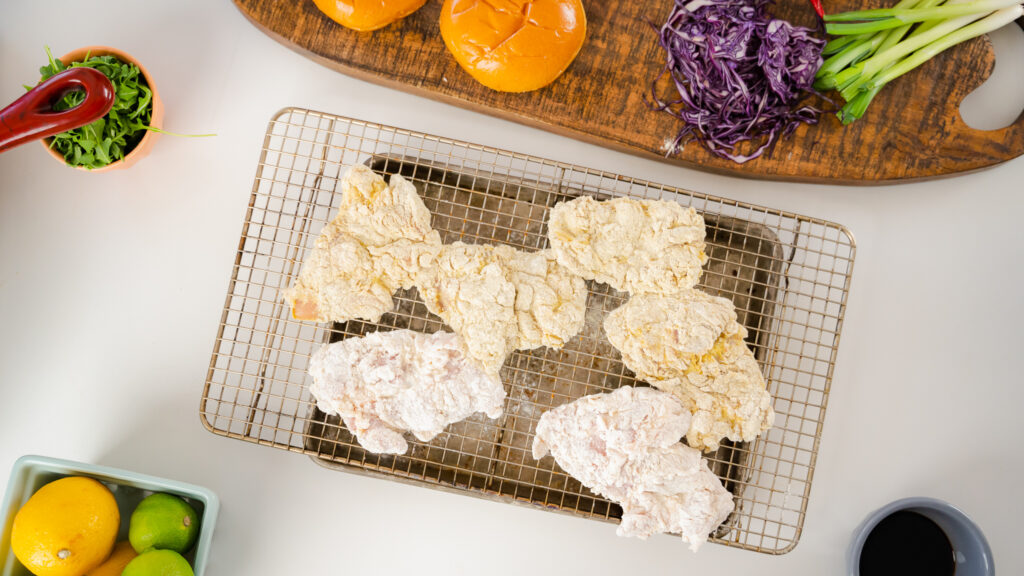 Flouring and Seasoning Your Chicken
For this recipe, I used 50/50, all-purpose flour and rice flour. You can absolutely use 100% all-purpose flour, but if you happen to have rice flour, it adds a great crunch. I also chose to season the flour with curry powder, adding fun and unexpected flavours to the recipe. Feel free to take the seasoning in a different direction if you wish!
Dredging Your Chicken
Before you fry your chicken, here are a few simple steps you can follow to dredge the chicken:
Grab yourself 2 bowls. In one, mix together the flours, spices, and salt. In the second bowl, pour in about 1 cup of milk, bonus points for buttermilk!
Next, the first thing to do is drop your chicken into the milk, then lift it out and let the milk run off the chicken for a couple of seconds. Place into the flour bowl and ensure all parts of the chicken thigh are covered with the flour mixture.
Then repeat the process a second time with the same chicken thigh. Again into the milk, then back to the flour mixture. This is called double dredging and results in crisper chicken when fried.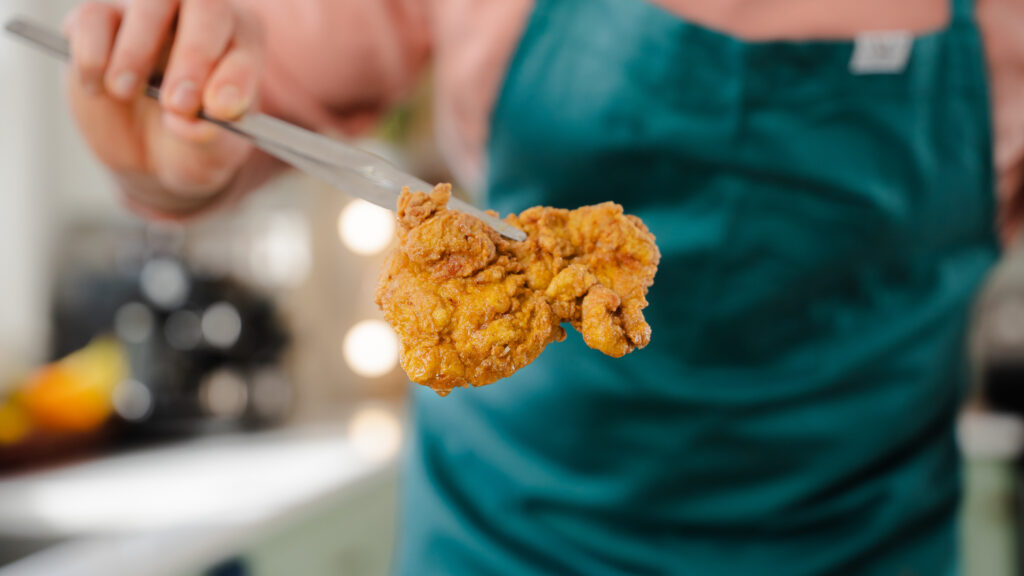 Tips for Nailing This Recipe
If you are not totally comfortable with frying, do not stress, you can do it with a few tips! The key thing to remember is:
Use a deep pot with a high smoke point oil like canola, vegetable, avocado seed, or peanut.
Heat the oil to 350 degrees Fahrenheit, then gently lay the chicken into the oil.
Let it fry on both sides for 6-7 minutes or until the outside is golden brown.
Once the chicken is done, remove it from the oil and drain it on a wire rack or paper towel. Don't forget to immediately season with salt and a little bit of lime zest!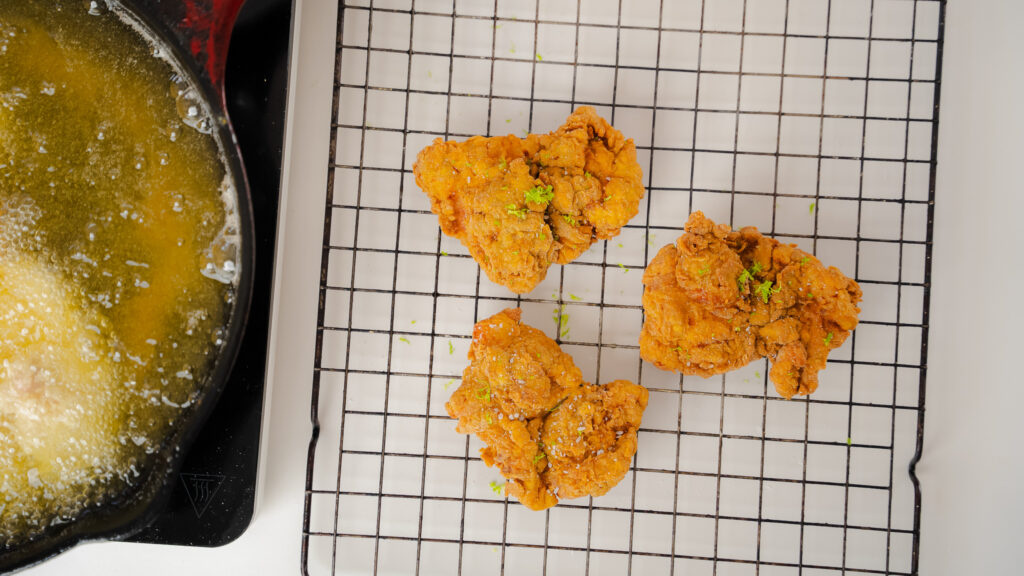 Fried Chicken with Apple Cabbage Slaw
Print Recipe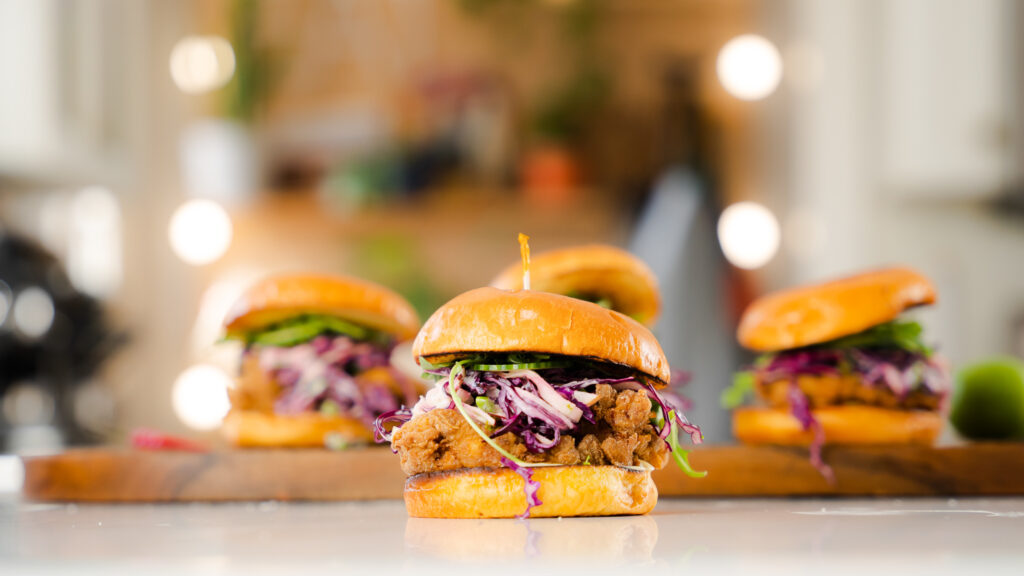 Ingredients
6

Boneless, skinless chicken thighs
Dredge
1

cup

flour

1

cup

rice flour

just use regular flour if you don't have rice flour

1

tbs

curry powder

1

tsp

salt

1

cup

Milk or buttermilk
Apple cabbage slaw
1

Green apple, thinly sliced

1/4

cup

green onion, sliced

1

cup

purple cabbage

1/4

cup

fresh mint, sliced

1/3

cup

Mayo

Zest

Lime

1

pinch

salt
Extras
4

Brioche buns, toasted

1.5

litre

frying oil

You can strain and store oil after you are done using. Can be reused multiple times.
Instructions
In own bowl mix together all purpose flour, rice flour, curry powder, and salt.

In separate bowl pour in milk or butter milk.

Now taking your chicken thighs one at a time start by dipping the chicken into the milk, letting the excess drip off, and then drop into the flour. Make sure all parts of the chicken is covered in flour mixture. Now repeat this process with the same piece of chicken. Milk mixture, followed by the flour. This is called a double dredge and will result in crispier chicken. Complete all pieces of chicken.

Pour oil into a high walled pot and bring the temperature to 350f. Use a kitchen thermometer to measure the temperature. These are widely available. Worth grabbing yourself one!

Once temperature of the oil has been reached, carefully place the breaded chicken into the oil. Don't over crowd the pot as that will drop the temperature of the oil. Fry both sides of the chicken for about 5-6 minutes or until the crush is a beautiful deep brown. I always suggest cutting one piece open to check for doneness. Thats why I suggest making 6 pieces of chicken. 1 to test doneness and one for the chef to eat while cooking. No one needs to know.

Once the chicken is done cooking, remove from oil and let drain on a piece of paper towel and season with a pinch of salt and lime zest.

While chicken is cooling, mix together the slaw. Add all the ingredients to a bowl and mix.

Now build your burger. Feel free to add a small squirt of mayo to your burger if needed. Enjoy!
Print Recipe
(Visited 2,937 times, 1 visits today)