Oysters are incredible, delicious little creatures. 99% of the time I prefer them raw on the half shell with a bit of horseradish and squeeze of lemon, but every now and then I love a fried oyster. There is no better way to serve them than in a Fried Oyster Po'boy. This is a New Orleans classic and one heck of a delicious sandwich. This one gets messy, but just embrace it and go nuts!
Fried Oyster Po' boy
Print Recipe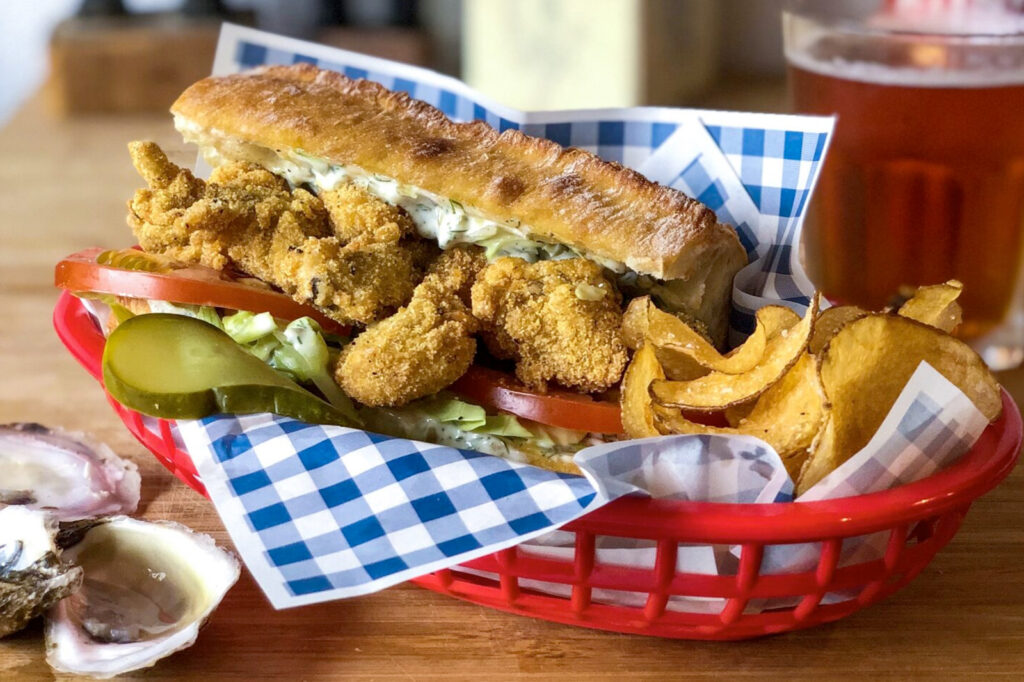 Ingredients
1

french baguette

24

oysters

2

eggs

½

cup

corn meal

½

cup

flour

2

tbsp

garlic powder

2

tbsp

onion powder

2

tbsp

chilli powder

½

head iceberg lettuce

½

green cabbage

½

cup

mayo

2

tbsp

white wine vinegar

1

vine ripe tomato

Room temp butter

Hot sauce

Salt and pepper
Instructions
Combine flour, panko, cornmeal, spices, salt and pepper in a large bowl. Whisk together eggs yolks. Carefully shuck all oysters. Rinse in cold water and pat dry with paper towels. Run through egg and then toss in flour mix. Make sure to shake all access flour/cornmeal.

In a large pot or deep fryer at 350F, fry each oyster until golden brown about 2-4 min. Remove from oil and allow to drip dry on a baking rack.

Cut baguette into 6 inch portions. Slice the baguette pices in half. Smear with butter and bake in the oven at 350F for 5-10 minutes, just enough to melt the butter and get the bread to that perfect crust consistency. Remove from oven.

As finely as you can, slice the cabbage and lettuce, mix in a bowl. Slice your tomatoes as thin as possible.

To assemble your po' boy, mix mayo and vinegar together in a small bowl. Spread on your baguette, layer your lettuce and cabbage and then shingle your tomatoes. Stack high your fried oysters and finish with a twist of lemon and a few shakes of your favorite hot sauce.
Print Recipe
(Visited 736 times, 1 visits today)