This is a really cute recipe. Fruit pizza is just the perfect dessert to bring to a potluck or a back yard bbq in the summer time. Visually stunning and sweet but not too sweet, guests of all ages will be drawn to this fun dessert. To me it screams summer time, but you can easily change up the fruit combination and make it seasonal all year round!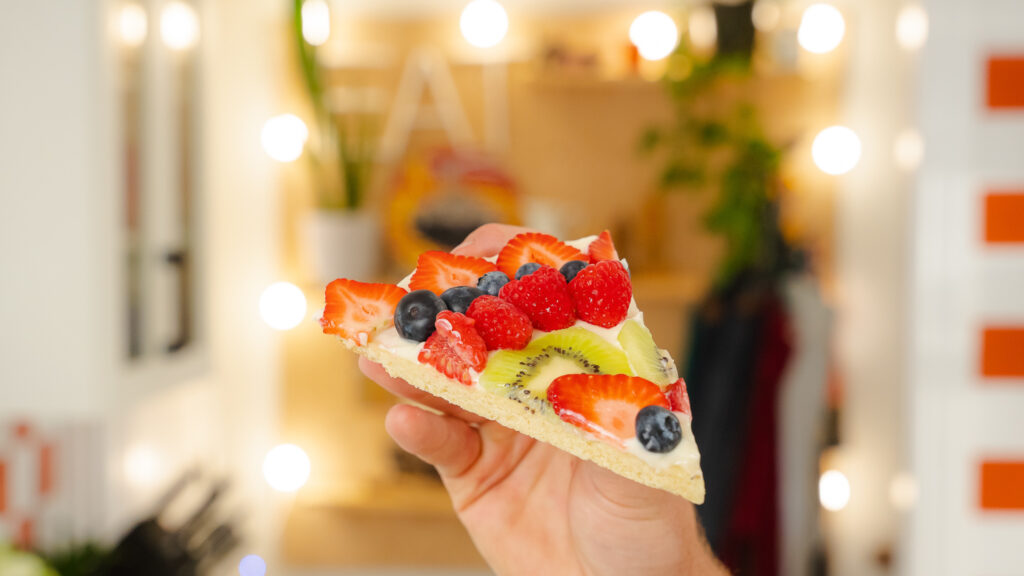 What is a fruit pizza?
Fruit pizza is a large sugar cookie, topped with cream cheese icing and fresh fruit. The texture combination is really the big draw to this dessert for me. Soft and chewy sugar cookie, creamy smoothness of the cream cheese icing, and the cool bright pops from the fruit. Really is crave-able. Beyond the flavours, assembling this dessert is really fun. A great activity for kids! You could even make smaller sugar cookies so each person has their own personal pizza.
Sugar Cookie Crust
I really love this sugar cookie crust. It's soft and chewy, but once cooled it is sturdy enough to hold all the toppings and allow you to eat it like a slice of pizza!
We are using the standard ingredients such as flour, sugar, butter, egg, vanilla, baking powder, and salt; plus, we're adding cornstarch to make the cookie crust extra soft. 
Tips on nailing the Sugar Cookie crust
You need to let the dough rest for 20 minutes in the fridge. The dough will spread while it cooks slightly, but we do want to limit it from spreading too much.
Use a 12 inch pizza pan. Make sure you don't use one with holes it it! If you don't have a pizza pan, but use a standard baking sheet. No issue.
Allow the cookie crust to fully cool before adding on icing. If you don't wait it will melt.
Cream cheese icing
Nothing fancy here. I have used a similar icing for cakes before, but all we are using is cream cheese, butter, icing sugar, and vanilla. You are going to want to make sure the cream cheese is room temperature so you are able to get a nice smooth icing.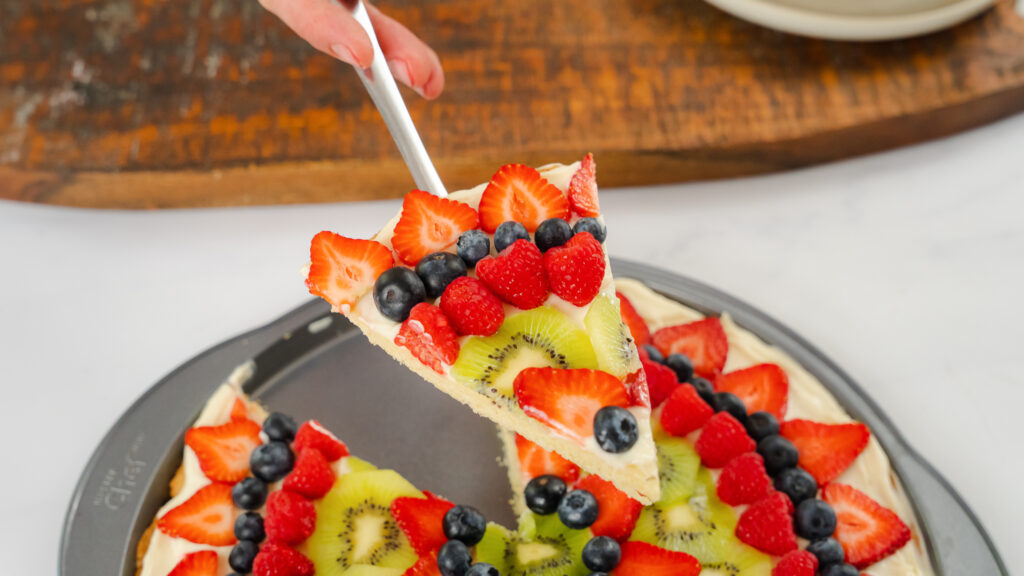 Best fruit to use for this Fruit Pizza
You can really take the fruit topping in any direction you are craving! Let your creavity lead the way. If you get stumped below are some of my favours.
Fresh Berries. Strawberries, blueberries, raspberries, blackberries, partridge berries.
Kiwi or mango
Grapes
Plumbs, peaches, nectarines
Apples (make sure to brush with lemon juice to avoid browning)
Oranges. Fresh or canned mandarines
Fruit Pizza
Print Recipe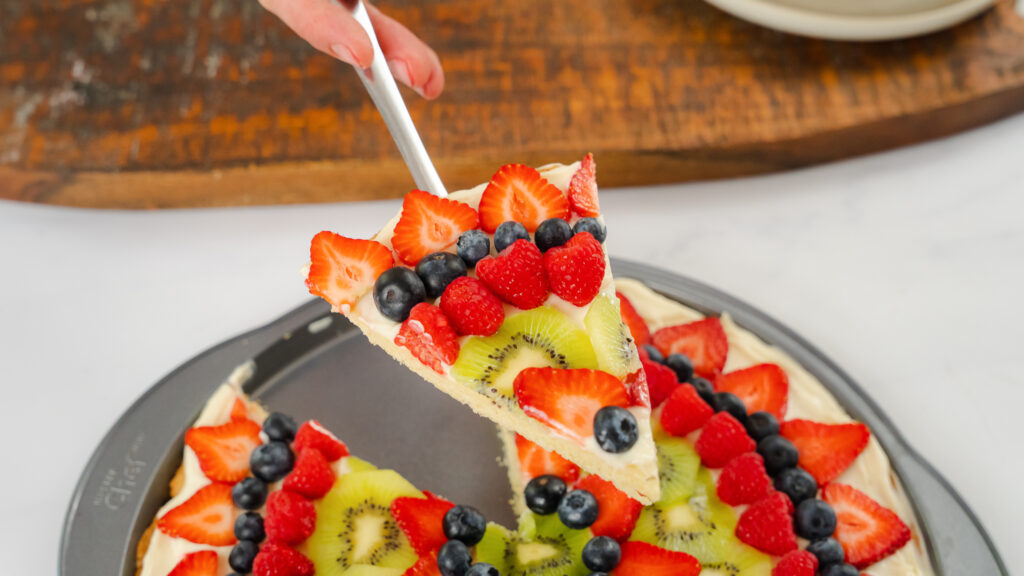 Ingredients
Sugar Cookie
1 1/2

cups

Flour

1 1/2

tsp

corn starch

1

tsp

baking powder

1/4

tsp

salt

1/2

cup

Butter, room temperature

3/4

cup

sugar

1

egg

1

tsp

vanilla
Cream cheese icing
8

oz

cream cheese, room temperature

1 block

3

tbs

butter, room temperature

little more than 1/4 cups

1

cup

icing sugar

1

tsp

vanilla
Fruit Topping
1

cup

Strawberries, sliced

1

cup

Blueberries

1

cup

Raspberries

1

Kiwi, sliced
Instructions
Sugar Cookie Crust
Let's get cracking on the crust. In a bowl whisk together flour, corn starch, baking powder, and salt. Set aside.

Using a stand or handheld mixer, cream together the butter and sugar. Don't rush this process. Give it about 2 minutes until the butter is nice and creamy. Next crack in the egg and add the vanilla and mix on medium speed until combined. Now add in the dry ingredients (flour, cornstarch, baking powder, salt). Mix on slow until combined. Once combined, cover with wrap and pop bowl into the fridge for 20 minutes and up to 24 hours. If you making more than 24 hours in advance let the dough sit out for 20-30 minutes before rolling out.

Preheat oven to 350F. Grease a 12 inch pizza pan with cooking spray or butter and remove dough bowl from the fridge. Dump out dough and using a rolling pin, or what ever you have, roll out the dough to fit the pizza pan. You can use your fingers to help with the process too.

Bake for 17–19 minutes or until the edges are very lightly browned. Avoid over-baking. Cool crust completely before decorating.
Cream cheese icing
In a bowl using a hand held mixer or a stand mixer fixed with a paddle attachment, beat together the room temperature cream cheese, and butter. Mix on medium high for 2 minutes or until smooth. Add in the icing sugar and vanilla, and beat for 1 more minute or until smooth.
Building your pizza
After the crust has fully cooled, smear on the icing in the thick layer and then top with fresh fruit. Take your time to make it look as pretty as possible!
Print Recipe
(Visited 8,479 times, 2 visits today)