These crispy, garlicky, buttery Hasselback potatoes are an amazing side dish for steak, fish, or even just on their own. These potatoes are thinly sliced 80% of the way through, basted in garlic butter, roasted perfectly brown, and topped with more garlic butter, black pepper, and parmesan cheese. What's not to love about that?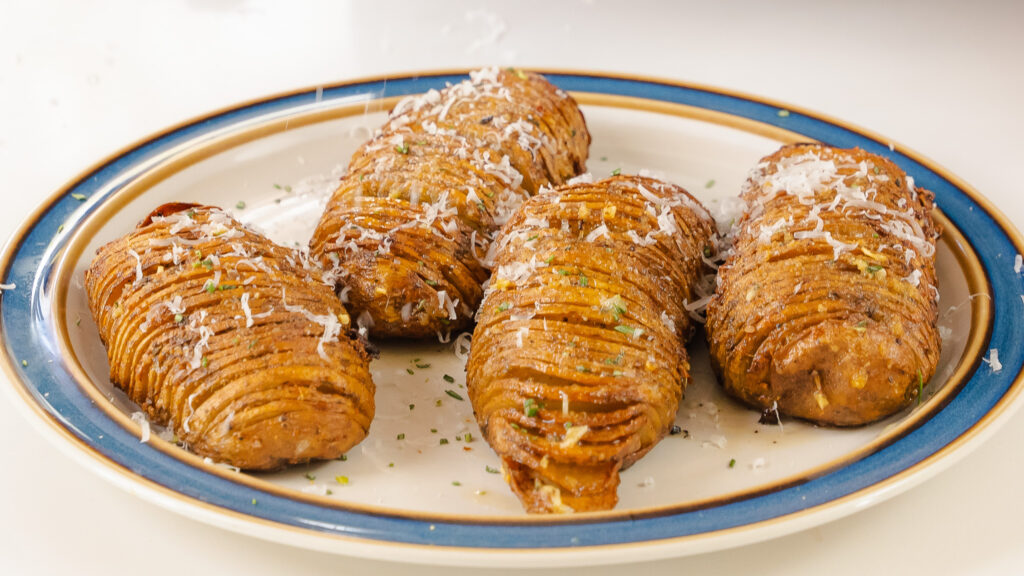 These Hasselback potatoes are a fun and easy way to spice up the humble baked potato. By adding slices into the potato, it exposes more of the surface of the potato, which means more crispy, crunchy, potato bites! If you want to take these Hasselback potatoes to the next level, you can top them with sour cream, bacon, and cheese! Let's go!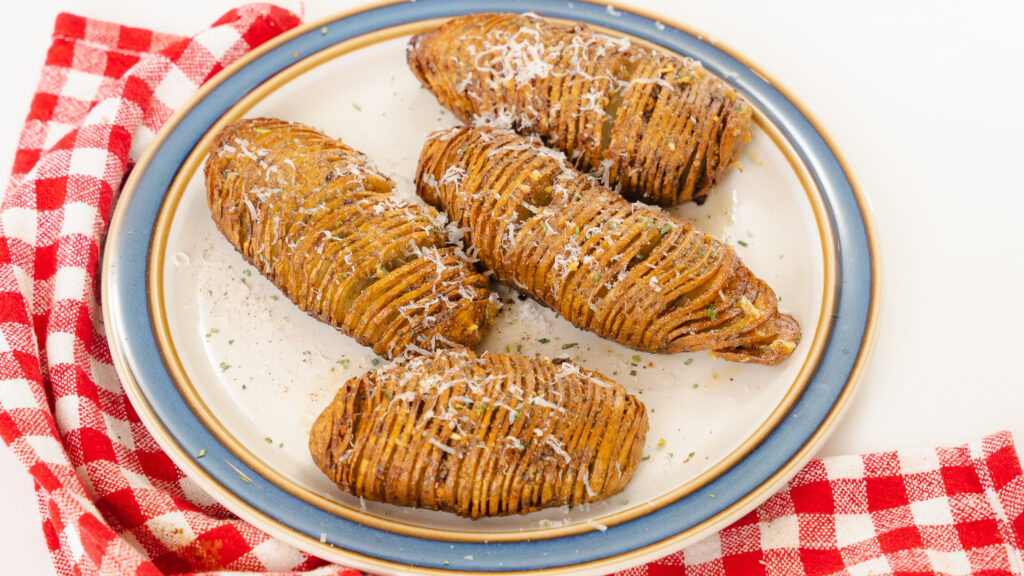 How to make Hasselback potatoes
Hasselback potatoes get their unique texture and taste from thinly slicing the potatoes. Cut thin slices down the top of your potatoes, taking care not to cut all the way through the bottom of the potatoes. Make a mixture of melted butter, garlic, herbs, spices, olive oil, salt and pepper. Brush that mixture over each of the potatoes making sure to get the mixture in between all the slices. The potatoes go in the oven to bake and crisp up, and that is it!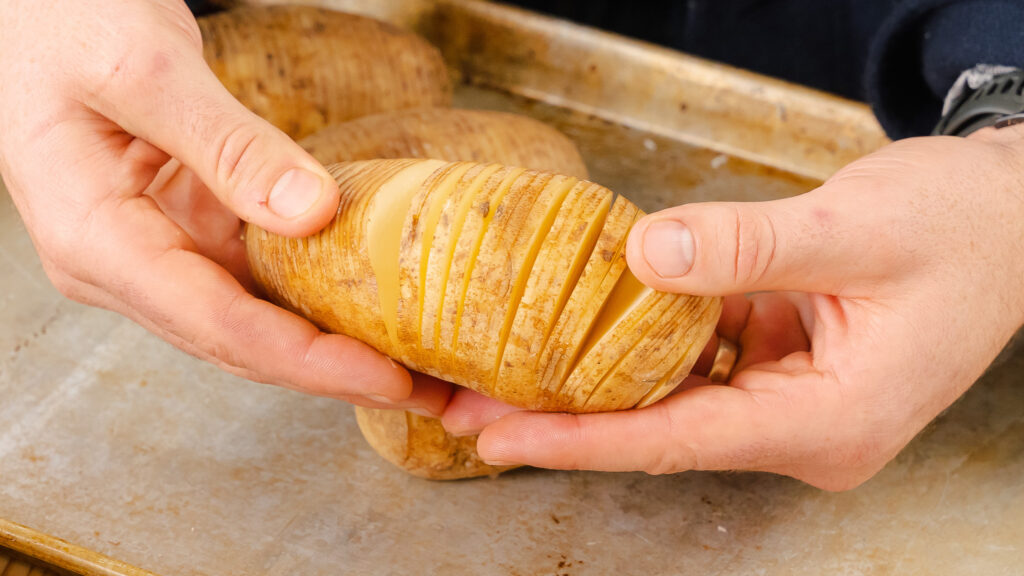 How to cut Hasselback potatoes
Cutting these potatoes can look a little tricky, but don't panic you can do it! All you are going to need is 2 wooden spoons and a sharp knife. Grab a potato and slice off a small amount of the bottom of the potato so it will lie on the board without rolling around. After that, place the two wooden spoons on each side of the potato, this stops you from slicing through the potato. Now slice every 1/8 inch of the potato. You should be able to get around 15-20 slices on each potato. Take your time and use a sharp knife! And remember, the more slices, the better the result.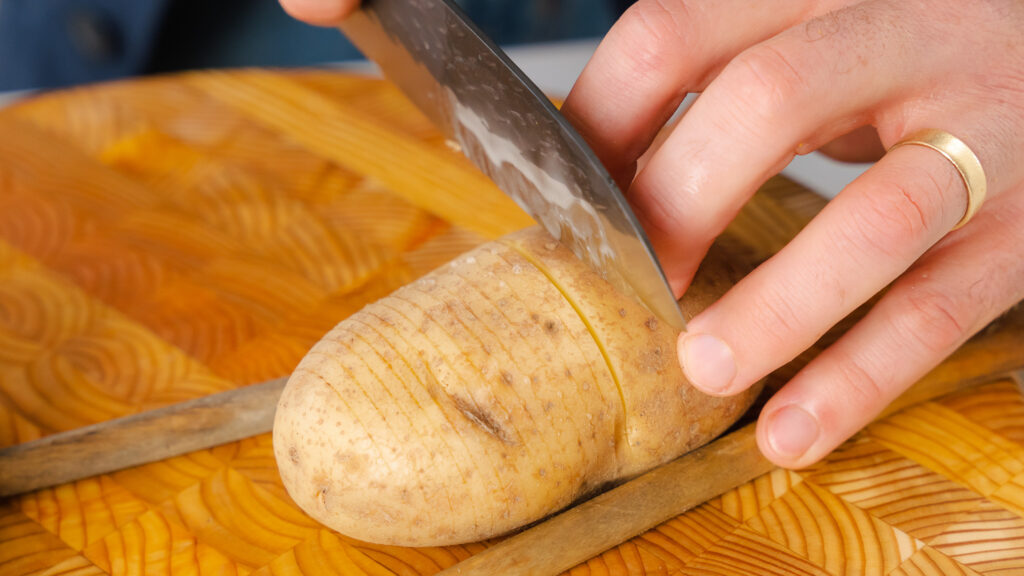 Herb and garlic butter
The garlic butter really is the star of this dish. The flavour is deep, garlicky, and so so delicious. All you need to do is add butter, olive oil, garlic, parmesan, rosemary, garlic powder, salt, and pepper into a small pot and melt it all down. From there, you can use a pastry brush or a spoon to drip the butter onto the potatoes. Make sure you drip the butter unto all of the slices for extra crispiness!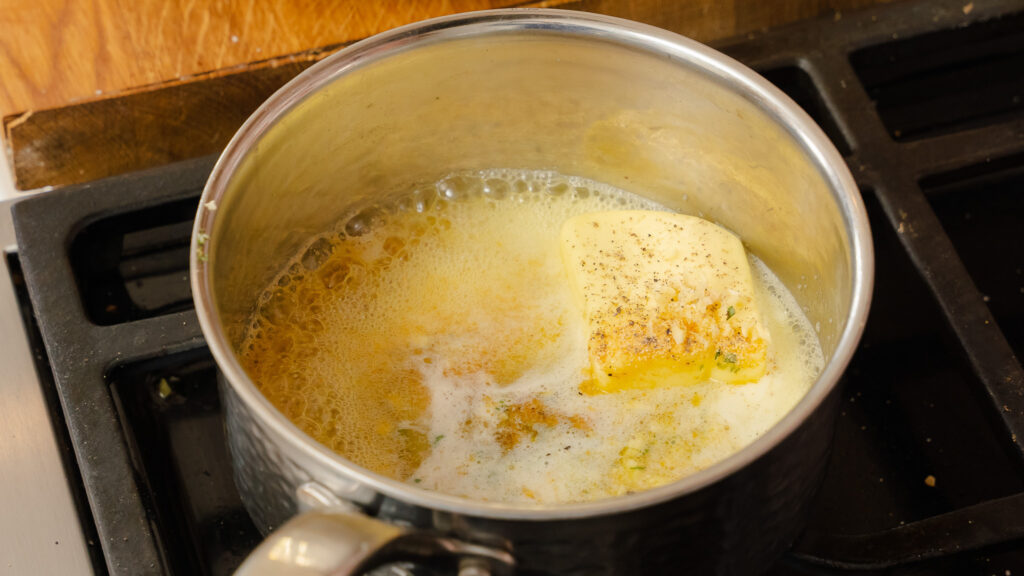 This is an amazing side dish to enjoy when making steak, fish, poultry, or even a Thanksgiving dinner. Get creative with the toppings, and these can be an amazing dinner all by themselves.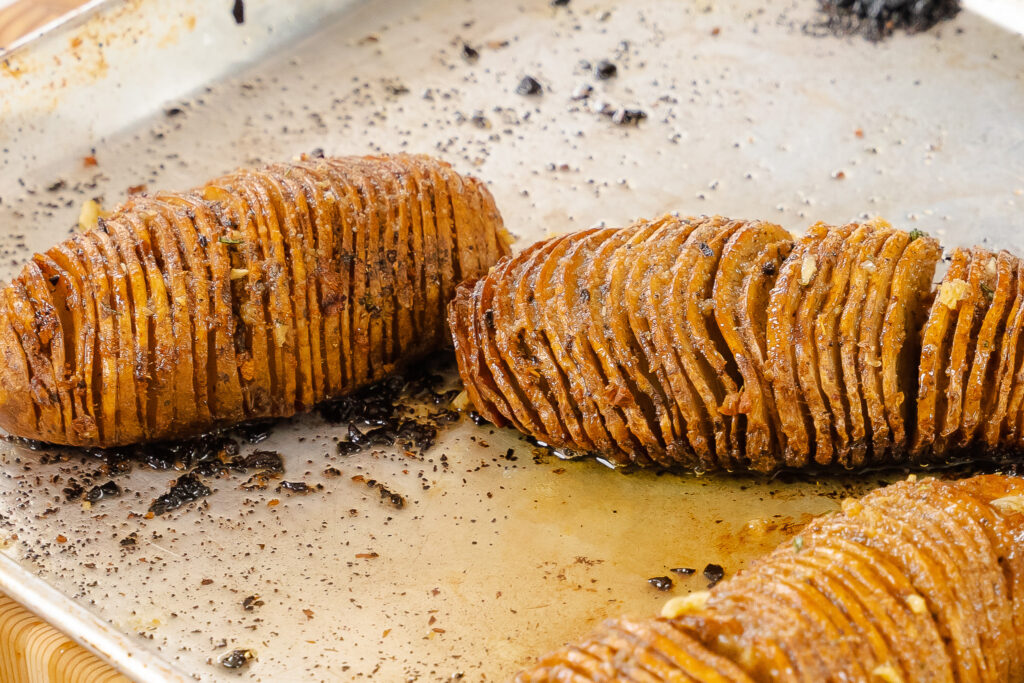 Garlic, Rosemary, Parmesan Hasselback potatoes
Print Recipe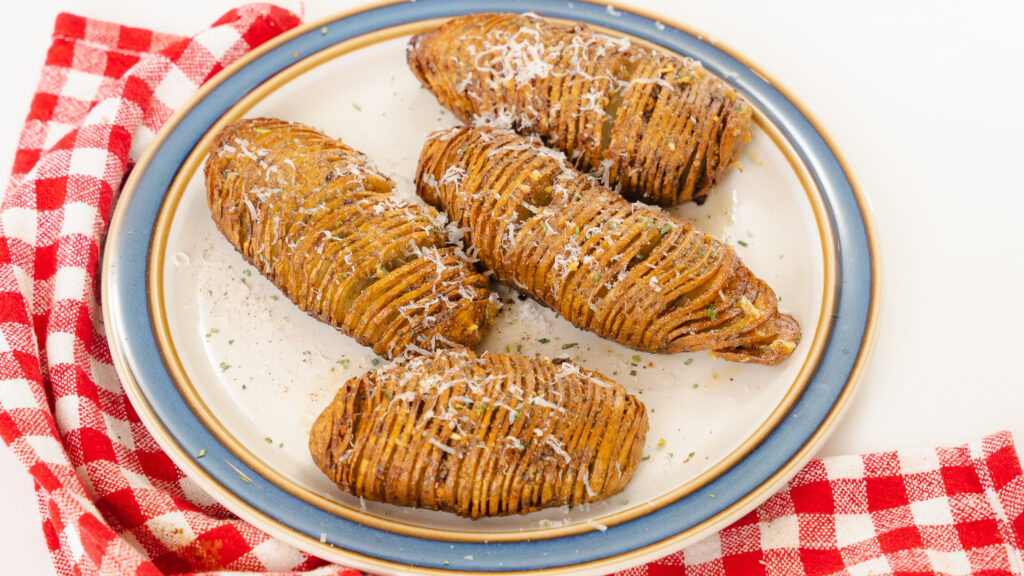 Ingredients
4

baking potatoes

2/3

cups

butter

2

tbs

olive oil

3

cloves

garlic, minced

2

tbs

parmesan

2

tbs

rosemary, minced

1

tbs

garlic powder

1

tsp

salt

1

tsp

pepper
Toppings
1/2

cup

parmesan

2

tbs

rosemary, minced

1

tbs

pepper
Instructions
Grab your potatoes and slice off the bottoms so they can lie flat without rolling around. Grab two wooden spoons and place them along the sides of the potato. The spoons stop you from slicing the full way through the potato. Using a sharp knife, slice the potatoes every 1/8 inches down the length of the potato. You should be able to get around 15-20 slices. Slice all 4 potatoes and place them on a baking sheet.

Next up, into a small pot add the butter, olive oil, garlic, parmesan, rosemary, garlic powder, salt, and pepper. Place over medium heat until butter is melted. Enjoy that smell!

Using a pastry brush, paper towel, or spoon, coat potatoes with melted butter mixture. Make sure to get butter into all of the slices for maximum crispiness.

Pop the try of buttered potatoes into the oven and roast for 55-65 minutes. Be sure baste potatoes with the butter every 20 minutes to help with the browning.

Once the potatoes are brown and crispy, remove from the oven and top with parmesan, fresh rosemary, and black pepper. Enjoy!
Print Recipe
(Visited 3,679 times, 1 visits today)