It's garlic scape season and I just love this ingredient. Garlicky, spicy, and very abundant during this small window of the year. Garlic scapes are the green, curly shoots that grow from hardneck garlic plants, where flowers might otherwise sprout. Farmers cut away these scapes regardless, so that all energy is diverted to the garlic bulb growing underground. Scapes make for delicious eating on their own though, so they need not go to waste.
I was hanging out on my deck yesterday and my neighbour gave me a bunch of scapes that I just knew I would whip into some pesto. Here is the recipe. Really awesome for pasta, sandwiches, roasted veggies, or really anything! Enjoy!
Garlic Scape Pumpkin Seed Pesto
Print Recipe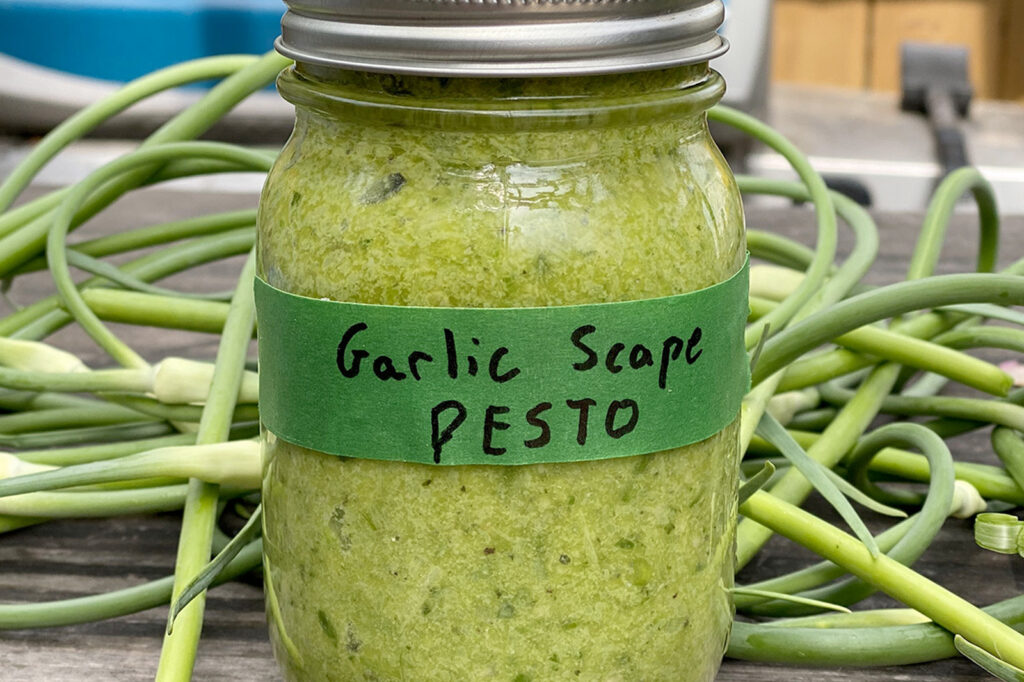 Ingredients
2

cups

chopped garlic scapes

¼

cup

fresh basil

1¼

cups

shredded parmesan cheese

⅓

cup

pumpkin seeds (almonds or pine nuts work too)

juice of 1 lemon

2

solid pinches of salt

freshly cracked black pepper

1¼

cup

olive oil
Instructions
Add all the ingredients, minus the olive oil, into a food processor. Process on high until broken down and relatively smooth. With the processor running on high, stream in olive oil.

Store in an airtight jar in the fridge, or freeze in ice cube tray to use throughout the year!
Print Recipe
(Visited 86 times, 1 visits today)