I love this recipe. Spicy, sweet, funky, and incredibly satisfying. Of all the recipes I make, this Haddock Green Curry is my Wife's #1 request once the weather turns a bit cooler.
Feel free to make this recipe yours by adding in different vegetables or even switching up the protein. I find the green curry pairs so well with a flaky white fish, but if you aren't a seafood person no sweat! Choose your own adventure.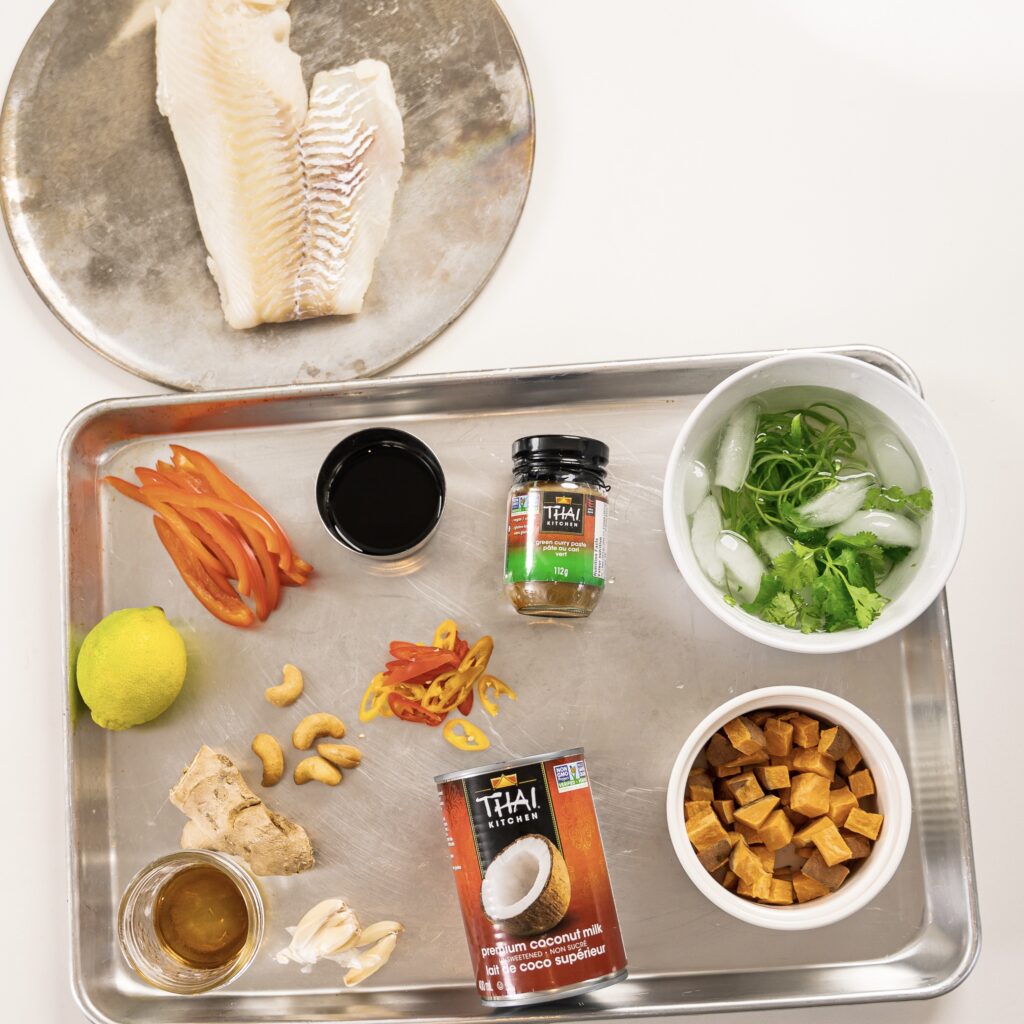 Tips for nailing this Seafood Green Curry
Here are a couple tips for really nailing this dish.
Grab high fat, high quality coconut milk
Get all your ingredients prepped and right in front of you. It will make the process much easier as the dish comes together very quickly!
Find a green curry paste that you enjoy. I generally use the Thai Kitchen brand green curry paste as it is widely available. I have tried many and I like using this one if I am making for a crowd as it isn't that spicy.
If serving with rice, be sure to use Jasmine rice.
Haddock Green Curry
Print Recipe
Ingredients
3

tbsp

green curry paste

1

can

High quality coconut milk

3

cloves

garlic, minced

1

inch

ginger, minced

1/2

cup

sweet potato, diced and microwaved for 4 minutes

1/2

cup

red peppers, thinly sliced

1

tbsp

fresh lime juice

1 1/2

tbsp

low sodium soy sauce

1

tsp

fish sauce

1/4

cup

cashews, crushed

1

thai chilli pepper, thinly sliced

1

Fresh Haddock Fillet

1/2

cup

cilantro, or other preferred herb.
Instructions
Place a lightly oiled pan over medium high heat. Once pan is at temperature, add in garlic, and ginger. Saute for 1 minute.

Scoop in the green curry paste and let it "wake up" with the garlic and ginger. Let paste saute for 1 minute before pouring in coconut milk. Stir with spoon to incorporate all ingredients.

Next up, add in the sweat potato and red peppers. Bring mixture to a simmer and then lay in the fish. Allow the fish to cook into you can easily flake with a fork. About 5 minutes.

Once fish is cooked through, turn off heat and season your curry with soy sauce, fish sauce, lime juice.

Spoon curry into a bowl and garnish with crush cashews, chilli pepper, and herbs. Enjoy!
Print Recipe
(Visited 2,652 times, 37 visits today)