One of my greatest obsessions is thinking of quick and delicious meals to make your weeknight dinners easier! This harissa chicken & pepper tray is a doozy of a recipe that will find its way into your weekly rotation.
This recipe is insanely easy, with a maximum of 10 minutes of prep work. It's easy with three steps: mixing the ingredients together, popping it into a baking tray and tossing it in the oven for 45 minutes. It's easy, healthy, and delicious. What more can you ask for?
Let's Breakdown the Ingredients!
This recipe is fairly fast and simple with only nine ingredients! Here are a few key ingredients of this recipe.
What is harissa? If you're looking to step up your condiment game, harissa is the way to start! It is a spicy, smokey, peppery chili paste, originally from Tunisia and a common spice in Middle Eastern and North African cooking.
Skin and bone chicken thighs are a wonderful ingredient to season with harissa to add an impactful flavour to the dish. Cooking chicken with the skin is a great way to add protein to your meals and flavour with the added fat from the meat.
While protein is important to your diet, it's also crucial to add vegetables as well to have a balanced and healthy meal. Red onions balance out the spices of the recipe with a sweet, spicy-to-mild taste. The addition of red, orange and yellow bell peppers also adds a sweet flavour to the dish.
Basmati Rice is a carbohydrate often used in Middle Eastern cuisine, and it pairs well with this delicious and flavourful dish. This specific rice is a great way to add fibre to your meal.
Harissa Chicken & Pepper Tray Bake
Print Recipe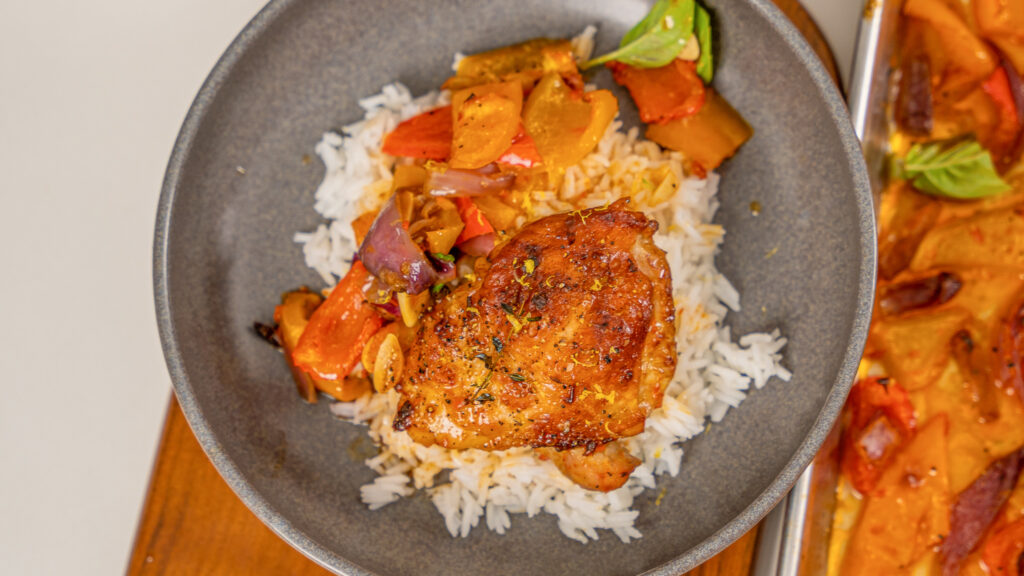 Ingredients
8

skin on bone in chicken thighs

2

red onions, roughly chopped

4

peppers, roughly chopped

3

cloves

garlic, sliced

5

tsp

harissa

2

tsp

salt

1

lemon

¼

cup

olive oil

1½

cups

basmati rice
Instructions
Pre heat your oven to 425

In a large bowl, mix together chicken thighs, peppers, onions, harissa paste, olive oil, salt, and garlic. Make sure all ingredients are well covered with harissa and then spread out on a large baking sheet. Place into the preheated oven for 45 minutes. I also suggest you turn on the broiler for the last 2-3 minutes to brown up the chicken skin.

Next up, let's cook the basmati rice. In a medium sized pot add in 1 1/2 cups of rice followed by 3 cups of water. Place over high heat and bring to a boil. Once boil has been reached, cover the pot and reduce temperature to low and let simmer for 12 minutes. After the 12 minutes, keep covered and remove from heat until ready to serve.

Once chicken is done in the oven, season with lemon juice and serve hot. Enjoy this super easy, healthy dinner!
Print Recipe
(Visited 17,112 times, 1 visits today)