I believe there is something very special about Homemade Tea Biscuits. It is nothing fancy, but it is darn near the perfect bite of food you'll ever have! To me, it holds a special place in my heart as the ultimate comfort food with soft and warm beautiful layers.
Tea biscuits are one of the very first baked goods I learned to perfect. This recipe doesn't take a lot of ingredients, but there are a few tips and tricks that can make the outcome much better. Take a look at some tips below to figure out how you can perfect these delicious biscuits!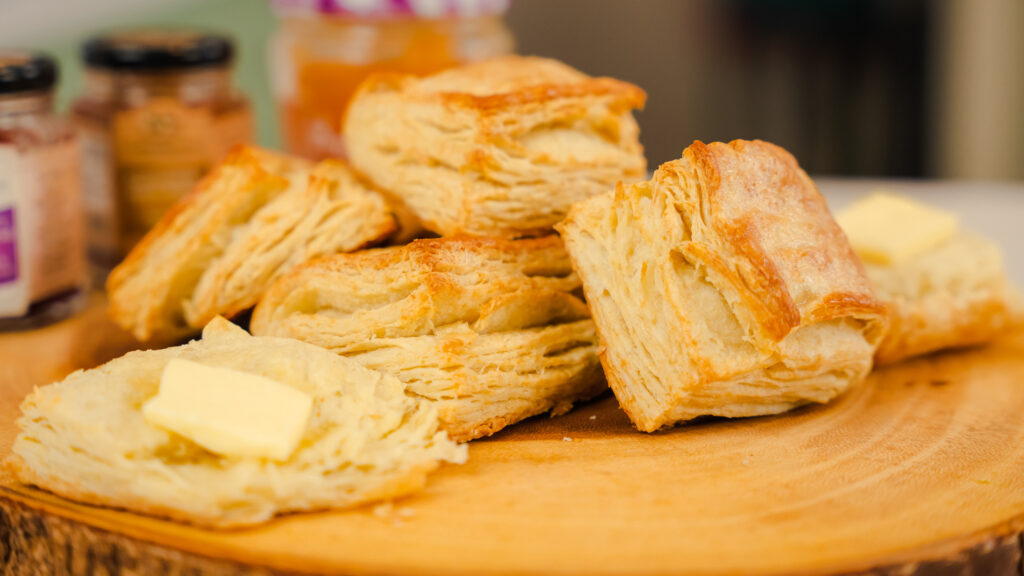 Let's Breakdown the Ingredients!
This recipe only has a handful of ingredients, but using the right ones will make this the best homemade tea biscuits you'll ever have!
Frozen butter is an extremely important ingredient that helps make these the best biscuits ever. When the shredded butter is subjected to high heat in the oven, it will cause the butter to steam to help raise the biscuits.
I use buttermilk for its acidic and fat content, and it is another ingredient that helps biscuits rise and become fluffier. The buttermilk's acidic content will help activate baking soda to help raise the dough.
Using baking powder with baking soda will help ensure that there isn't an overload of bitter flavour to the biscuits.
Flour is important to bring all the ingredients together to make a formable biscuit base.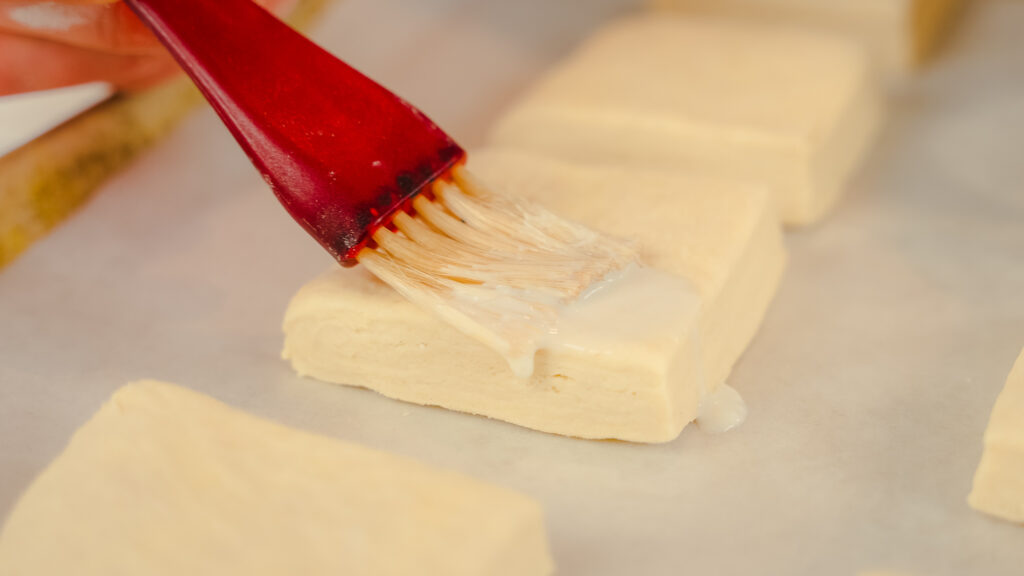 Tips For Nailing This Recipe
Use frozen butter. This is crucial to making tea biscuits as the frozen butter will help release steam while cooking, which improves the texture of the biscuits.
Shred the cold butter in a cheese grater. This will make your life easier and ensure that the butter is evenly and fully incorporated throughout the dough.
Use buttermilk, and if you don't have any, no worries. All you need to do is add a tablespoon of white vinegar to 1 cup of milk and let it sit for 2 minutes. The milk will curdle, which results in moister biscuits.
Don't skip the folding! Tea biscuits are all about the flaky layers, so don't skip this step. It's worth the small amount of extra work.
Cut the biscuits into squares if you want to avoid wasting dough. This took me a while to realize, but it is a tip worth your time!
Brush the biscuits with buttermilk before baking. It will give a beautiful golden colour to the top of the tea biscuits.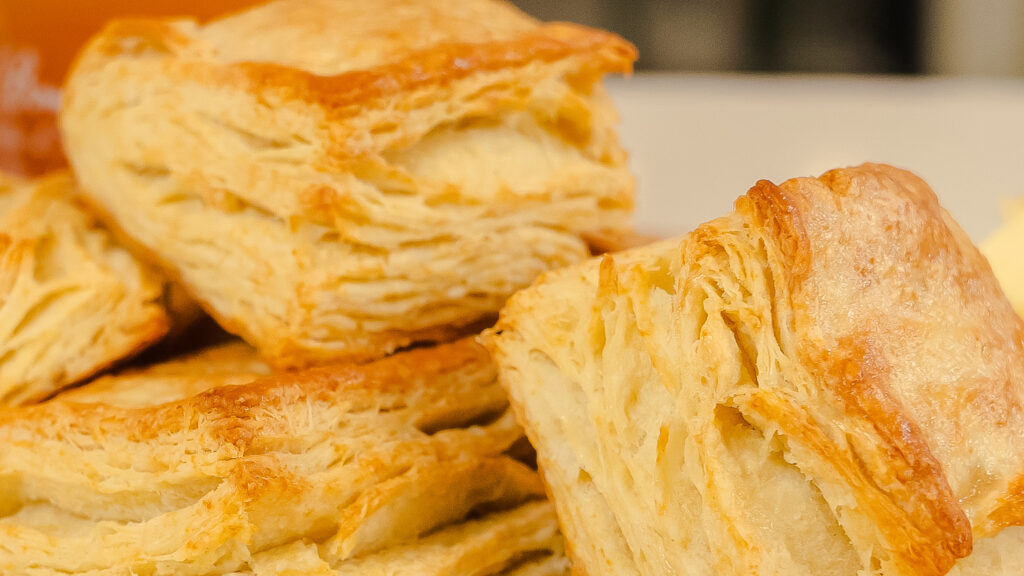 Homemade Tea Biscuits
Print Recipe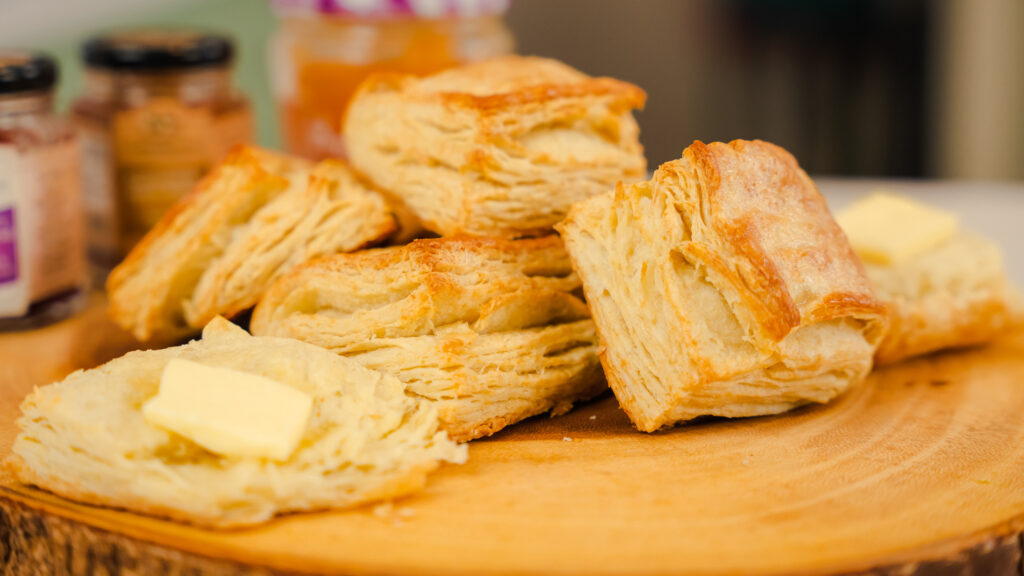 Ingredients
2

cups

Flour

plus additional for dusting

2

tsp

baking power

1/2

tsp

baking soda

1

tsp

salt

1/2

cup

frozen butter, shredded with cheese grater

1

cup

buttermilk

see above tip to make your own

2

tbs

buttermilk for brushing top of biscuits
Instructions
Preheat oven to 425F and prepare a baking sheet with cooking spray or parchment paper.

In a bowl mix together flour, baking powder, baking soda, and salt. Add in shredded butter and mix together to make sure butter is well distributed.

Create a well in the flour (a small hole) and pour in buttermilk. Mix together until a shaggy dough forms. Tip out onto a lightly floured surface, lightly bring dough together and then and shape into a rectangle using a rolling pin. Using the rolling pin, roll the dough out until it's about 1/2 inch thick. Starting with the end of the rectangle closest to you, fold end to the middle. Repeat with end of the rectangle farthest away from you. You should now have a square. Turn the square a half turn and then roll back into a rectangle; repeat the folding process two more times. This is what creates nice flaky layers.

Roll dough to about 1/2 to 2/3 of an inch thick.

Using a knife, cut out biscuits. If you want to use a cookie cutter go for it, I have now started cutting the biscuits into a square share to avoid any waste.

Place the biscuits onto the baking sheet and lightly brush the tops with butter milk. If you do not have a pastry brush just dip paper towel into the butter milk and lightly spread on top.

Bake for 15-17 minutes or until tops are nice and brown.

Now time to enjoy. Very few things better in this world than a freshly made tea biscuit with butter and homemade jam. Enjoy!
Print Recipe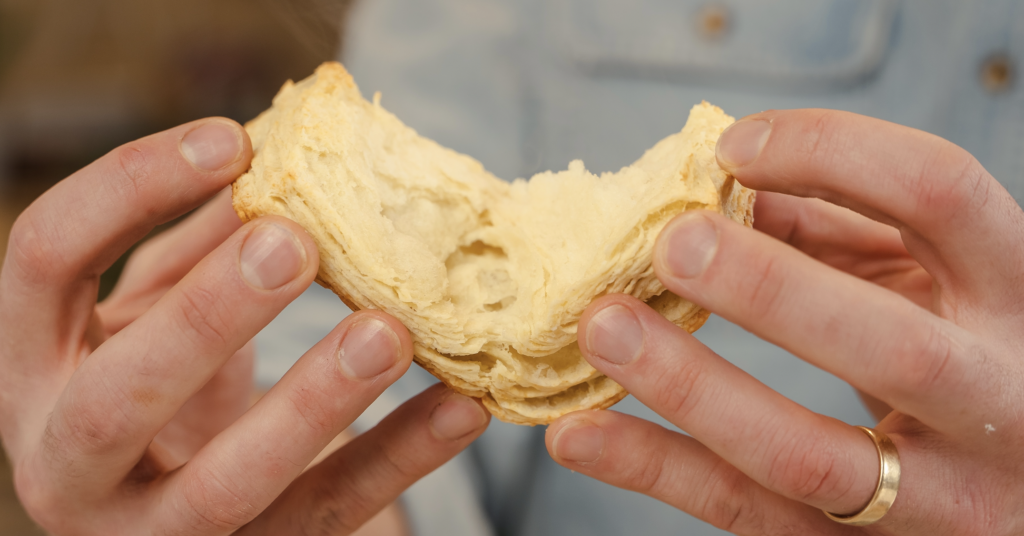 (Visited 65,352 times, 46 visits today)