I am totally obsessed with noodles. They provide the perfect vessel for slurping up broth, ragu, whatever sauce you've got. They are fun to eat, crazy satisfying, and scratch just about every food craving itch I get! Happiness truly is found in a bowl of noodles.
These udon noodles are lovely and really easy to make. The sweet and savoury combo of the sauce makes them especially craveable. Give them a try – enjoy!
Also, you will need the chilli oil recipe for this dish too!
Print Recipe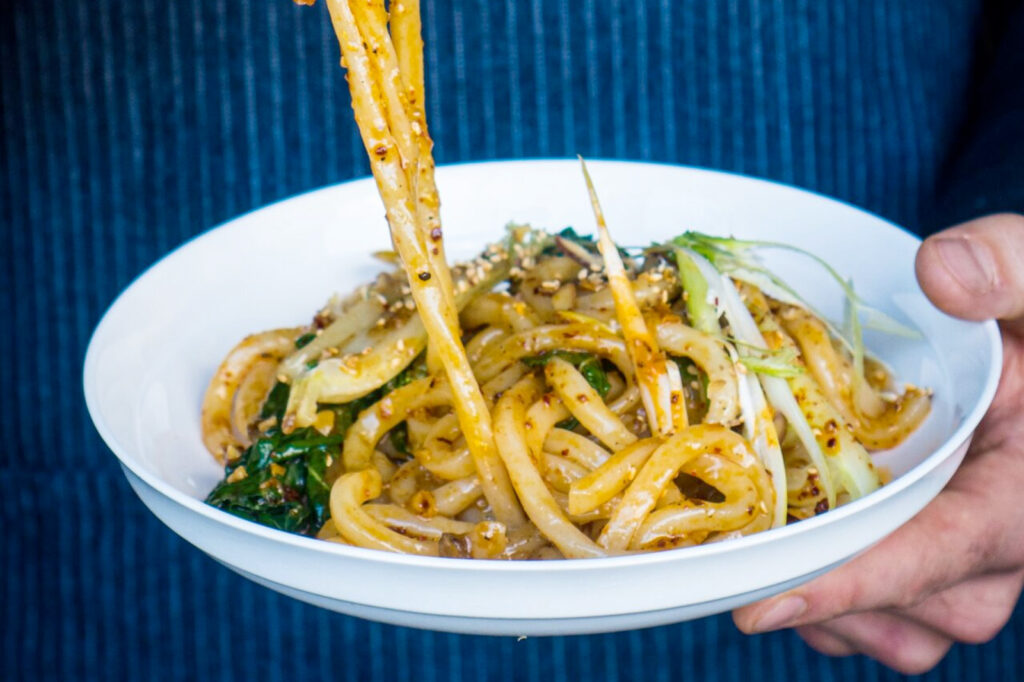 Ingredients
2

servings

udon noodles (frozen)

2

cups

chicken stock

⅓

cup

liquid honey

¼

cup

soy sauce

8

cloves

garlic (5½ tbsp)

2

inches

ginger

½

tbsp

black pepper

1

tbsp

red miso paste

⅓

cup

Jo's chilli oil

2

large

green onions

¼

cup

white sesame seeds

¼

cup

sesame oil
Instructions
With a sharp knife, smash and remove the skin from 8 cloves of garlic. Once skinned mince and set aside. With the fine side of a cheese grater or a microplane, grate about 2 inches of ginger, no need to take the skin off. Set aside with the garlic.

In a medium sauce pan over medium-high heat, combine chicken stock, liquid honey, soy sauce, minced garlic and ginger, red miso paste and black pepper. Stir constantly to ensure the honey doesn't stick and burn to the bottom of the pot. Reduce by half. We want it to be thick enough to cling to the noodles; if it reduces too much simply add a tbsp of stock or water at a time. This should take 10-15 minutes.

In the meantime bring a large pot of water over high heat to an aggressive boil.

While your sauce is reducing, slice one large stalk of green onion very thin on a bias with a sharp knife. Set aside for garnish. Measure out 1/4 cup of sesame seeds and 1/4 cup of sesame oil. Set aside.

This recipe calls for 1/3 cup of our chilli oil. If you can't make it any commercial chilli oil will do! Measure out 1/3 cup and set aside.

With you reduced sauce and your garnishes ready, place two portions of frozen udon noodles into the boiling water. It's super important to only boil them for 60 seconds. The frozen noodles are precooked so all we are looking to do is thaw and warm them up. Once they are no longer frozen together, after 60 or so seconds, strain and place in a large bowl. Toss with your 1/3 cup of sesame oil. This will keep them from sticking together. Add about a 1/2 cup of your honey garlic glaze and 1/4 cup of chilli oil and toss until fully coated.

Plate noodles, garnish with your green onions and sesame seeds – and enjoy!
Print Recipe
(Visited 7,056 times, 1 visits today)