We are going through a real pasta phase here at the East Coast Kitchen. I don't know what is triggering it, but we're rolling with it!
So this dish is dead simple and really, really satisfying. It's rich, creamy, and a total crowd-pleaser. Whatever you want to call it, this dish is delicious.
Lobster pasta, the Nova Scotian Mama's secret weapon.
Print Recipe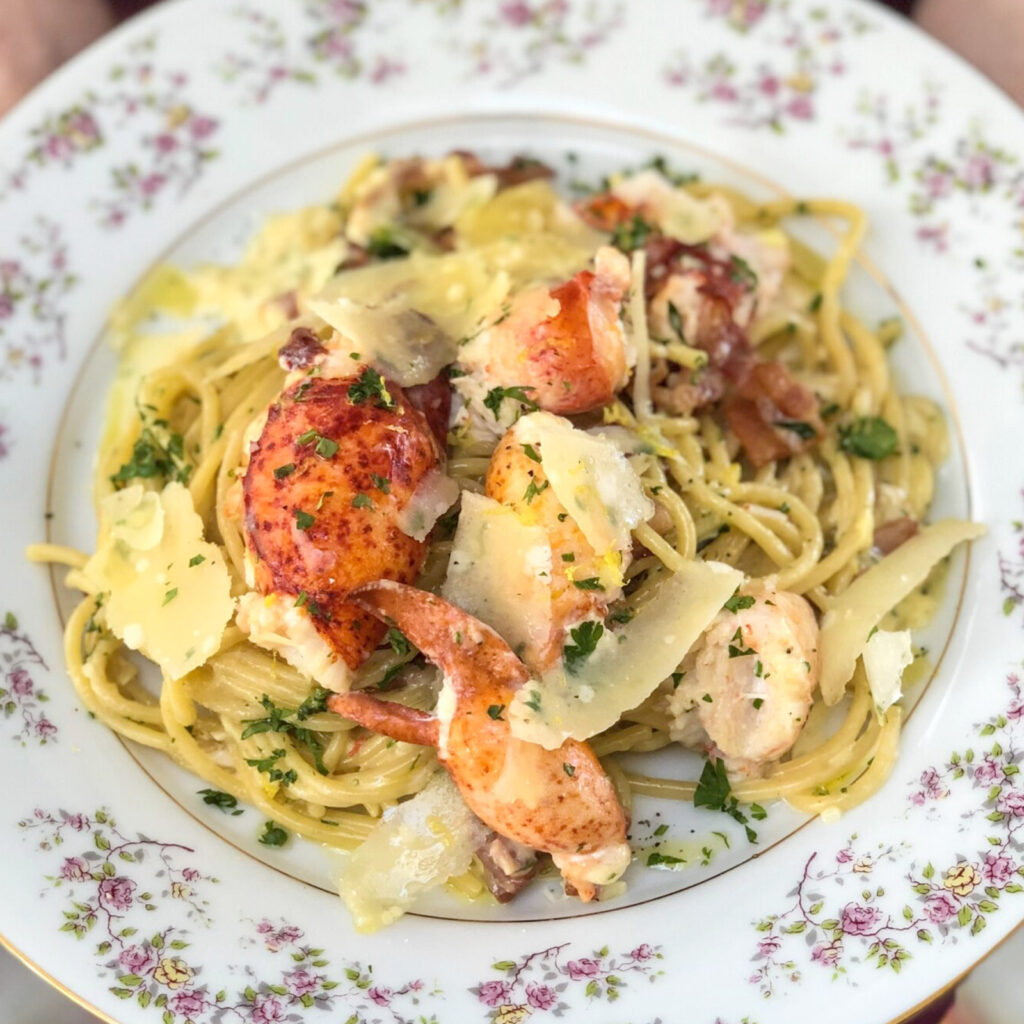 Ingredients
1

lb

fresh lobster meat

4

thick-cut strips of bacon

2

portions of spaghetti

2

cups

35% cream

2

medium

cloves of garlic

1

cup

grated parmesan and 1 cup shaved

1

small

shallot

½

cup

chopped chives

¼

cup

chopped parsley

Juice of half a lemon
Instructions
In a large pot of boiling salted water, cook lobster until tender, about 3min. Remove and place in an ice bath to stop the cooking process.

Cut bacon into chunks and render down in a frying pan over medium low heat until brown and crispy.

Mince shallot and garlic and combine in a small bowl and set aside.

The best way to determine how much pasta is equal to "one portion" is to touch your index finger to your thumb. The circle that is made is roughly how much you will need. In a heavily salted pot of water at a roaring boil, cook your two portions until desired doneness. Reserve some of the water and set a side.

In a pan over medium heat, sauté your shallots and garlic until translucent. Add a few tablespoons of warm pasta water to your two cups of cream. This will temper the cream, keeping it from splitting. Add tempered cream to shallots and garlic and reduce until you can make a swoosh with your spoon. Add bacon, lobster, pasta and chives. Stir until until thick and creamy. Finish with lemon juice, chopped chives and the grated parmesan. Once the cheese is added and it seems too thick, add a little more cream or warm water. Garnish with chopped parsley and more shavings of parmesan cheese.
Print Recipe
(Visited 5,936 times, 3 visits today)