This is one of those comfort foods that really takes me back. This dish is one that you will see throughout Atlantic Canada. Its sweet, spicy, creamy, and just a really tasty pasta dish. I can't confirm that it has it origins here in Atlantic Canada, but from the research I have done it seems to be a true East Coast Classic. As such, you know I had to share my version of it!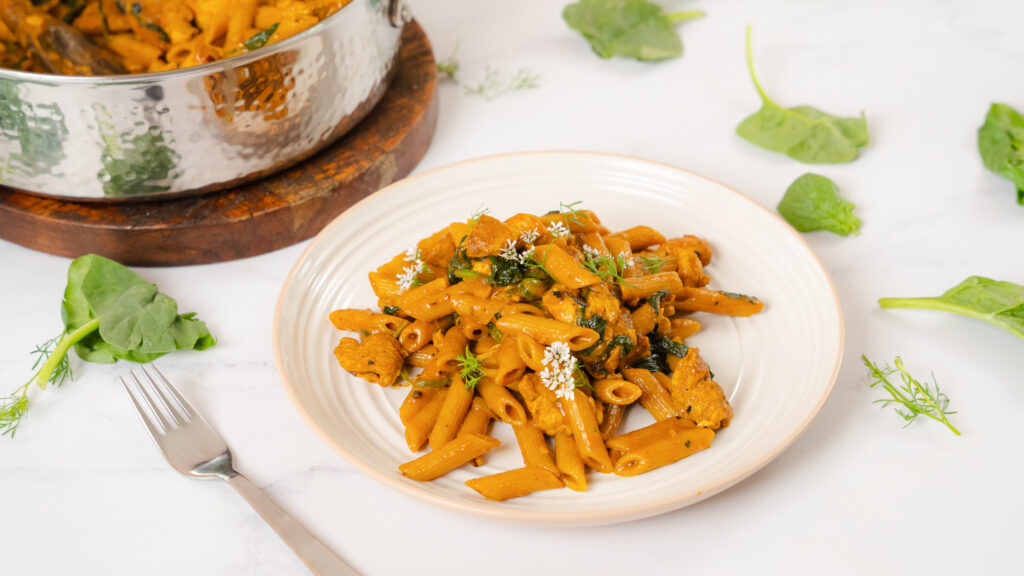 A perfect mix of flavours
This Maple Curry Chicken Penne has a lovely mix of flavours. You have the gentle inviting spice from the curry paste and powder, which is rounded out by the homey sweetness of the maple syrup. This dish really is the perfect fusion of international food, and down home East Coast cooking. I really think you and your family will love this one!
Tips on making a good pasta sauce
One thing I learned while on Masterchef Canada was how to make a proper pasta sauce. The key is to add some of the pasta water that the pasta is cooked in to the sauce. The Italians refer to this as "Liquid gold", as it really can make your pastas that much better. The salty, starchy water not only adds flavour but helps glue the pasta and sauce together; it will also help thicken the sauce. If you want sauce that hugs your pasta, be sure to add a ladle or two of that liquid gold into your sauce.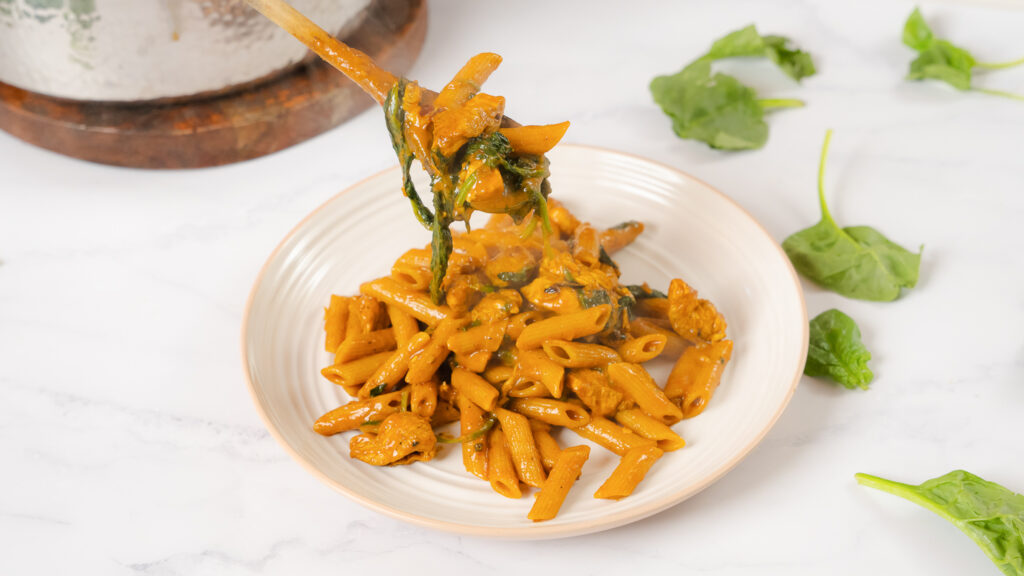 Let's breakdown the ingredients!
This pasta really is half curry and half pasta. As such we follow some of the same process that we would when making a curry, but instead of serving with rice we mix in noodles and pasta water. Here is the list of ingredients you are going to need.
Penne pasta – I prefer to use whole wheat, but any penne will work great.
Coconut cream – The original recipes would use heavy cream, but I prefer to use coconut cream to make it dairy free and slightly lighter.
Yellow curry paste – Yellow curry paste is a milder curry and can be found in most major grocery chains in the international section. Usually in the Thai or Indian sections.
Curry Powder & Turmeric- Before sauting the chicken, I like to toss the chicken in curry powder and turmeric. I do this for two reasons, firstly it enhances the flavour and secondly it adds a lovely golden colour to the curry.
Maple Syrup – I love cooking with maple syrup. Must be the Canadian in me. I find it adds a mellow sweetness that I love.
Chicken Breast– Any kind of chicken will do, but I like the leanness of the breast for this dish.
Aromatics Garlic and onion are the foundational flavour elements
Spinach – I added in a couple handfuls of spinach for colour and for nutrients. Feel free to add more veggies into your pasta too!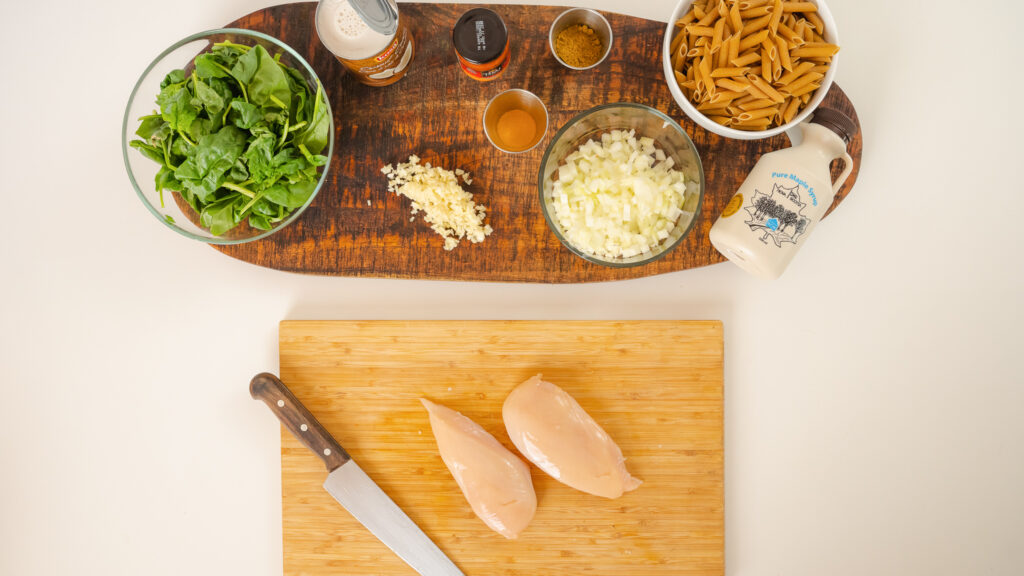 Maple Curry Chicken Penne
Print Recipe
Ingredients
1

box

Penne Pasta

375 gram box

2

tbsp

olive oil

4

cloves

garlic, minced

1

white onion, diced

2

chicken breasts, thinly sliced

1

tbs

curry powder

1

tsp

turmeric

2

tsp

salt

1

tsp

pepper

1/4

cup

yellow curry paste

1

can

coconut cream

1/4

cup

maple syrup

2

cups

spinach

1

tsp

chilli flakes
Instructions
Bring a pot of salted water to a boil and cook pasta as per package instructions. Once pasta is soft, reserve about 3/4 of a cup of the pasta water and drain out the rest. Set pasta to the side.

While pasta is cooking, placed sliced chicken in a bowl and season with curry powder, turmeric, salt, and pepper.

Place a large pan over medium heat. Once temperature has been reached pour in olive oil, then garlic and onions. Saute for for about 2 minutes or until the onions are translucent. Now drop in the seasoned chicken and brown on all sides. About 4 minutes.

Now add in the curry paste and mix everything together. This is waking up the curry flavours so don't skip this part. Now pour in coconut cream and mix until smooth. You may need to use your spoon here to smush the curry paste and allow it to combine with the coconut cream. Add in maple syrup and stir.

Next up, add the cooked pasta and mix. Add the pasta water in, mix and allow the sauce to coat the noodles. Drop in the spinach and mix. The spinach will wilt into the sauce.

Lastly, season the pasta to taste using chilli flakes, salt, and pepper. Serve hot with chopped cilantro.
Print Recipe
(Visited 44,415 times, 6 visits today)