We are a big smoothie house! I make one every morning, and I just love feeding it to my little girls. I am constantly teaching them about the power of healthy food and how it gives you super powers, and that is exactly what I will tell you too! 
Morning smoothies are like a healthy eating insurance policy. It gets a whack load of nutrients in your body first thing in the morning. You never know what the day will bring you food-wise, but by starting it off with this morning smoothie, you know you at least have a solid foundation.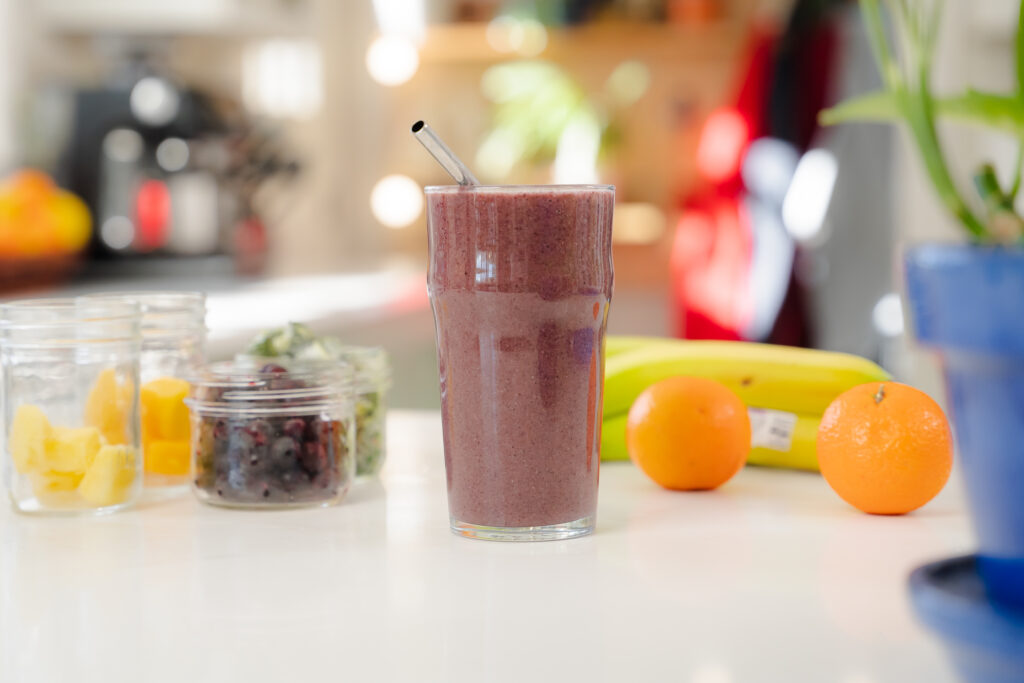 Let's Breakdown the Ingredients! 
This morning smoothie is packed with tons of nutritious ingredients that help give you that boost to start off your day! 
This recipe uses tons of fruits and vegetables such as bananas, juice of an orange, frozen mango & pineapple, frozen wild or high bush blueberries and frozen spinach. 
The banana is key for consistency and helps to make a great texture. It has a lovely flavour and some sweetness. The juice of an orange adds a pop of vitamin C and gives a tropical flavour to the whole smoothie. The frozen mango and pineapple include more vitamin C and sweetness, and personally, my girls love both of these fruits as well. 
I am Nova Scotian, so you just know I have to have blueberries in there! They are packed with TONS of antioxidants and nutrients, and I just love the subtle flavour. Also, it makes the smoothie purple, which my little ones love! I used to go through so much fresh spinach but found a cheaper alternative that never goes bad when using frozen spinach. I highly suggest you use frozen as well! 
This smoothie not only has a lot of fresh ingredients but also includes healthy seeds such as hemp seeds, chia seeds, and ground flax seeds. Hemps seeds are a protein powerhouse to help boost your mornings, chia seeds are an amazing ingredient with healthy fats, protein, and detoxing properties, and ground flax seeds are rich in omega fatty acids and protein and have a great flavour! 
The last but equally as important ingredient is cold water, which you can substitute with a milk of your choosing, but I find that the banana already gives it that creamy texture I look for!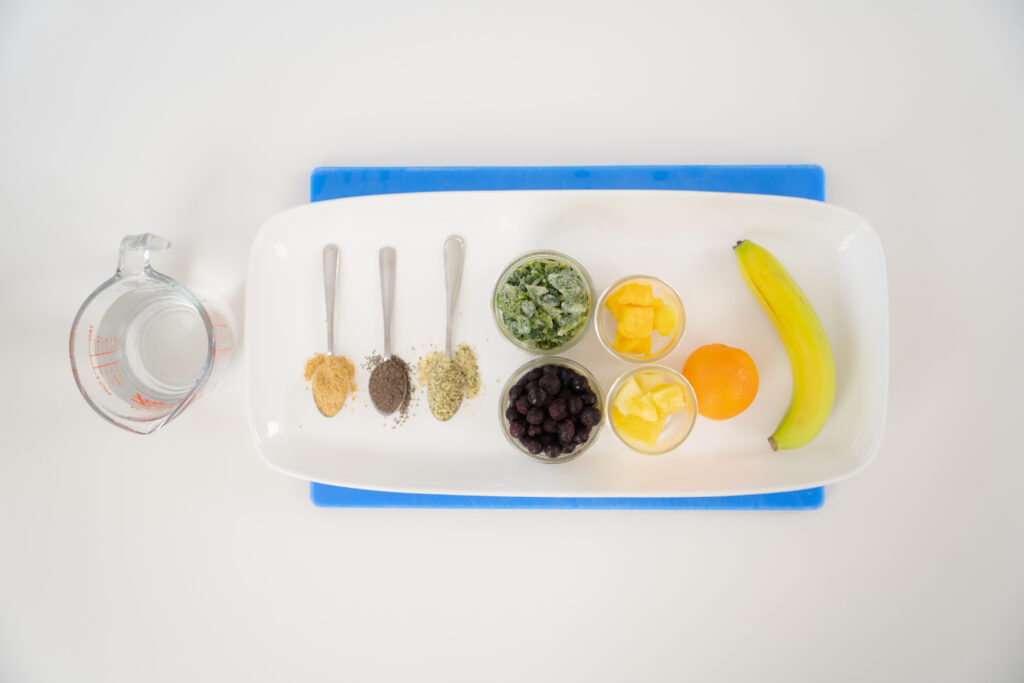 Grab Yourself a High Powered Blender! 
I used a commercial Kitchen Aid blender which I like. Grab what you can based on your budget. Try to find a powerful one as it makes the blender become one of your greeted kitchen tools!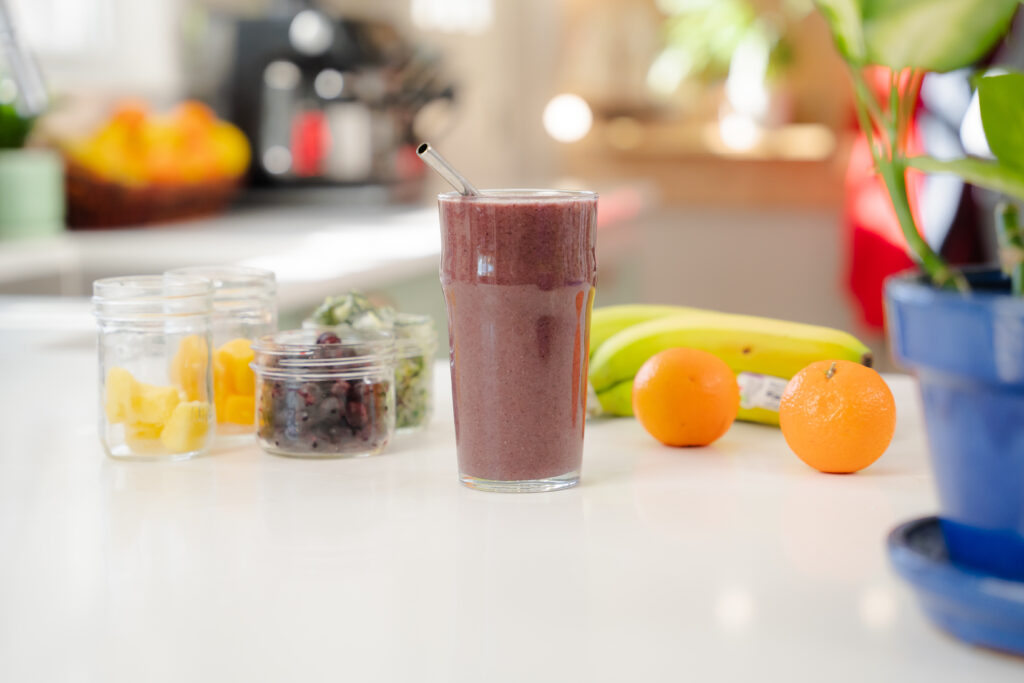 Morning Power Smootie
Print Recipe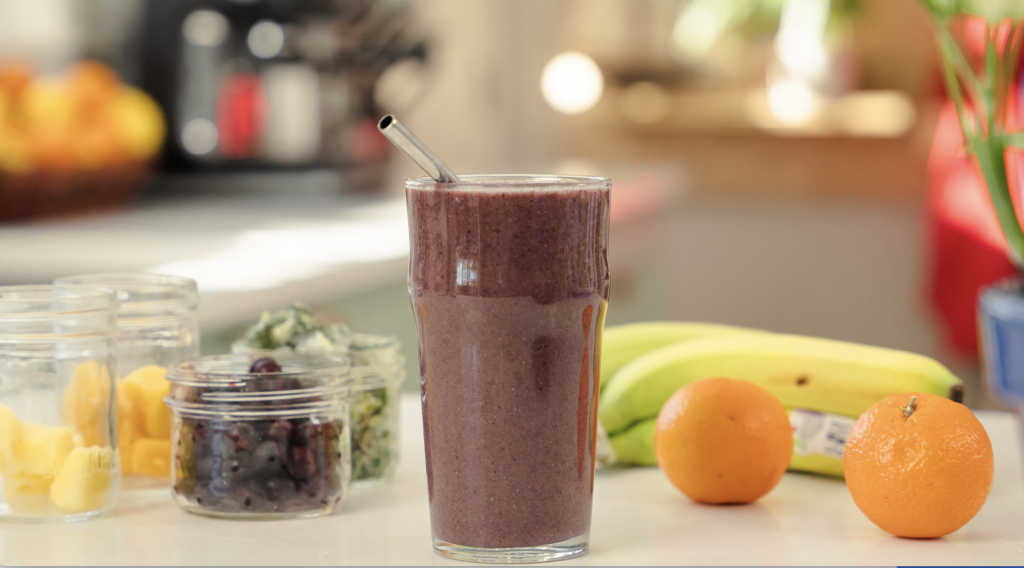 Ingredients
1

banana

1

orange, juiced

1/4

cup

mango

1/4

cup

pineapple

1

cup

frozen spinach

1

cup

blueberries

1

tbs

hemp hearts

1

tbs

chia seeds

1

tbs

ground flaxseeds

2

cups

cold water

add more or less depending on desired consistency.
Instructions
Add all ingredients into the bowl of a high powered blender and blend on high until smooth.
Print Recipe
(Visited 11,529 times, 1 visits today)