I have been laser-focused on creating interesting and delicious meal prep ideas for my family, and for all of you of course! This couscous salad is a real winner in my books. It's really simple to make and packs a TON of flavor. Perfect for lunches or dinner and keeps in the fridge really, really well. It's a great thing to make in advance and enjoy all week.
Moroccan Inspired Couscous Salad. Crave-able salad that is a perfect meal prep friend.
Print Recipe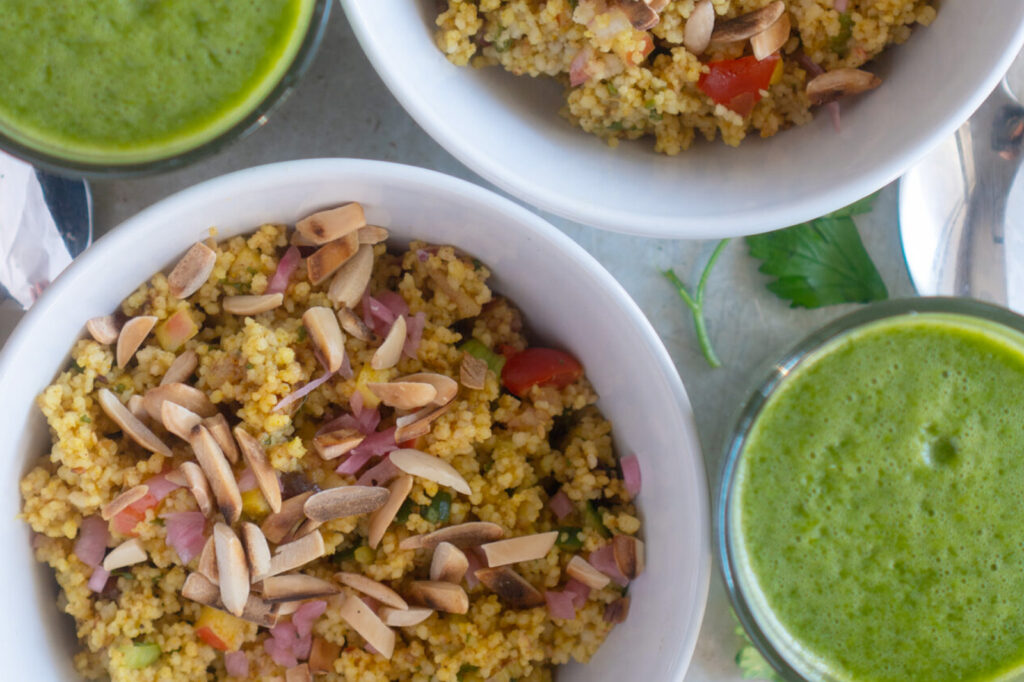 Ingredients
1¼

cups

couscous

1½

cups

boiling water

1

apple, diced

1

cup

sliced green onions

½

cup

chopped cilantro

½

red onion, diced

½

cup

chopped cherry tomatoes

1

cup

chopped dates or raisins

¾

cup

diced cucumber

3

tbsp

red wine vinegar

2

tbsp

curry powder

1

tbsp

cinnamon

1½

tsp

cumin

1

tsp

salt

juice of 1 lemon

2

tbsp

olive oil

1

cup

toasted slivered almonds
Instructions
Place measured couscous in a medium-sized pot that has a lid. In a kettle, or in another pot, bring water to a boil. Pour 1 1/2 cups boiling water over the couscous. Place lid on the pot and let rest for around 10 minutes. After 10 mins, remove the lid and fluff with a fork.

Once couscous is soft, add in all the other ingredients and mix well. Taste for seasoning and adjust as needed.

This will stay in the fridge for 7 days and is great for meal prep. Enjoy!
Andy's Notes
Couscous: What is it?
Couscous is a great ingredient and really easy to make. Couscous is a pasta made from semolina flour mixed with water, so it's not a grain as some people believe. Cooking couscous is crazy easy! All you need to do is pour boiling water over the couscous and cover with a lid. Let it sit for around 10 minutes, fluff with a fork and you're good to season away!
Print Recipe
(Visited 2,231 times, 1 visits today)