This dish might be a bit tricky to pronounce, but don't let that be the reason you don't try it. A Japanese dish that is wildly delicious. A green cabbage and egg pancake (think frittata) that can be filled with anything! I used shrimp and bacon, but this is a very flexible dish that allows you to use whatever you have on hand.
Crispy, fatty, crunchy. You want this. You want this badly.
Okonomiyaki
Print Recipe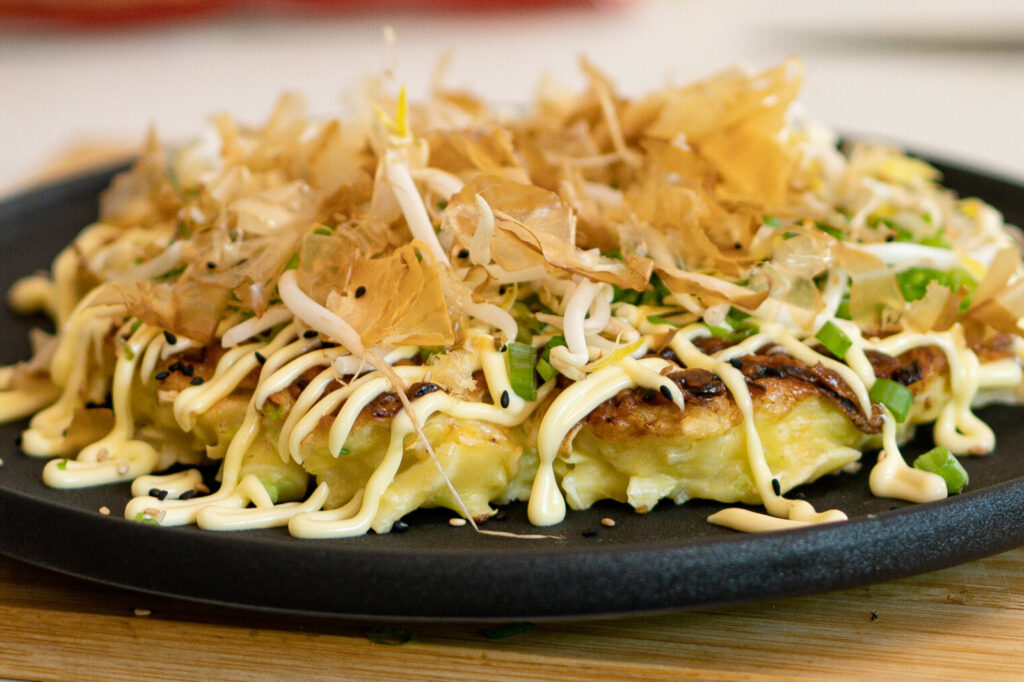 Ingredients
½

large green cabbage, finely shredded

4

green onions, sliced. White parts will go in the mix, while the greens are used for garnish.

1⅓

cups

flour

5

cooked shrimp, chopped

4

eggs

½

cup

water

½

tsp

sugar

½

tsp

salt

3

strips

smoked bacon

2

tbsp

oil for frying

2

tbsp

Kewpie mayo

½

cup

bean sprouts

¼

cup

bonito flakes
Instructions
To make the batter: In a bowl, mix together cabbage, green onion whites, flour, salt, sugar, water, eggs, and shrimp.

Heat a large frypan over medium heat and drop in half the batter. Push batter down to make it flat and circular. If using, you can lay the bacon strips down on the top of the pancake. It will cook when flipped.

Continue to cook until the bottom is golden and crispy; about 6 minutes. Once crispy, flip the pancake. The best way to do this is to slide the pancake out of the pan onto a plate (crispy side down) and then flip the pan upside down, push plate onto pan and flip everything over. Fry on second side for another 5 minutes or until crispy.

Remove from pan and smear top with kewpie mayo, sprinkle with green onions, bean sprouts, and bonito flakes. DEVOUR!
Print Recipe
(Visited 1,318 times, 1 visits today)