This is a recipe I love and the kind of muffins that everyone can get behind. It's spicy, savoury, oh so satisfying and the perfect handheld power breakfast! These pumpkin cheddar bacon Jalapeño muffins are a major favourite in our household, and we hope you love them as much as we do!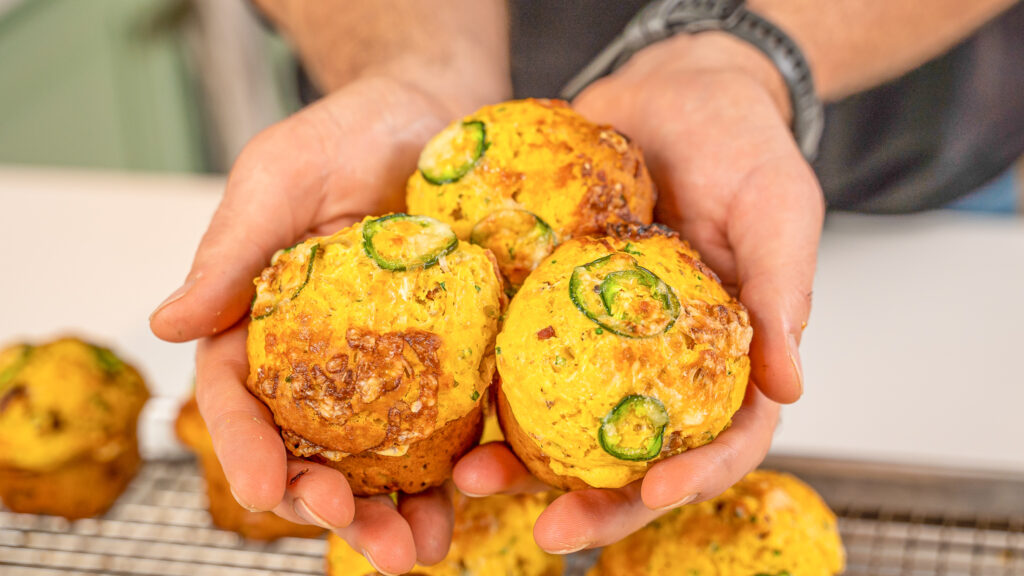 Let's Breakdown the Ingredients!
This recipe is loaded with ingredients that are sweet, spicy and savoury. All the ingredients balance each other to make a delicious savoury morning muffin!
These muffins add a bit of sweetness to them using pumpkin purée, honey and greek yogurt. Pumpkin purée adds a deep, slightly intense, sweet earthy flavour to the dish, and honey adds a natural sweetness with a floral, fruity, smoky, woody, spicy, nutty or earthy flavour. At the same time, the greek yogurt is both sweet and savoury with a velvety texture and tangy flavour.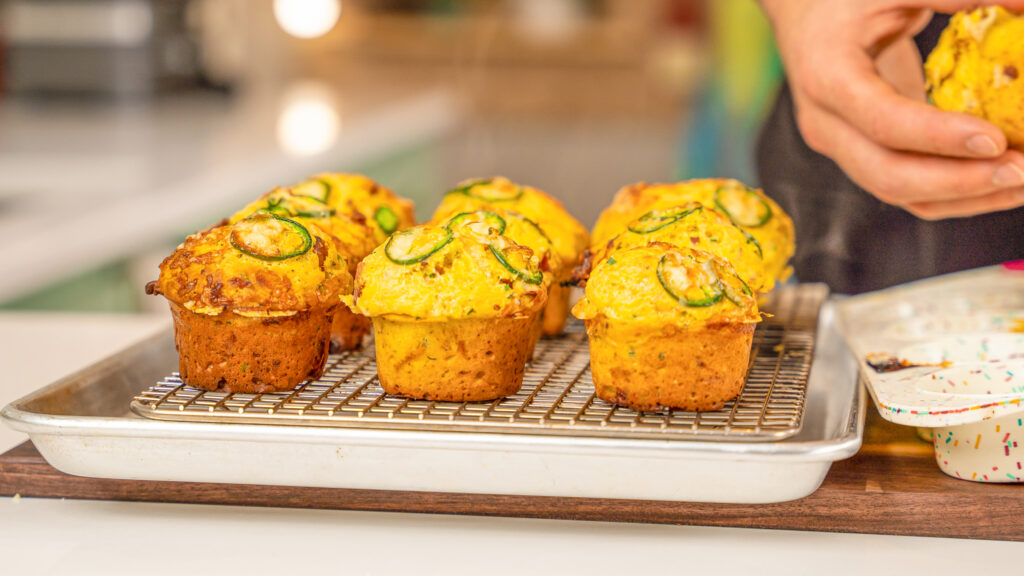 White cheddar cheese and bacon make the recipe savoury. White cheddar cheese adds a sharp, pungent, earthy flavour, while bacon is naturally salt with natural fat.
Jalapeño adds a kick of spiciness to the muffins. These peppers have a rich and slightly smokey heat to anything they are added to.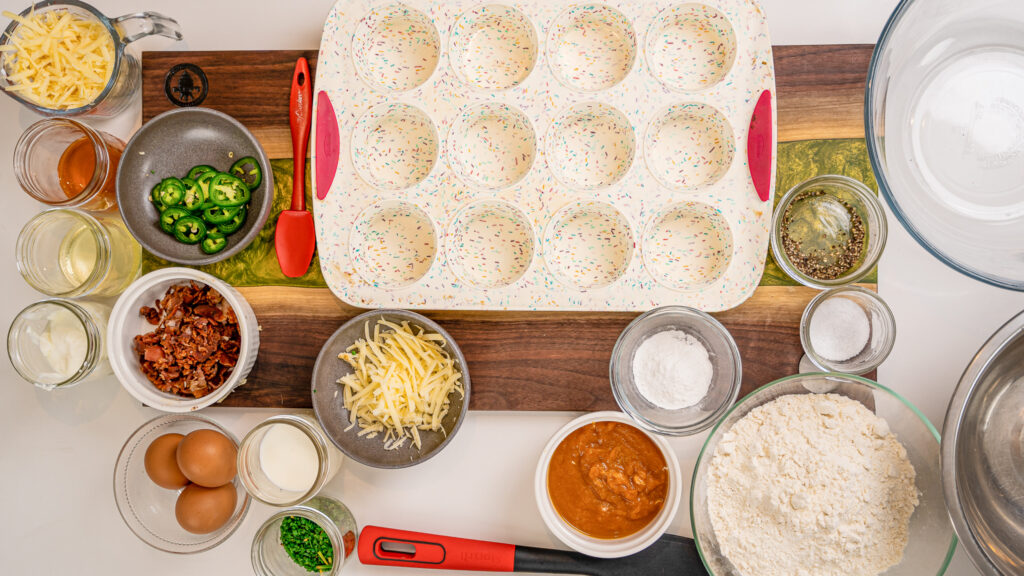 Pumpkin Cheddar Bacon Jalapeno Muffins
Print Recipe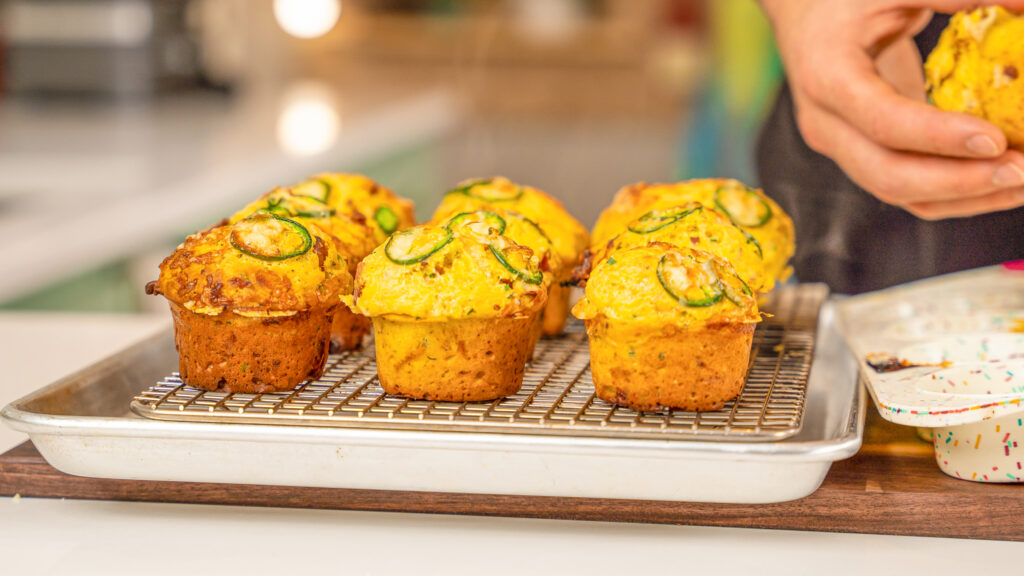 Ingredients
2 1/2

cups

All Purpose Flour

2 1/2

tsp

baking powder

1

tsp

salt

1

tsp

black pepper

3

eggs

1/2

cup

greek yogurt

1/3

cup

canola oil

1/2

cup

pumpkin puree

1

cup

white cheddar cheese

6

pieces

bacon, cooked and crumbled

1/4

cup

honey

1/2

cup

milk

1/2

cup

green onions, sliced

1

jalapeno, sliced
Instructions
Pre heat oven to 425 and prepare muffin tins with liners and cooking spray.

In one large bowl mix together the flour, baking powder, black pepper and salt. Whisk together and set aside.

In a separate bowl mix together eggs, yogurt, oil, pumpkin, cheddar, bacon, honey, milk, green onions.

Now, pour the wet ingredients into the dry ingredients. Using a spatula, fold everything together. Make sure to mix thoroughly to avoid any clumps of flour.

Scoop the batter into each prepared muffin tin. This will make between 10-12 muffins depending on the size of muffin you are looking for. I like to top each muffin with a couple slices of jalapeno and some shredded cheddar.

Bake at 425 for 6 minutes, and then reduce the temperate to 350 and cook for an additional 19-20 minutes or until you can poke with a toothpick and it come out clean.

Once baked, remove from oven and let sit in muffin tin for 10 minutes. Boom you are good to go! Enjoy these!
Print Recipe
(Visited 13,779 times, 8 visits today)