My Dad is Scottish, and whenever we would go to visit my Grandparents in Scotland, one of the top snacks on my list of must-haves was the sausage roll. Available at bakeries as well as fish and chip shops, these savoury snacks rocked my world. Handheld, flakey, and just so crave-able. These are a must-make.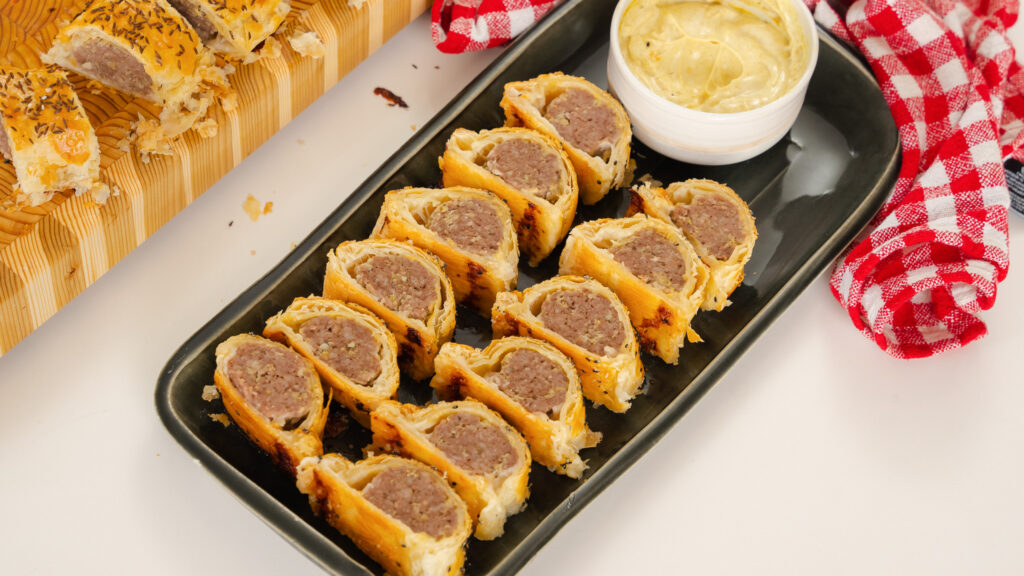 I love making sausage rolls when we have guests coming over. So simple to make, and if you cut them into small bites, they are a crowd-pleasing appetizer that your guests will freak out over! 
Let's Breakdown The Ingredients!
These are one of my favourite savoury snacks to make and eat! Even though it's made with a few simple ingredients, these are so delicious you won't be able to stop until it's all gone!
The main ingredient in this recipe is sausage meat, which is usually made from seasoned ground meat. Oftentimes, the sausage will be full of spicy and salty flavours!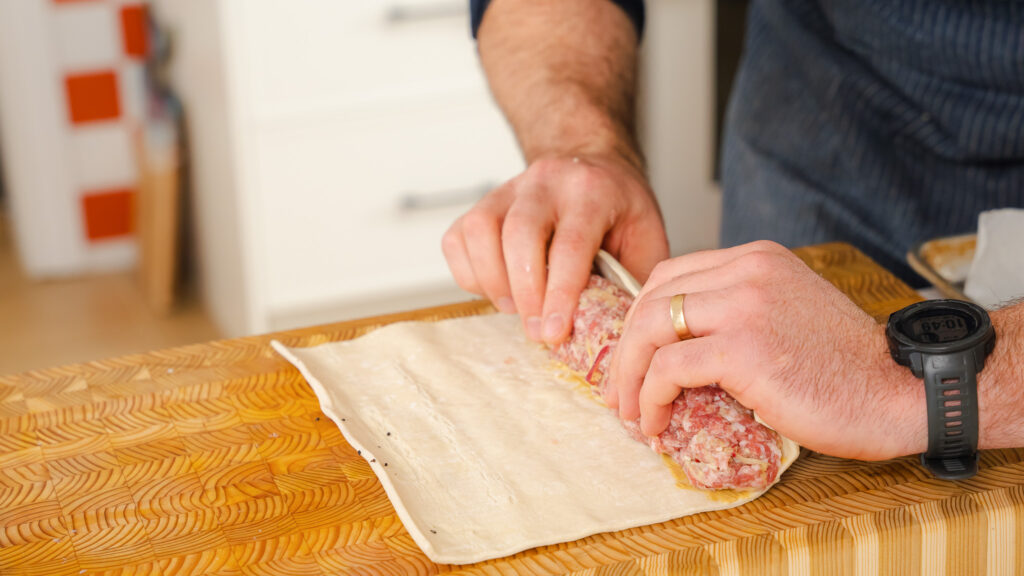 For extra seasoning, I added grated apple, garlic clove, and of course, salt and pepper for taste. The apple adds a wonderful sweetness to the spicy and salty sausage. It also adds an additional fun texture to the dish. The garlic clove has a raw and warm taste to the rolls.
Dijon mustard has a sharp, tangy, strong taste that really adds to these sausage rolls' flavour. It adds a great flavour, and dijon mustard also helps tenderize protein.
For this recipe, I used store-bought puff pastry, which is a light and flakey dough that really makes these rolls savoury.
And I used one egg – mixed, as an egg wash to give the top of the sausage rolls a wonderful golden colour.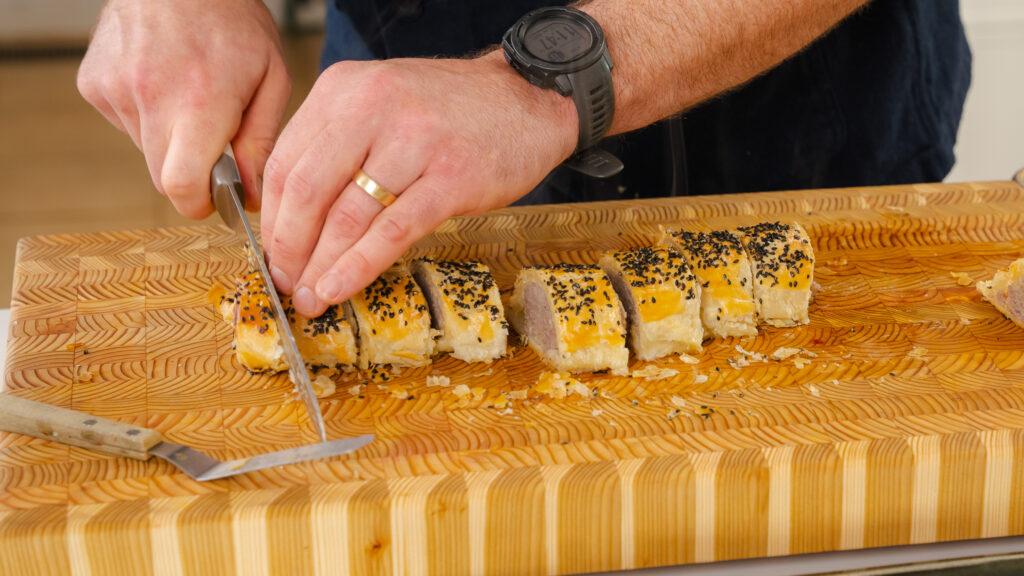 Sausage Rolls
Print Recipe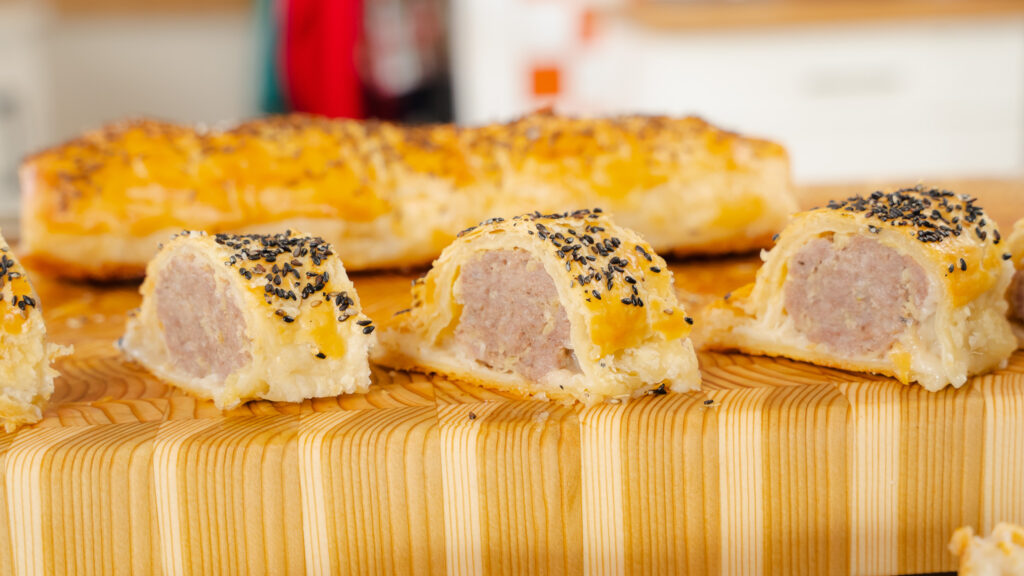 Ingredients
750g

Sausage Meat

1

Apple, grated. Squeeze out excess juice

1

Garlic Clove, minced

1

tsp

Black Pepper

Pinch of Salt

2

tbsp

Dijon Mustard

3

Packages

Store Bought Puff Pastry

1

Egg, scrambled for egg wash
Instructions
In a large bowl mix together the sausage meat, grated apple, garlic, pepper, and salt.

Lay out the puff pastry and brush 2 tsp of dijon mustard where you will be laying the pork mixture. I like to place pork about 3 inches from one side of the puff pastry.

Remove 1 – 1 ½ cups of pork mixture and form into a long tube shape. Layover mustard.

Using a pastry brush, brush the egg on both sides of the sausage meat, and fold the pastry over the meat filling to form long rolls. I like to cut off the excess pastry and then close the seam using a fork. See above picture.

Once roll is formed, brush on egg wash and then sprinkle with topping of your choice. I love caraway seeds and black sesame seeds.

Place rolls into preheated oven and back for 25-30 minutes or until sausage rolls are a nice golden brown.

Remove from oven and if cutting into smaller segments, use a bread knife to make the job easier!

Serve with curry mayo. (1 cup mayo + 1 tbs curry powder)
Print Recipe
(Visited 5,430 times, 1 visits today)