I've been thinking about weeknight meals a lot lately. I want to offer delicious meals that are healthy-ish, quick, and packed with flavour! These Sesame Ginger Chicken Meatballs are a solid example of what I want to eat on a weeknight. Packed with a HUGE amount of flavour, quick to make, and a hard thing to get sick of.
The key to this recipe: be aggressive with the seasoning of the ground chicken. Don't be shy to put a ton of ginger, herbs or garlic here. That is what I love about ground meat, it begs to be seasoned!
This recipe is easy to make gluten-free by using GF soy sauce and hoisin!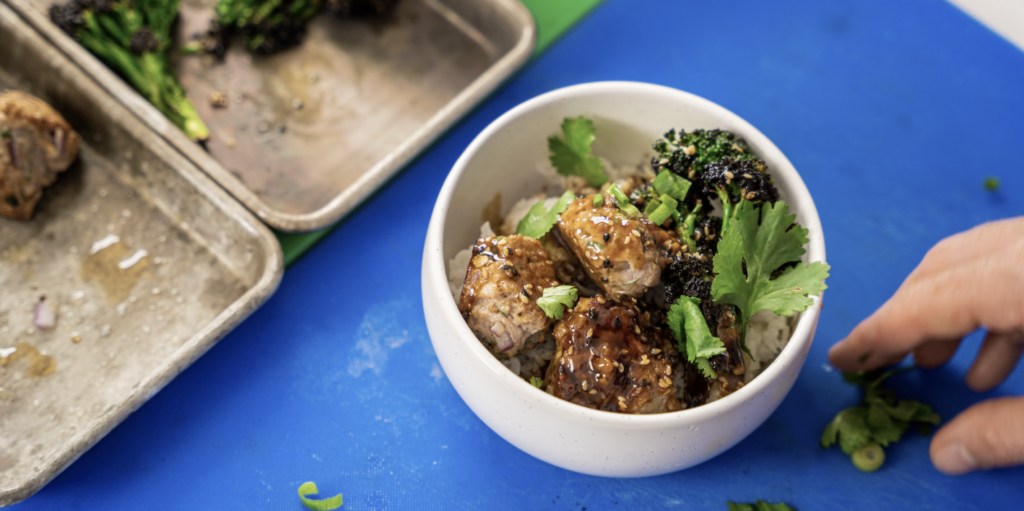 Let's Breakdown the Ingredients!
These chicken meatballs are extremely delicious when seasoned with tons of flavours! To season the meatballs used a ton of fresh produce. 
The ginger and garlic add a warm flavour to the recipe, as well as sesame oil with the addition of a nutty taste to the meat.  
The use of freshly diced green onions, diced red onions and cilantro adds texture and tons of flavour to the ground chicken. The green onion has a mild onion flavour that isn't pungent, while the red onion has a nice sweet and spicy taste. The cilantro adds a fresh citrus flavour, and of course, always add salt for taste!
The Sauce
The sauce in this recipe adds a ton of flavour to this simple dish. The rice vinegar shares both a sweet and acidic flavour with the sauce, while soy sauce has a balance of sweet, salty and bitter tastes. The sesame oil has a nice warm and nutty flavour to any dish you use it in. Meanwhile, hoisin is a slightly thicker sauce that has a strong saltiness and slightly sweet taste. 
I added a bit of lime for a tarty and citric taste and used corn starch to thicken the sauce.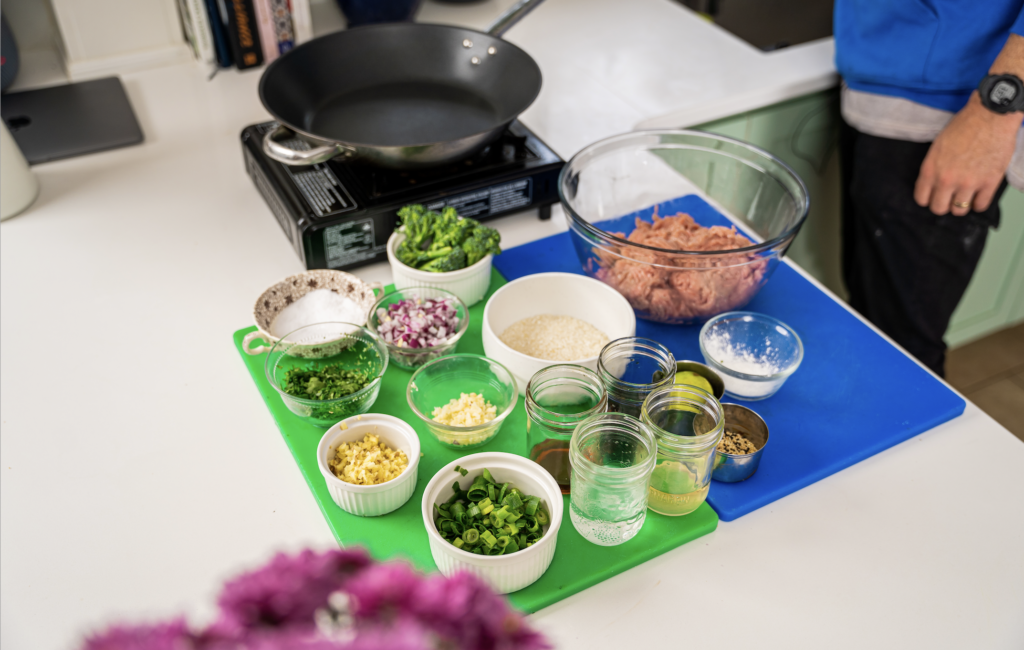 Sesame Ginger Chicken Meatballs. An amazing weeknight staple
Print Recipe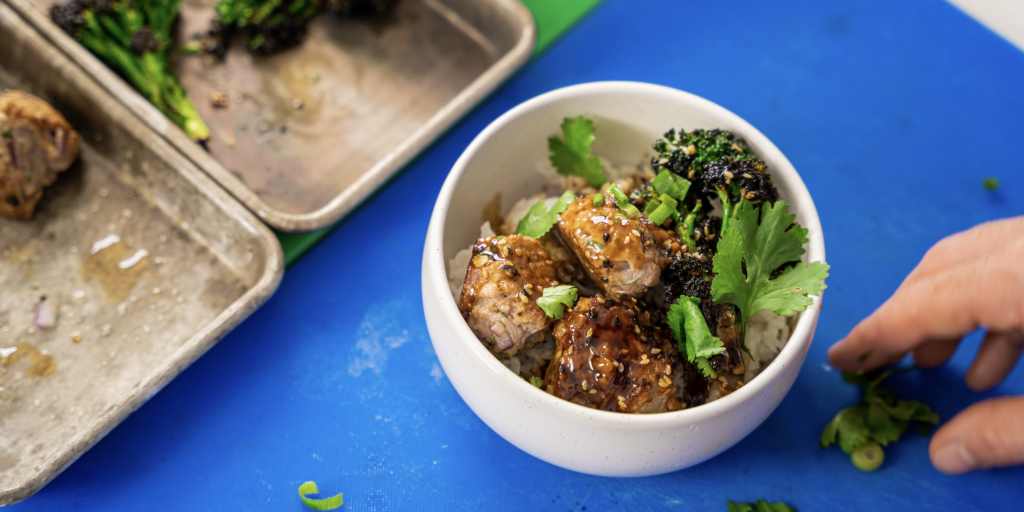 Ingredients
Meatballs
2

lbs

ground chicken

2

inches

ginger, finely minced

½

cup

diced green onion

4

cloves

garlic

½

cup

chopped cilantro

1/2

cup

diced red onion

1

tsp

sesame oil

1

tsp

salt
Sauce
2

tbsp

hoisin

Juice of 1 lime

1/3

cup

soy sauce

1

tbsp

corn starch

2

tbsp

sesame oil

2

tbsp

rice wine vinegar
Serve with
fresh basil leaves

toasted sesame seeds

Charred Broccoli

Stick rice
Instructions
Let's get cracking with the meatballs. In a large bowl add in all ingredients and mix with your hands. Make sure everything is properly incorporated. Then form into 2 tbsp balls and place on sheet pan.

Preheat oven to 400. Place a large, lightly oiled frypan over medium high heat. Once hot, place meatballs in pan, moderately spaced out. Sear on each side, then place back on sheet pan. Once all meatballs are seared, place in oven for 10-12 mins.

We are on a roll here. Next up, let's get going on the sauce. In the same pan you seared the meatballs in, add the white and green onions. You don't want them to brown, so make sure the pan isn't too hot. You want to sweat them down until the white onions are translucent. While onions are sautéing, place the rest of the sauce ingredients in a bowl and mix together. Once onions looks soft, add in the sauce and increase the heat to high. Let it bubble away for 2 minutes.

Remove meatballs from oven and place in pan with sauce. Coat the meatballs and sprinkle with sesame seeds. I like to serve this with rice and some charred broccolini or bok choy!
Print Recipe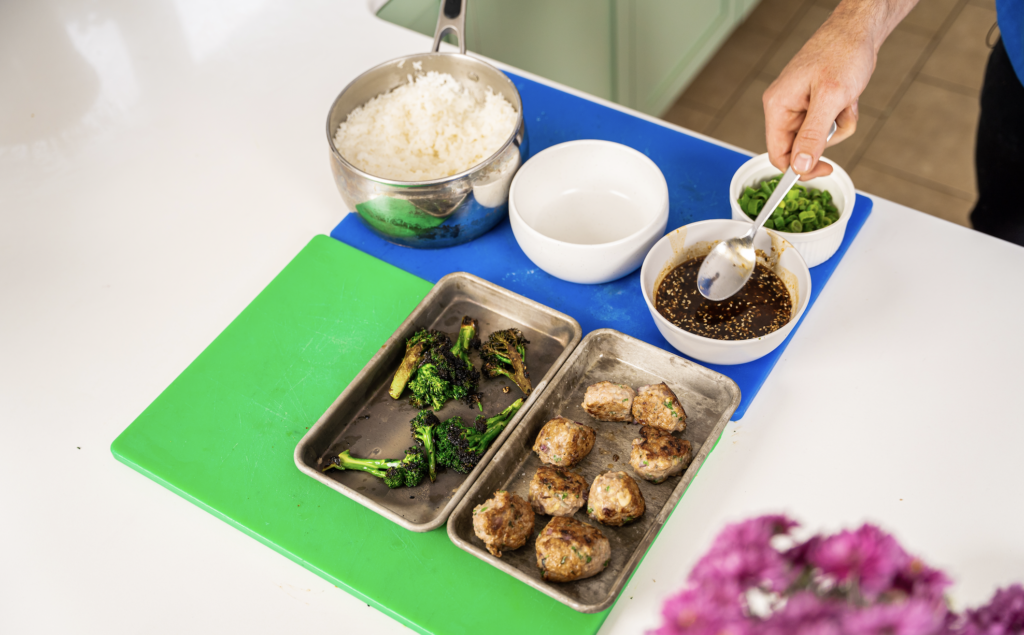 (Visited 11,426 times, 7 visits today)