Fish tacos are one of my go to orders at any restaurant. I just love them! The best thing is they are actually super easy to make at home. This spiced fish taco with mango slaw is super flavourful and also comes together in under 20 minutes. Perfect for a weeknight meal, or is also a great dish to make when hosting!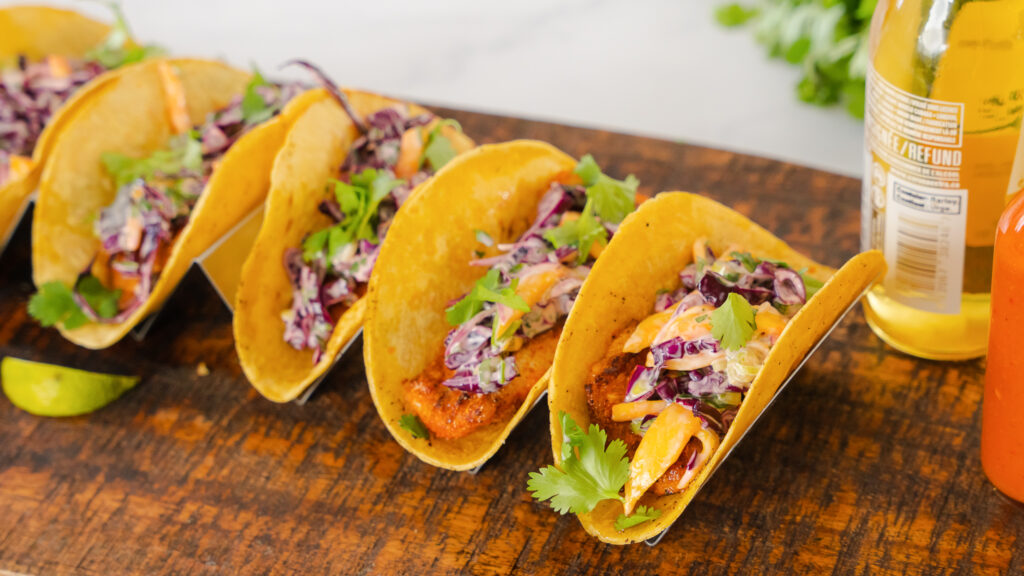 Let's breakdown the ingredients!
This dish is super bright, light, and full of flavours. The kind of meal you can eat a lot of without feeling too full.
Firstly, let's start with the fish. You can use any whitefish that you have on hand. I am here in Nova Scotia, Canada where Haddock is plentiful and inexpensive, but feel free to use whatever makes sense for you Tilapia, cod, or halibut are all great choices.
Now let's chat about the spice blend used to coat the fish. I kept this pretty standard here any hopefully these are all spices you have at home. I used smoked paprika, garlic powder, cumin, salt, and pepper. I find the paprika gives depth, cumin adds a great flavour, and the garlic powder amps everything up. Nothing fancy, but it really works.
Lastly the slaw. I love this coleslaw as it plays with sweet and salty which I love. Purple cabbage is the foundation for this slaw. It has lovely colour and I love the flavour it provides. I found a mango at the grocery store which was perfectly ripe (a rarity in my part of the world) and just had to use it. Juicy, sweet, a little tart. Perfect balance for the rest of the taco. From there I tossed in some green onion, lime zest and juice, cilantro, and a dollop of mayo for creaminess.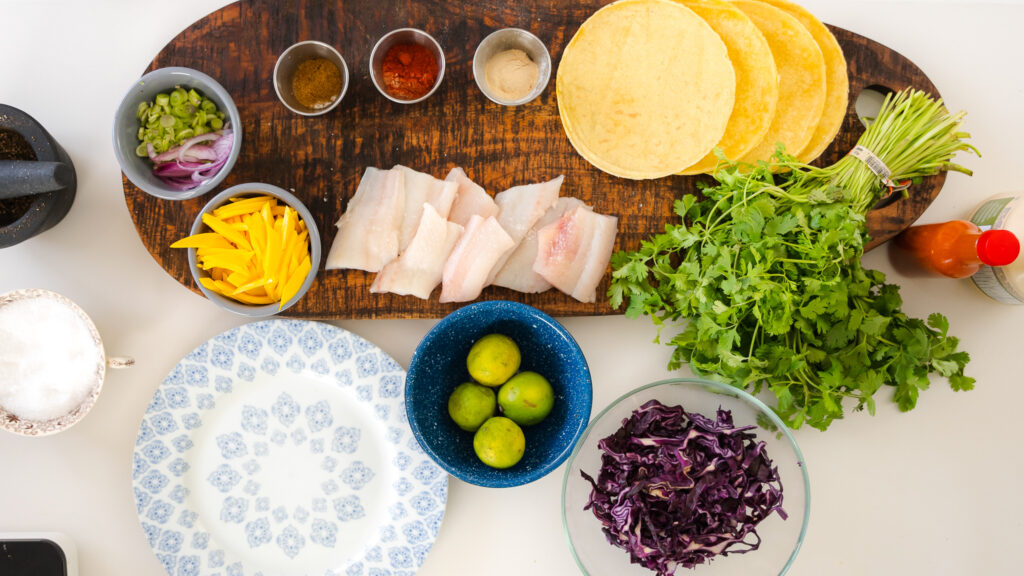 Tips for nailing these tacos!
Cooking the fish properly. You really don't want to overcook the fish here but don't stress it could not be easier to cook. Add about 2 tbs of oil to your pan and place it over medium high heat. Once temperature is reaches, place the fish onto the the pan and let it fry for about 45-60 seconds per side. Thats it! set off to the side and kick on with the rest of the dish.
Bonus points are added if you char up your tortillas on the bbq.
Taste your slaw and adjust salt and lime levels as needed based on your taste.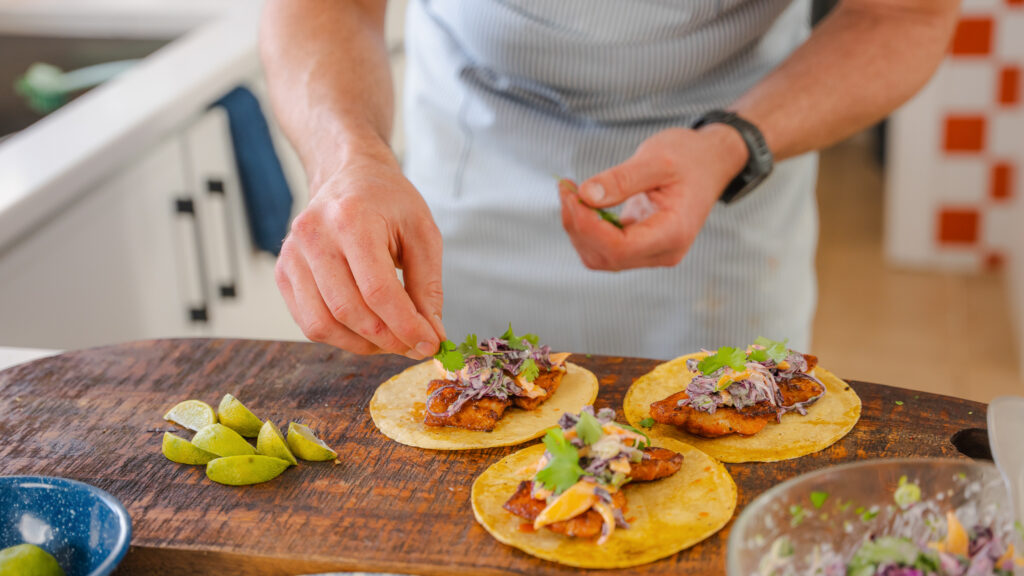 Spiced fish tacos with mango lime slaw
Print Recipe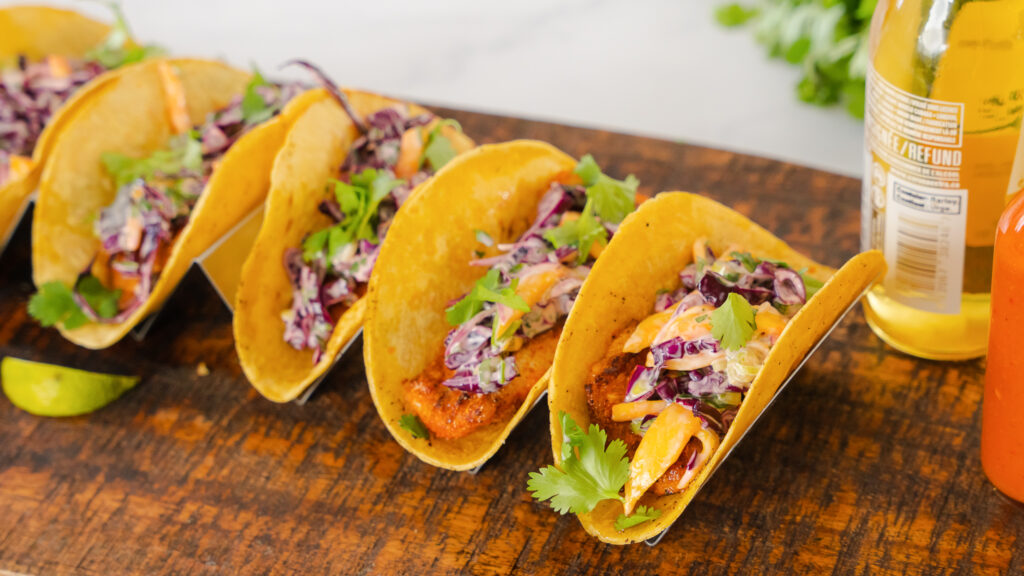 Ingredients
4

filets

haddock

any white fish will work

8

Corn Tortillas

1

tbs

Hot Sauce
Spice blend
1

tbs

smoked paprika

1

tbs

garlic powder

1

tsp

cumin

1

tsp

salt

1

tsp

black pepper
Mango Slaw
2

cups

purple cabbage, shredded

1

mango, peeled and thinly slice

1/2

cup

green onion, sliced

1

cup

Cilantro, chopped

sub for basil if needed

1/4

cup

red onion, thinly sliced

1

lime, zested and juiced

1/4

cup

mayo

1 1/2

tsp

salt

1

tsp

pepper
Instructions
Remove fish from packaging and pat dry with paper towel. Pour paprika, garlic powder, cumin, salt, pepper, on to a place and mix together with a fork. Drop fish into spice blend and ensure all parts of the fish is covered.

Place a non stick pan over medium high heat and pour in 1-2 tbs of oil. Once temperature has been reach, gentle place the fish into the pan and fry on each side for 1 minute. Remove from pan and let rest on a plate.

Slaw time. In a bowl add in all of the slaw ingredients and mix.

Toss tortillas in dry pan, microwave, or bbq to heat them up. I like to use corn tortillas with fish tacos. Serve with a squrit of hot sauce and a leaf of two of cilantro. Enjoy!
Print Recipe
(Visited 12,620 times, 7 visits today)