I am a huge fan of serving raw fish. In fact, I believe if one is creating a menu, one must have raw fish on it. Oysters, tartare, sashimi, crudo.. whatever, but it must be there.
There are a few things that I really like about making this dish for guests. 1) It's really impressive to look at. 2) Makes you look and feel "chefy" for serving it. 3) It's tastes damn delicious 4) It will push some of your guests outside of their comfort zone without being too offensive.
Spicy Salmon Salman Tartare. Sounds fancy, but it's actually super easy.
Print Recipe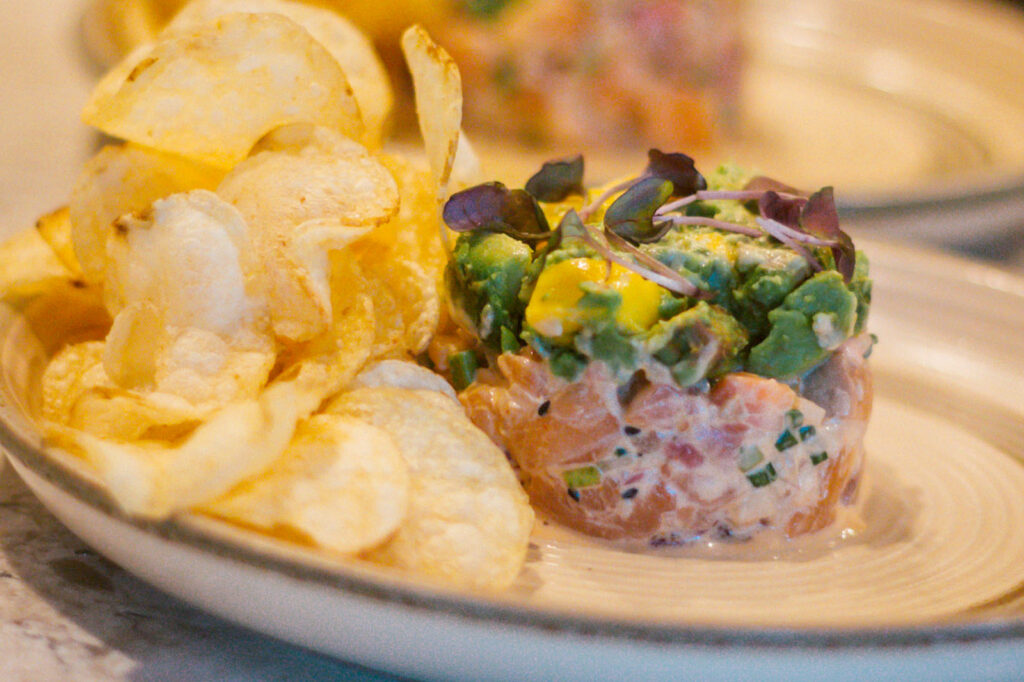 Ingredients
1

filet of sushi grade salmon *if frozen see footnote on defrosting*

1

asian pear

¼

cup

pickled ginger

1

finely diced shallot

¼

cup

finely diced green onion

¼

cup

Japanese mayo (regular hellmans works as well)

1

tbsp

soy sauce

2

tbsp

sriracha

2

tbsp

black and white seasame seeds

1

avocado roughly cubed

1

mango roughly cubed

1

bag

of your favourite kettle cooked chips.
Instructions
This dish is all about making very precise cuts of all ingredients. Take your time. Take pride in making every cut perfect. But don't go crazy. Start with dicing the pickled ginger, asian pears, shallots, and green onion. Add to a large bowl.

Slice the salmon fillet against the fat lines. Make them about a 1/4 inch thick so it looks like a slice of sashimi. Lay the slice flat, cut in half, and then chop into tiny bite sized portions. Try to keep all of the pieces as symmetrical as possible. Add to bowl.

Mix ginger, pear, green onions, shallot, salmon, and sesame seeds together.

In small bowl mix together mayo, sriracha, soy sauce together and pour over fish mixture.

Peel and pit avocado. Chop into small chunks. Do the same with the mango and mix it together. If not using immediately add a bit of lime so the avocado doesn't turn brown.

Now it's down to assembly! I have a circular cookie cutter that I use to give it a nice round shape. In a pinch simply pile it very neatly on a fancy plate. Top the fish mixture with the mango and avocado.

Serve with kettle cooked chips.
Andy's Notes
Most sushi grade fish that is available on the east coast will come frozen. No issue. In order to maintain the quality of the fish it's important to properly defrost it. So here is what ya do. Fill up a bowl with really hot tap water. 110 F if you want to get specific. Add about 2 TBS of salt into the bowl. Take the fish out of the plastic and drop it into the bowl of hot water for exactly 4 minutes. Once four minutes is up, wrap fish in paper towel and let it defrost over night in the fridge. Boom, wake up in the morning and it will be perfect.
Print Recipe
(Visited 1,872 times, 2 visits today)