Today was a long day of quarantine. Kids were very tough, it was raining…just a grind of a day. On a positive note I made one of my favourite pies in the world, a Strawberry Rhubarb Pie. The perfect balance of sweet and tart, and to me it just screams spring! I love it when the rhubarb first turns up in the markets this time of year. It gives me hope that summer's on the way!!
Springtime Strawberry Rhubarb Pie
Print Recipe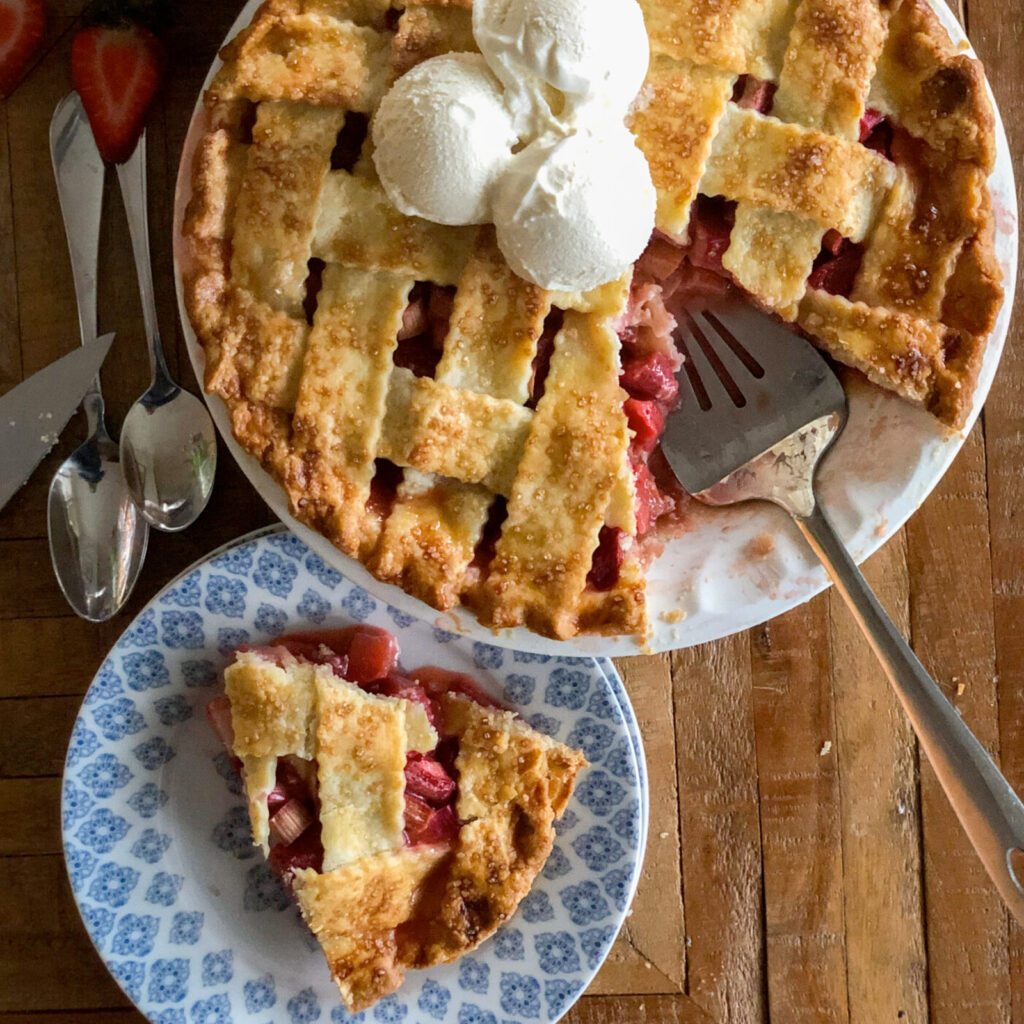 Ingredients
Pie Dough
2½

cups

flour

1

tbsp

sugar

1

pinch

salt

1

cup

very cold butter cut into ½ inch pieces

½-¾

cup

ice water
Pie Filling
3

cups

chopped strawberries

3

cups

chopped rhubarb

⅓

cup

white sugar

⅓

cup

brown sugar

1

tbsp

fresh lemon juice

½

tsp

vanilla

1

pinch

salt
Instructions
Let's get started with the pie crust. Don't be intimidated. We are going to get through this. If you have a food processor you are going to want to haul that out. If not, no biggie.

In the bowl of the food processor, or a large bowl, add in flour, sugar, and salt. Mix together. Next add the cubed cold butter. Pulse 12 or so times. You want the butter to be chopped into pea-sized chunks. If you don't have a food processor, just use a cheese grater and grate the cold butter into the dough mix.

Next stream the cold water into the food processor while pulsing. You want to use only enough water so you can easily pinch the dough together. Once the dough comes together pour contents of the bowl out onto a flat surface. Form dough into a ball, wrap in plastic wrap, and let rest in the fridge for an hour.

Now let's tackle the fruit filling. Add all filling ingredients to a bowl and give it a good mix. Let rest in fridge until we are ready to fill the pie.

After 1 hour, pull the dough from the fridge and cut in half. Roll the bottom crust out first. Roll until dough is about 1/8 inch thick. Try to make it sort of a circle shape.

Grease a pie plate with spray or butter, and lay rolled dough circle over pie plate. Gently push down on pastry to make sure it's snug against the pie plate, and trim up the edges. Once this is done, place in freezer while you get the top crust rolled out. If you want to do the lattice pattern it's best to watch this video https://www.youtube.com/watch?v=XKPbLXhAHbc

Once the top is rolled out, pull pie crust from freezer and pour fruit filling into pie shell. Cover with top crust and pinch edges closed. If not doing the lattice pattern just make sure you cut a couple of holes in the top crust before putting in oven.

Using a pastry brush, apply an egg wash (egg and milk mixed together) to the whole top crust. Place in oven for 45-50 mins. Get some eyes on the pie around the 35 minute mark, as your oven may run hotter than mine. Better to be safe than sorry – pies are a lot of work!

After the pie is golden brown let FULLY cool, resting for 2-3 hours.
Print Recipe
(Visited 4,795 times, 1 visits today)