Thai food is one of the worlds great cuisines. Complex flavour balance of sweet, spicy, funky, sour. It has a bit of everything. I picked up a few tips while traveling through Thailand, and I just love making Thai dishes as they are so satisfying and bring me right back! This Thai Red Curry is actually very easy to make, and once you make it once I can guarantee you that you will be adding this recipe to your meal rotations. Perfect for weeknight dinners, or when you are having people over!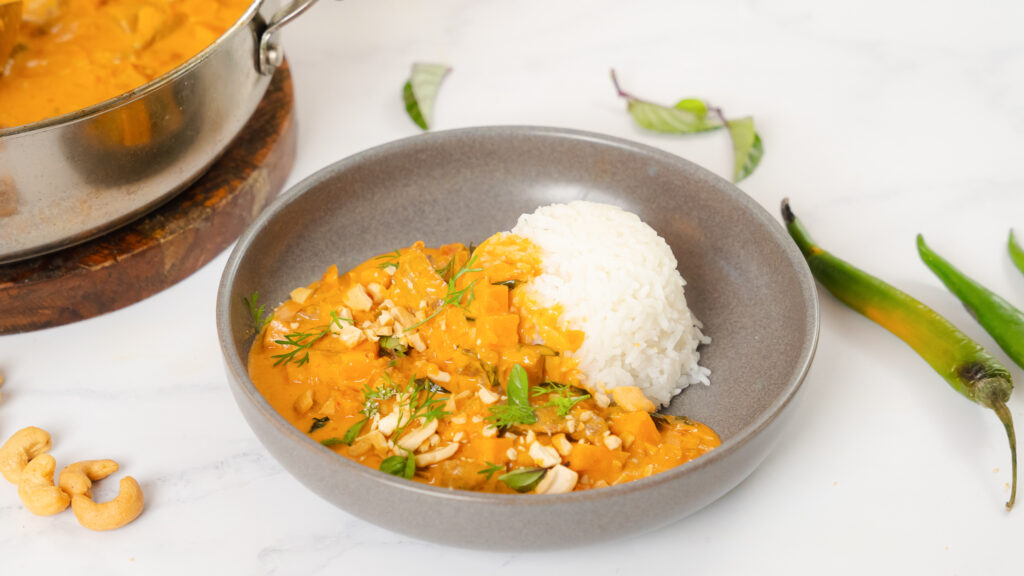 Building Thai Flavours
I am by no means an expert on Thai cooking, but from what I have observed, a lot of the foundation flavour elements are the same across many of your favourite Thai dishes. You will see the combination of garlic, ginger, onion, lemongrass, and chilis used in a lot of recipes. These foundational elements provide an amazing flavour platform to build off of. If you start with these ingredients, whatever you are making is bound to taste pretty awesome!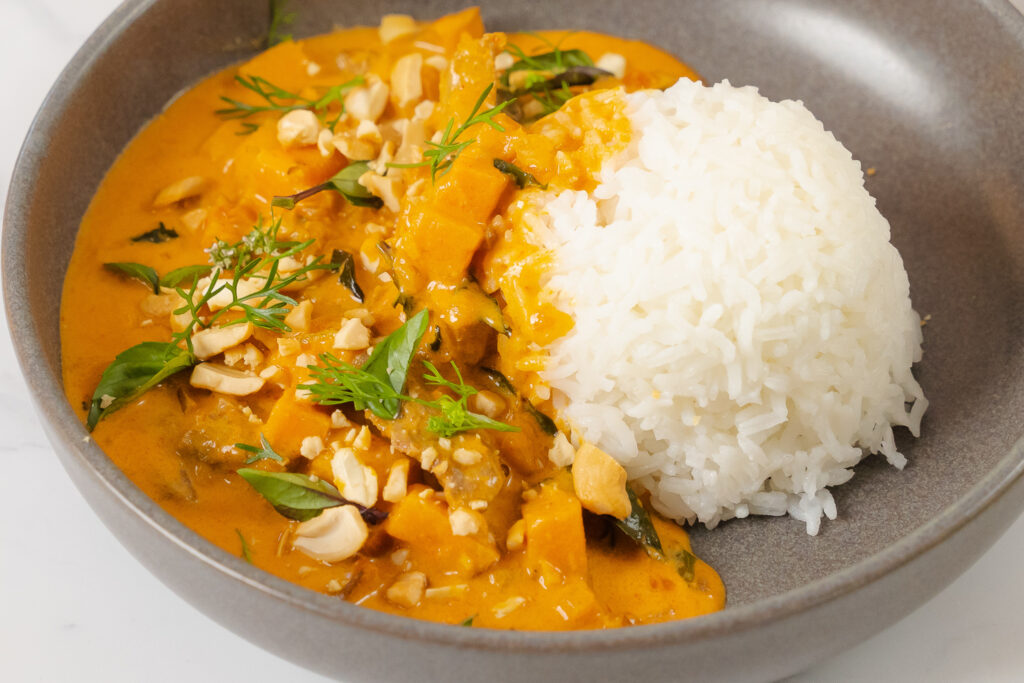 Let's Breakdown The Ingredients!
I love this dish as you can really take it in all sorts of directions by using your favour protein and veggies. A perfect kind of dish to use up the left behind veggies in your fridge! Get creative and make this your own. Below is what you will need to make this red Thai curry
Red Curry Paste – Red curry paste is available at most grocery stores now. They can vary in spice level so it may take some experimenting to find the paste you like the most. I like Thai Kitchen as well as the Cock brand.
Coconut milk – Always try to get quality coconut milk. Generally, I try to find the one with the highest fat content as that will result in the smoothest and creamiest curries.
Veggies – For this red curry, I used chopped-up sweet potatoes, but you can really use whatever you have on hand. Eggplants, peppers, and beans are all great options.
Aromatics – as mentioned above, the base of many Thai recipes is garlic, ginger, lemongrass, and chilis.
Seasoning – To round out the flavour of this curry, I added fish sauce, brown sugar, soy sauce, and lime juice. This adds complexity and pulls everything together. Always season to your taste!
Herbs – South East Asian cooking is heavy on herbs which I love. Fresh fresh fresh!! I use Thai basil and cilantro for this dish!
Cashews I like serving this Thai red curry with crushed-up cashews for additional flavour and texture.
Protein There are no wrong answers to what protein you use for this curry. I chose steak, but you could easily use shrimp, chicken, or tofu.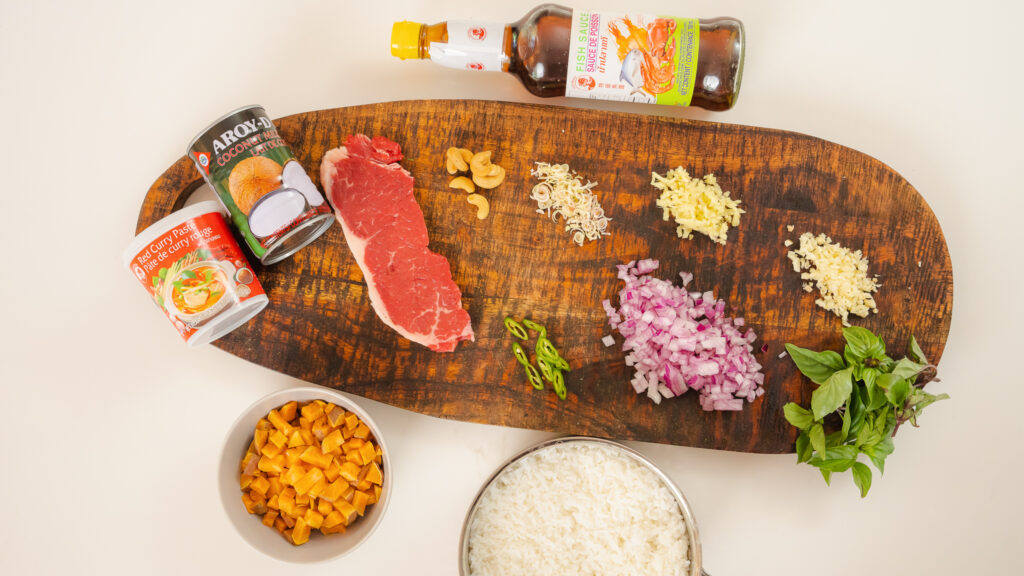 Thai Red Curry
Print Recipe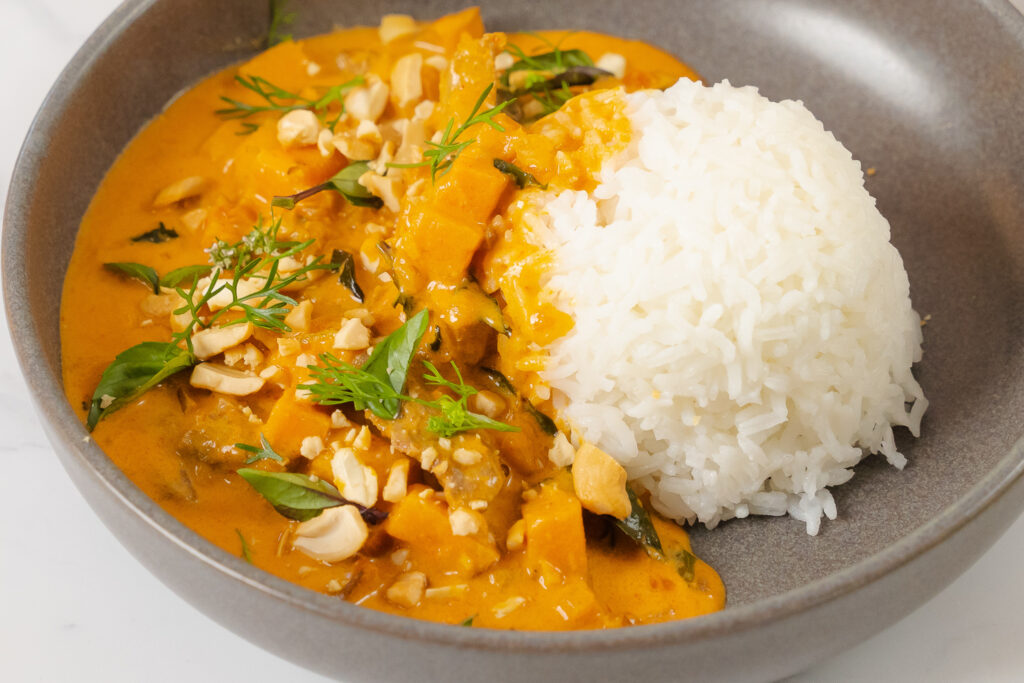 Ingredients
4

tbsp

red curry paste

1

cup

onion, diced

3

cloves

garlic, minced

1

inch

ginger, minced

1

tbsp

lemongrass, sliced

2

cups

sweet potatoes, cubed

I like to microwave them to speed the cooking

1

cup

Thai basil

1

striplion steak, sliced

2

tsp

fish sauce

1

tsp

brown sugar

1

can

coconut milk

1

lime, zested and juiced

1

tsp

soy sauce
For serving
2

cups

Jasmine rice, cooked

1/2

cup

cashews or peanuts

1/4

cup

fresh cilantro
Instructions
Tackle the rice off the top. Follow the package instructions and make 2 cups of jasmine rice. Set aside until ready to serve.

Heat a large oiled pan over medium high heat. Once temperature has been reached drop in the garlic, ginger, lemongrass, and onions. Saute for 1 minute. Next drop in the sliced beef and saute until browned, about 2 minutes.

Now scoop in the curry paste. Using a spoon mix the paste around and let it get to know the rest of the ingredients. Saute for 1 minute. Next up, carefully pour in the can of coconut milk and stir to combine. Use your spoon to breakdown the curry paste so it fully combines with coconut milk. Lower temperature to a simmer.

This is when I will add in my cubed sweet potatoes. I will generally toss them in the microwave to cook them in an effort to cut down cooking time. Feel free to use whatever veggies you have on hand.

Season curry with fish sauce, lime zest, lime juice, soy sauce, and brown sugar. Drop in the Thai basil leaves. Taste and adjust to your palette. Allow to simmer for about 5 minutes.

Serve with jasmine rice and top with crushed cashews, and fresh herbs.
Print Recipe
(Visited 30,845 times, 17 visits today)