I really do feel that I could eat a burrito bowl everyday and never get sick of it. It's healthy, packed with flavour, filling, and just generally very "crave-able". There are also very few rules when it comes to what goes into a burrito bowl, it basically comes down to what is in the fridge! I love that style cooking as it forces you to be creative and resourceful.
This recipe will show you a couple ways to slam a bit more flavour into your burrito bowl. The pickled red onions and jalepenos should become a fridge staple, along with the pico de gallo and the lime cilantro crema. This is a great meal prep idea for all those keeners who are trying to make food in bulk for the whole week.
A fan favourite. The Healthy Burrito bowl.
Print Recipe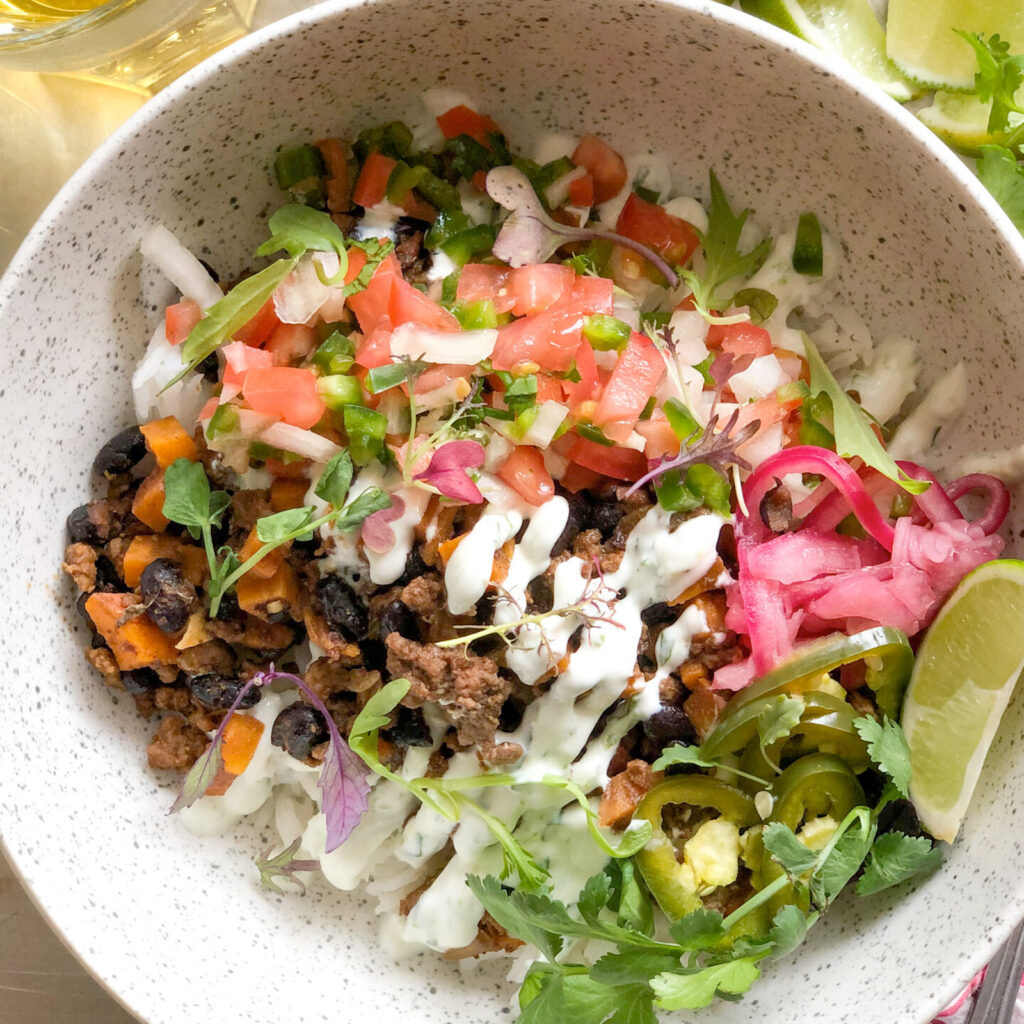 Ingredients
1

cup

rice

1

lb

ground beef (feel free to use chicken, tofu, pork etc)

1

sweet potato diced into small cubes

1

can

black beans

1

white onion

4

cloves

garlic

3

plum tomatoes

1

tbsp

cumin

1

tbsp

corriander

1

tbsp

smoked paprika

1

cup

sour cream

zest and juice of 2 limes

½

cup

chopped cilantro

2

jalepenos

1

red onion

1

cup

red wine vinegar

1

cup

white vinegar

2

tbsp

sugar

2

tbsp

salt
Instructions
Let's kick things off with the pickled red onions and jalapeños. Slice both onions and jalapeños very thinly and set separate jars or bowls. In two different small pots add 1 tbs of salt and 1 tbs in sugar in each pot. In one pot add 1 cup of red wine vinegar, and the other add 1 cup of white vinegar. Place both over medium heat and stir until salt and sugar dissolve. Once dissolved pour the red wine vinegar over the red onions and the white vinegar over the jalapenos and then let them rest until plating the dish. These will stay in the fridge for weeks.

Add one cup of rice and 2 cup of water in a pot over high heat. Bring to a boil. Once boil has been reached reduce temperature to low and cover for 12 minutes. After 12 minutes remove from heat and keep covered until ready to plate.

Now, pico de gallo time. This is a fresh salsa that you can put on everything. Place 2 diced tomatoes, 1/2 a diced white onion, 1 deseeded diced jalapeno, 1 minced clove of garlic, juice of one lime and a pinch of salt in a bowl. Boom, done. Let it sit in the fridge until plating. Pro tip here, take your time and use a sharpe knife.

Last thing to prep before we get going on the main event. Crema. This stuff is awesome and last in the fridge really well. In a bowl add 1 cup of sour cream, the zest and juice of 2 limes, 1/2 cup of chopped cilantro, and a pinch of salt and mix. Put into a squeeze bottle for extra points. Place in the fridge until ready to plate up.

More knife work! Dice up the sweet potato, tomato, rest of the white onion, garlic. Ok now you are done and it's down to cooking.

Place a pan over medium high heat and add in the 1lb of ground beef. Using a wooden spoon break apart the meat and season with cumin, corriander, salt, and pepper. Once browned remove from pan and place in bowl off to the side.

In the same pan add 1 tbs of olive oil and add in the rest of the prepared veggies. Saute for 5 minutes. Add in 1 tsp coriander, 1 tsp cumin, 1 tbs smoked paprika. If pan starts to get very dry add in 2 tbs of water to deglaze the pan and steam vegetables slightly. After about 6-8 minutes drain can of black beans and then add to pan while stirring. Once beans have gotten cozy with all of the other ingredients add the beef back into the pan. Mix everything together and taste. Adjust seasoning to your taste!

Assemble the bowl. Rice on bottom, then beef and beans, crema, pico de gallo, the the pickled onions and jalapeno. Finish with some sliced green onions and cilantro. Enjoy everyday.
Print Recipe
(Visited 6,608 times, 6 visits today)