Now more than ever it is important for us to sit down with the ones we love and have uncomfortable conversations about race, privilege and systemic racism. For me, the place for these conversations to happen is at the dinner table, breaking bread. So here is a very easy recipe for you to make at home. I hope I'm helping you make bread so you can break bread.
One of my favourites is Focaccia. It's moist, chewy, and fairly easy to make. This is a great choice if you are new to the world of dough making as it's relatively fail-proof.
What makes this Focaccia bread especially craveable is the addition of thyme infused honey, drizzled on at the end. I love the balance of sweet and salty, and the fact that I am addicted to bread makes this a particularly dangerous combination.
Time to break bread. Thyme Honey Focaccia Bread
Print Recipe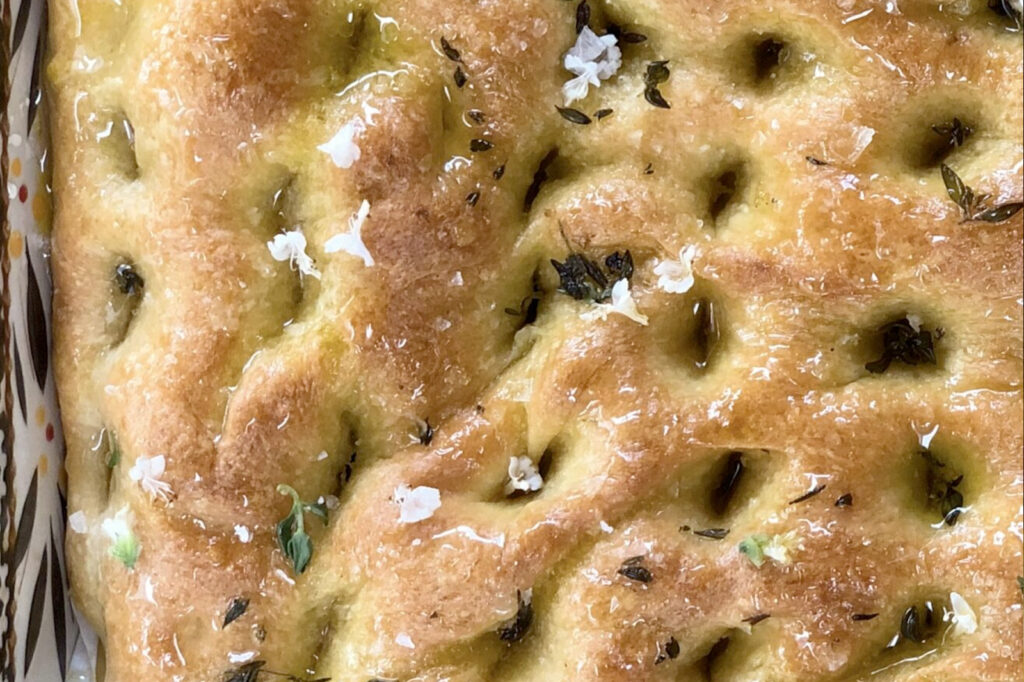 Ingredients
Bread
1⅓

cups

lukewarm water

2

tsp

sugar

2¼

tsp

active yeast

3½

cups

AP flour

¼

cup

olive oil, plus more for drizzling

2

tsp

salt (preferably high quality flaky salt), plus more for finishing
Thyme Honey
½

cup

honey

¼

cup

fresh thyme
Instructions
Okay, let's bake some bread! Nothing difficult about this one so do not panic! First things first: place the yeast, sugar, and lukewarm water into a stand mixer bowl. Give the mixture a stir and let rest until yeast starts to bubble, about 5-10 mins.

Once the yeast is alive, attach the mixer bowl and set the mixer to low speed, while you gradually add the flour, olive oil and salt. Increase speed to medium-low, and continue mixing for 5 minutes or until it is elastic and smooth. If the dough seems too wet, add a small amount of flour.

First dough rise: remove dough from the mixing bowl, and use your hands to shape it into a ball. Grease the mixing bowl with olive oil or cooking spray, then place the dough ball back in the bowl and cover it with a damp dish towel. Place in a warm location and let rise for 45-60 minutes, or until it has nearly doubled in size.

Second dough rise: punch the dough down then turn onto a floured surface, and roll it out into a large circle or rectangle until the dough is about 1/2-inch thick. Cover the dough again with the damp dish towel, and let continue to rise for another 20 minutes.

While the dough is doing its second rise, get started on the honey. Add honey and dried thyme to a pot and place over low heat. Let honey simmer for 10 minutes and then filter out the thyme using cheesecloth or a fine strainer.

Preheat oven to 400°F. Transfer the dough to a large parchment-covered baking sheet. Use your fingers to poke deep dents (push right down to the pan) all over the surface of the dough. Drizzle a tablespoon or two of olive oil all over the top of the dough, and sprinkle evenly with fresh thyme and sea salt. Bake for 22 minutes, or until the dough is slightly golden and cooked through.

Once you pull the bread from the oven, brush on honey, sprinkle with salt, and douse with olive oil. Serve warm and enjoy!
Print Recipe
(Visited 6,225 times, 13 visits today)