This is one of my favourite meals to have when I'm in a rush! This Udon Noodle Stir Fry is a great meal to have up your sleeve for those nights when you are seriously short on time.
I am a big fan of udon noodles. The packaged ones are available at all large grocery stores and are great to keep in your fridge for a rainy day!
In this recipe, I've listed all the vegetables I used, but feel free to use up what you have in your fridge!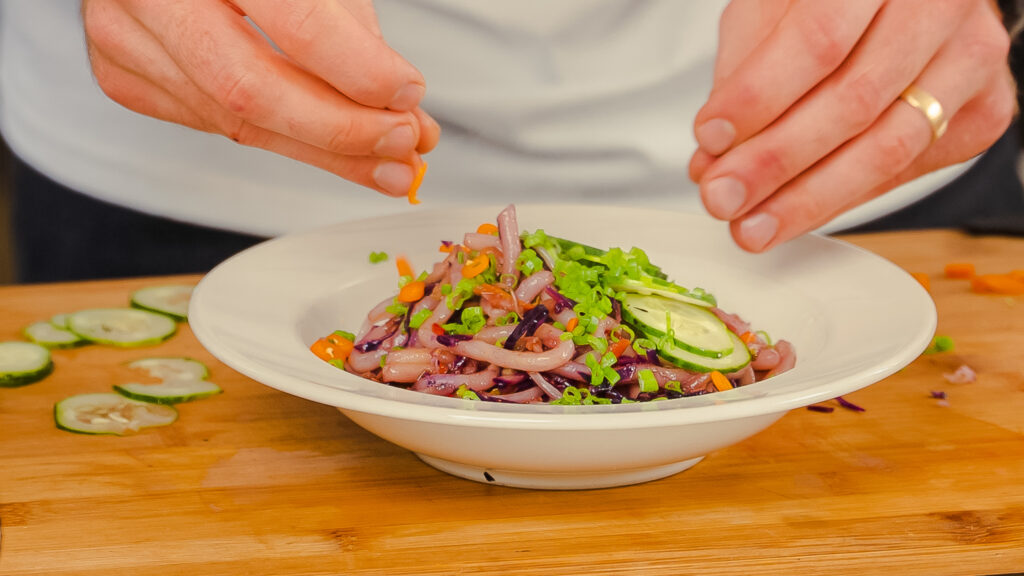 Let's Breakdown the Ingredients!
This stir fry is packed with flavours and nutritious vegetables that can whip up a meal in just 10 minutes! This recipe had ingredients that boost its flavour with three different steps.
Starting off with the noodles, spices and herbs, this recipe is made with warm and spicy flavours you will love. Udon noodles are thick in size, and often soft and chewy with a neutral flavour that is able to absorb strong flavours. The addition of minced garlic, ginger and Thai chilli all gives this stir fry a warm, earthy and spicy flavour.
In this recipe, the vegetables I used are red cabbage, carrots bean sprouts and broccoli stems. Red cabbage is nutrient-rich and adds a peppery taste to any recipe. Carrots usually have sweet and earthy flavours that will balance off the peppery tastes in this recipe perfectly. Bean sprouts are a mild, clean vegetable that has many health benefits that do not overwhelm a dish.
I feel as if broccoli stems are always forgotten about when added to a recipe, and this is the perfect way to minimize your food waste! Much like the broccoli flower, the stem part of the vegetable holds the same amount of nutrients.
The sauce to this recipe balances the flavours of a sweet, salty, spicy, nutty and earthy taste. The low sodium soy sauce includes a balance of salty and sweet flavour, sriracha adds a spicy note to the recipe and the sesame oil adds a nutty and earthy taste to the stir fry.
10 minute udon veggie bowl
Print Recipe
Ingredients
1

package

udon noodles

3

cloves

garlic

minced

1

inch

ginger

minced

1

thai chilli

sliced

2

tbsp

canola oil
Vegetables
1/2

red cabbage

shredded

1

broccoli stem

grated

1/2

cup

carrots

shredded

1/2

cup

bean sprouts
Sauce
2 1/2

tbsp

Low sodium soy sauce

2

tsp

sriracha sauce

1

tsp

sesame oil
Garnish
1/2

cup

slice cucumber

1/2

cup

peanuts or cashews

1/2

cup

sliced green onions

1

wedge

lime

1/4

cup

fresh cilantro (optional)
Instructions
First things first place udon noodles into a heat safe bowl and pour boiling water over them. Let the noodles sit in the water for 5-7 minutes until they become soft and separate from each other.

Place a pan over medium high heat. Once to temperature, gently pour in canola oil and all oil to come to temperature. Once hot add in garlic, ginger, chilli and stir continuously. You are looking to get no colour on anything here.

Next, toss in vegetables and stir constantly for about 4 minutes.

In a small bowl mix together soy sauce, sriracha, and sesame oil and then pour over the vegetables.

Last step, toss in the the softened noodles and stir everything together. Once noodles are nice and hot you are ready to serve!

Garish with cucumbers, peanuts, and lime! Enjoy!
Print Recipe
(Visited 8,040 times, 71 visits today)