This dish stamped my ticket to the finale of Masterchef Canada. The final challenge to get into the finale was to take a humble ingredient and transform it into something magical. We had 75 minutes to come up with 3 dishes that made your assigned root vegetable the star. I was lucky enough to get the carrot and this Brown Butter Pistachio Crushed Carrot was one of the three dishes that I served the judges. I really love this dish and it got very high praise from all three judges.
What I love most about this dish is its simplicity. Nothing fancy here. You can absolutely make this at home and it makes for an absolutely amazing side dish.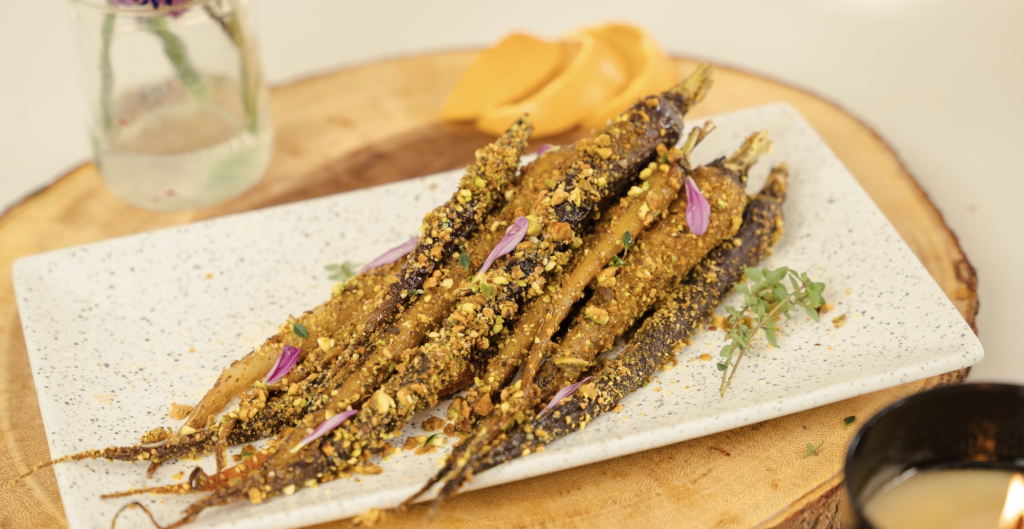 How to make brown butter?
Brown butter is one of the worlds great flavours. Deep, satisfying, nutty flavour that just adds a lovely amount of complexity to a dish. You see brown butter being used in lots of different dishes ranging from savoury to sweet. For whatever reason brown butter is a bit mysterious and I do get messages from people asking me how to make it. Well folks, it doesn't get much easier that this.
Step one- Place a pot over medium high heat and drop in a block of butter. Let the butter melt and bubble away. The butter will start to get all frothy then you will notice the butter and the froth start to turn a beautiful amber brown. Once you start to notice that, remove the pot from the heat. Well done chef! You just made brown butter.
Essentially what you are doing when making brown butter is toasting the milk solids inside the butter. It transforms the flavour and is perfect to drizzle on seafood, pasta, or use when baking.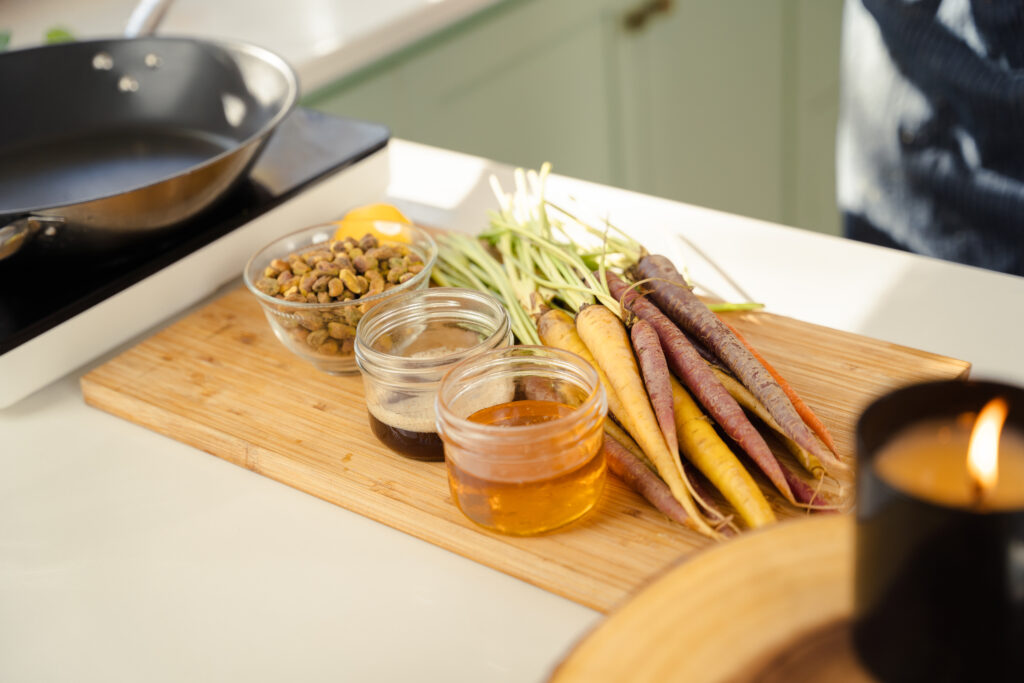 What you will need for this recipe?
I love this simplicity of this recipe. You don't need many ingredients and it really is a crowd pleasing dish.
High quality carrots. This is the time to pop down to your local market and grab the best carrots you can get your hands on. I like using heirloom carrots for their different colours.
Brown Butter. See above for instructions on how to make brown butter. It really is worth going the extra step here.
Honey. Like everything, the better quality honey you buy the tastier this dish is going to be.. bee? Sorry I had to add a quick dad joke in there.
Pistachios. I love the flavour of pistachios, but the colour is the real reason I love using them for this dish. The green colour gives a lovely contrast and they look just so darn pretty. In theory you could use other nuts here.
Orange. I didn't use orange juice when making this dish on Masterchef, but I gave it a try this time and it gave a nice little boost of citrus and orange and carrots go together well so I feel it works!
Brown Butter Pistachio Carrots
Print Recipe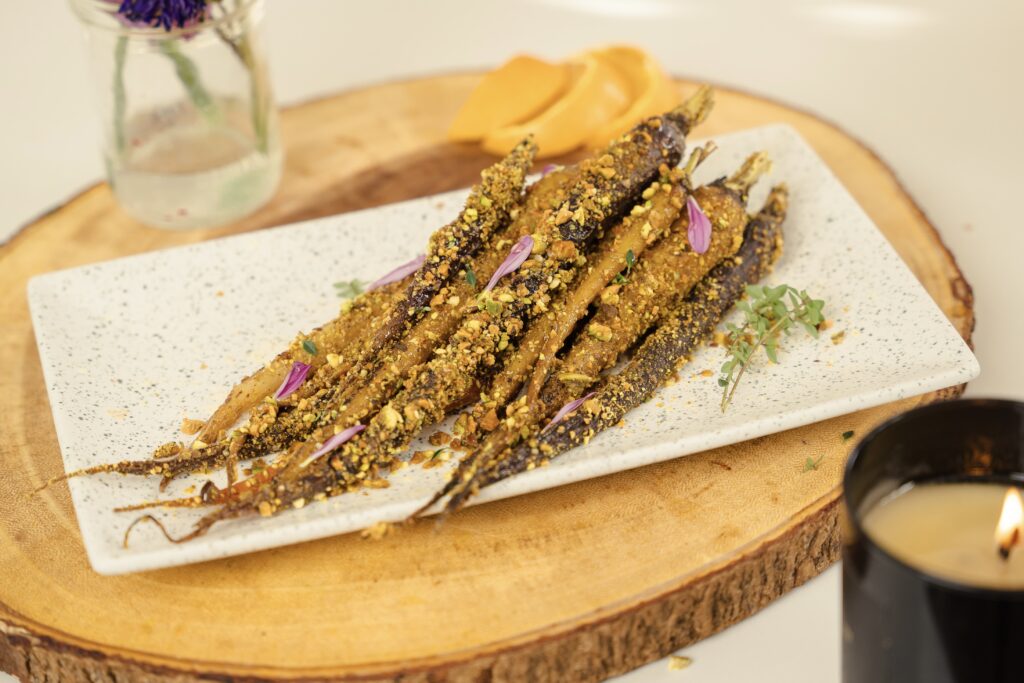 Ingredients
24

fresh carrots

1/3

cup

brown butter

1/2

cup

honey

1

cup

pistachios, crushed

2

tbsp

fresh orange juice
Instructions
Firstly, let's make some brown butter. Place a small pot over medium high heat and drop in your butter. Let the butter melt and bubble away until the foam on top begins to have an amber colouring. Once that happens remove from heat and carefully pour butter into bowl or jar.

Now onto the carrots. Place a non stick pan over high heat and toss in the carrots with a small amount of oil. Let the carrots take on a bit of colour. You are looking to get a bit of charring on the carrots. After about 4 minutes, pour in the honey and brown butter. Toss the carrots so they are totally covered. Pour the brown butter and honey carrots onto a baking sheet and place in the oven for 15 minutes.

While the carrots are roasting, place the pistachios into a plastic bag and crush with a rolling pin or kitchen mallet. Pour the crushed nuts onto a plate.

Remove the carrots from the oven and give them a shake to recoat them in the honey and brown butter. Now drop the carrots one by one in the crushed pistachios and roll them so they are totally covered.

Once all of the carrots are coated, give them a squeeze of orange juice before serving. Enjoy!
Print Recipe
(Visited 5,364 times, 4 visits today)