If push comes to shove and I was forced to choose my favourite recipe on my blog, this chipotle black bean burger would be my pick. It truly represents me and the food I love to make. It's healthy, delicious, party food, and veggie-forward with tons of beans!
This recipe is so good that even the people in your life that are staunch meat-eaters will eat and love this burger!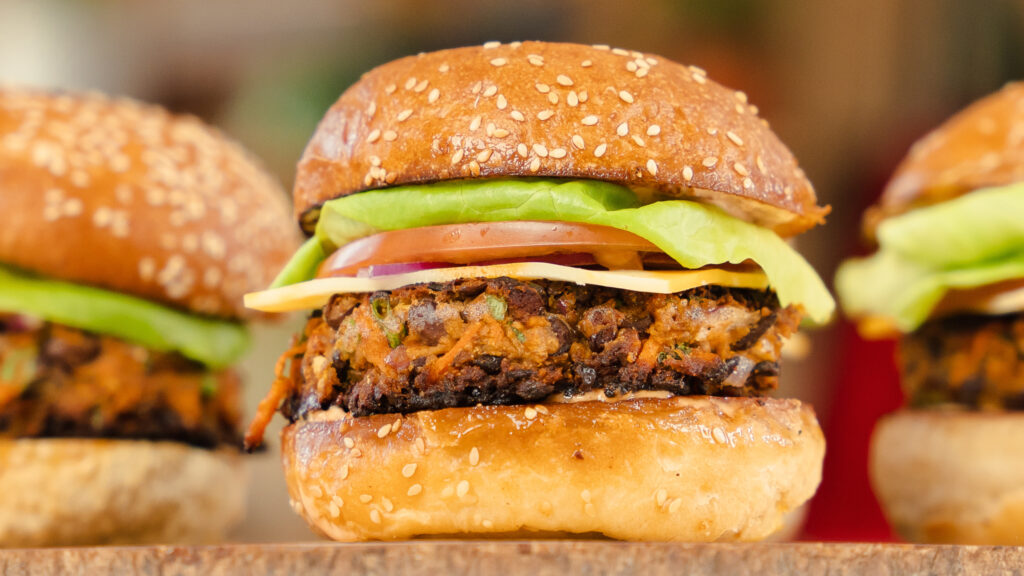 Let's Breakdown the Ingredients!
One of my favourite secret ingredients is chipotle peppers in adobe sauce. This smokey, dried jalapeños pepper is rehydrated and canned with a sweet and tangy purée of tomato, vinegar, garlic, and other spices!
I've been using this ingredient since I was on Master Chef, where I made this incredible chipotle mayo. This amazing ingredient gives a smokey, spicy and a bit of sweetness to any recipe you had it to!
The main ingredient in this meatless burger is black beans. Black beans are a healthier option that is high in protein and fibre but also has many health benefits such as lowering blood pressure, managing diabetes and much more!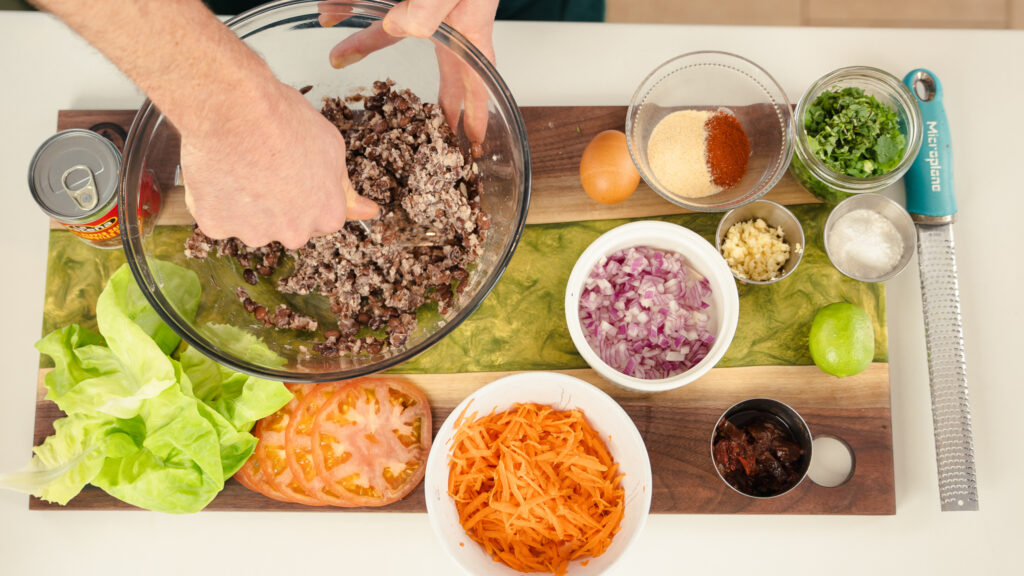 This is one of my family's go-to weeknight meals that we love. I've even tested this recipe with my brother-in-law and friends, who are diehard meat lovers, and they loved it!
Here's What You Need to Know When Making This Recipe
I use canned beans predominantly for this recipe, and make sure that you are rinsing out all the liquid off the bean. 
The key is to mash only 75 per cent of the beans with a fork. And leave the other 25 per cent somewhat full to give the patty some texture. 
Using a ring mould will help perfectly shape these burgers in place – you can even use a circle cookie cutter!
A crucial part of this recipe is making sure the patties have enough time to cook, form a nice crust, and make sure the egg is fully cooked. A cast-iron skillet will definitely help form that crust you're looking for. It's important that you mustn't rush the cooking process. Looking to cook for 5-7 minutes per side.
This dish is perfect for serving with a side of potatoes or salad, and you can even freeze them for meal prep for the week!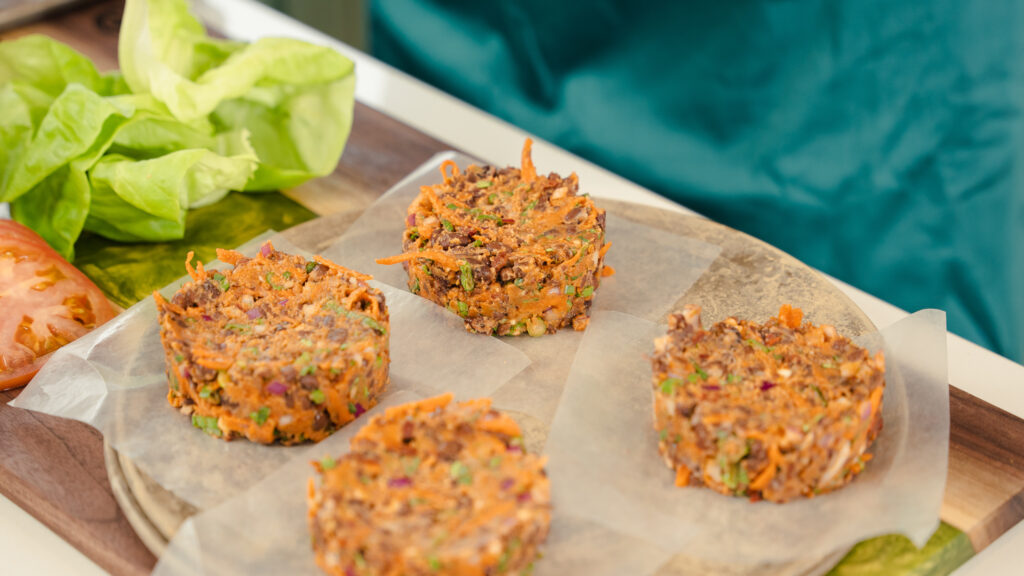 Chipotle Black Bean Burger
Print Recipe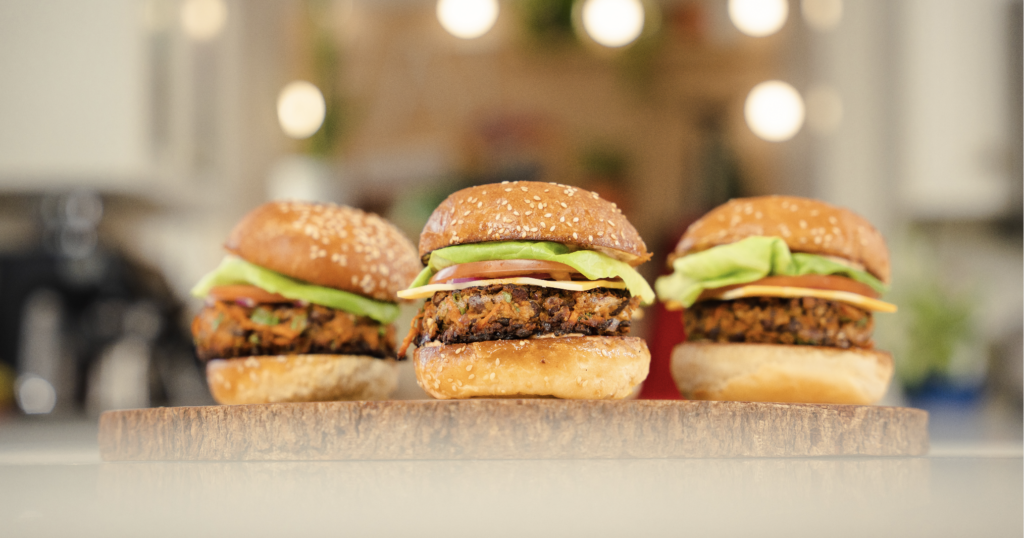 Ingredients
Black Bean Burgers
1

can

black beans, drained and rinsed

2

cloves

garlic, minced

1

chipotle pepper, chopped + 1 tbsp adobo sauce from can

2

tbsp

chopped red onion

¼

cup

diced red pepper or shredded carrot

zest of 1 lime

1

tbsp

garlic powder

½

tbsp

chilli powder

1

tbsp

smoked paprika

1

egg

½

cup

chopped cilantro

¼

cup

sliced green onions

2

tbsp

rice flour (any flour works)
Chipotle Mayo
1

cup

store bought mayo

2

canned

chipotle peppers, diced

juice of half a lime

½

cup

chopped cilantro

1

clove

garlic, minced

1

pinch

salt
Add ons
4

burger buns

sliced tomatoes

sliced red onions

boston lettuce
Instructions
This is one of my favourite things to eat. I'm Excited for you! First things first – add the black beans into a bowl and mash with a fork. You don't want to over mash and turn this into a paste, so don't worry if there are full black beans, that adds texture.

Next, add in the garlic, onion, red peppers, lime zest, spices, egg, cilantro, green onions, and rice flour. Mix together and then form into burgers. I like to use a circle ring mold, but hand-formed patties work great too. Place in the fridge for 10 minutes to allow to cool slightly.

While the burgers are chilling in the fridge, let's kick on to the chipotle mayo. Grab a bowl and toss together the mayo, chipotle peppers, lime juice, cilantro, garlic, and salt. Mix and set aside. This stuff is CRAZY good and will keep in the fridge for 10 days.

Place a lightly oiled pan over medium-high heat and when hot place the burgers onto the pan. Sear both sides of the burger until brown and crispy, about 6-7 mins per side.

Now it's time to build the burger and enjoy!!!
Andy's Notes
Chipotle Mayo – Your New Secret Weapon!
This Chipotle mayo is up there in my 'favourite secret weapon' things to make. If I want to impress someone, I'll whip this recipe out – it's perfect for burgers, tacos, nachos…really anything. The key is to buy canned Chipotle peppers in Adobo sauce. Really tasty. Smokey, spicy, just so craveable.
Print Recipe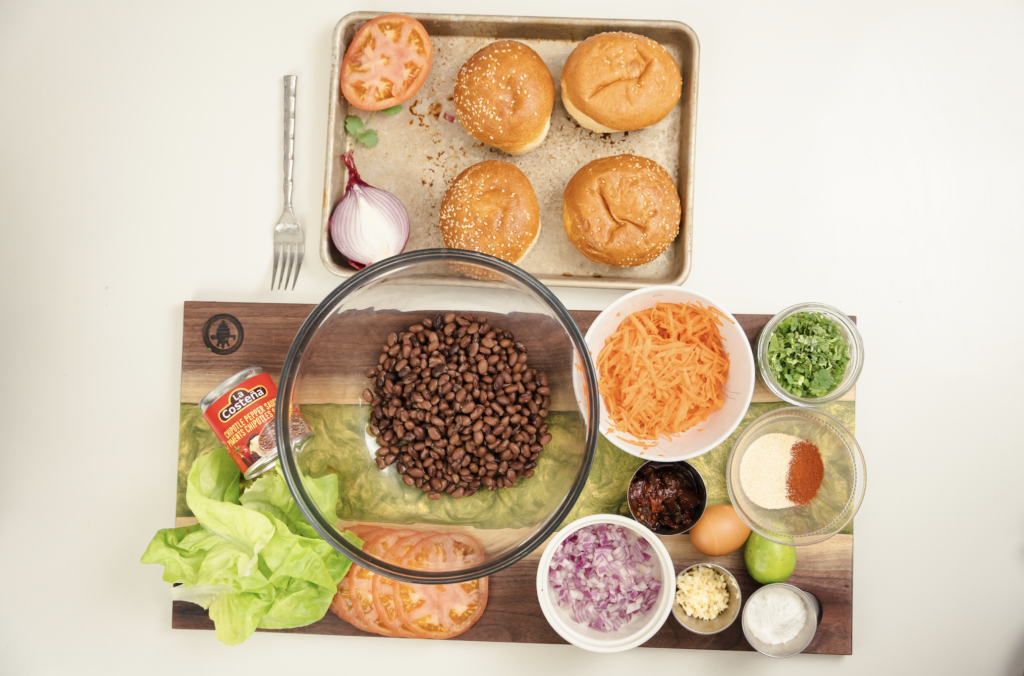 (Visited 31,851 times, 9 visits today)