This is a doozy of a recipe, these Ginger Soy Salmon Burger are perfect to enjoy with the whole family! I love cooking with Atlantic salmon as it is one of the most nutritious foods you can eat. It's high in protein, low in saturated fats and is loaded with heart-healthy Omega 3s, vitamin D&E – and it's great for your brain! Beyond being delicious and good for you, it's sustainable which has become something so much more important to me! 
This salmon burger hits a lot of notes for me with a great texture and big flavours, and knocks out that burger craving! I am often worried that the texture won't be great when making non-beef or ground chicken burgers, but this salmon burger is perfect. With the help of a few other ingredients, the patties held together perfectly and the bite really is satisfying.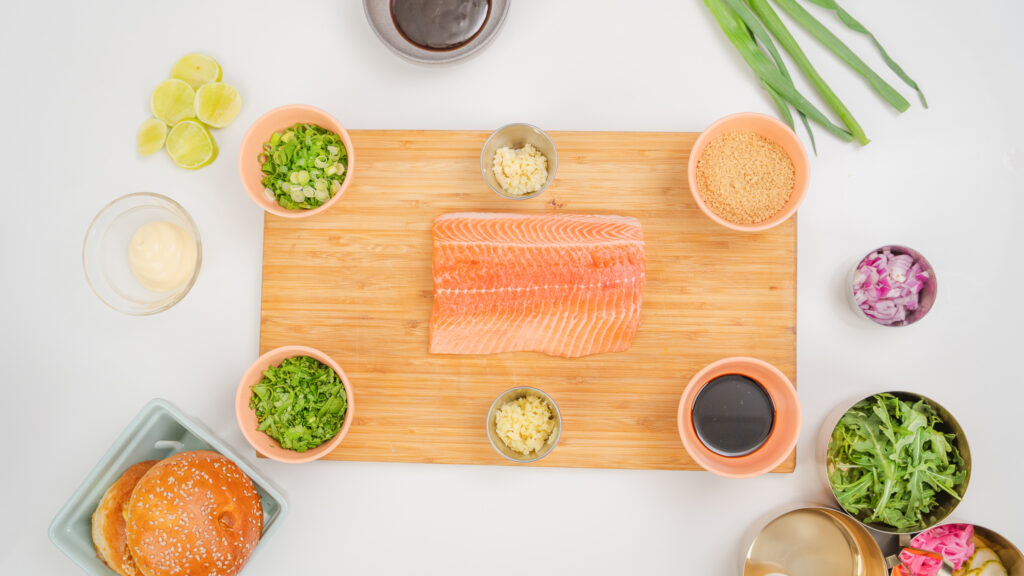 Let's Breakdown the Ingredients!
This recipe is full of fresh ingredients and spices to make a flavourful burger!
Made with Atlantic salmon, it is low in saturated fats and a great source of protein. It is also one of the best sources of vitamin B12 and important minerals such as iron!
This burger is full of flavours because of ingredients such as ginger, soy sauce, sesame oil and maple syrup! Ginger is as root full of antioxidants that add a slightly peppery and sweet flavour with a spicy aroma. Soy sauce is made from fermented soybeans, which gives a rich and savoury salty taste. Sesame oil adds a kick of a nutty flavour to the burger while the maple syrup adds a bit of sweetness to balance the flavours!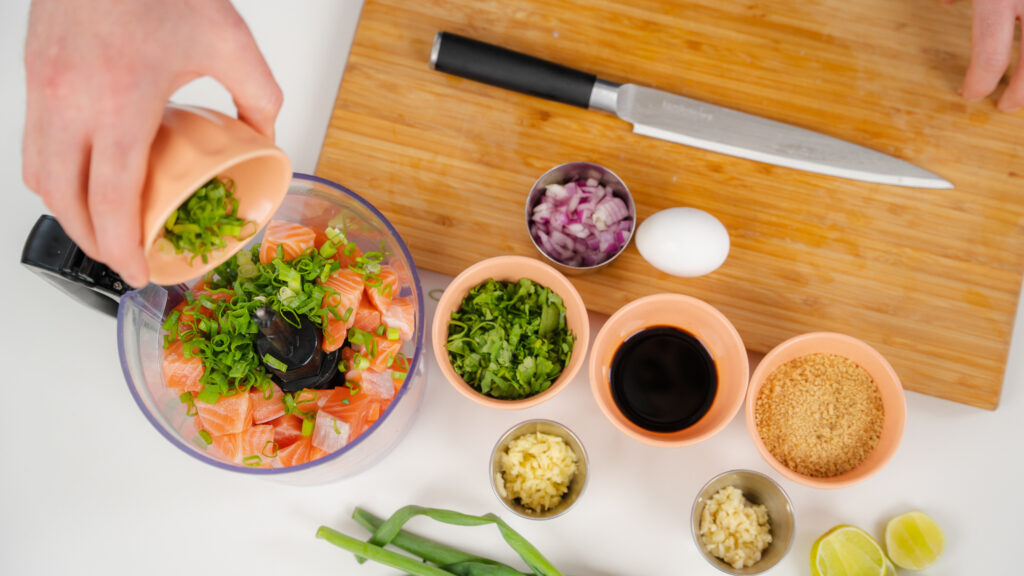 Tips for nailing this Ginger Soy Salmon Burger.
Don't over mix in the food processor. We still want chunks of salmon in our mixture and if we over mix it turns into a paste. If you don't have a food processor simply mince the salmon as finely as you can using a knife. It will work just fine.
Forming the patties. You can easily use your hands to form the patties, but I always us a cookie cutter to make them look more precise. Don't feel pressure to do that!
Place the patties into the fridge for 10 minutes after they are formed. This helps keep everything together.
Don't over cook! Salmon without skin on it can cook very quickly. You want to sear these burgers to make a nice crust, but be careful not to over cook.
Other recipes to check out!
Crunchy chicken gochujang burgers
Lemongrass Ginger Turkey Burgers
Ginger Soy Salmon Burgers
Print Recipe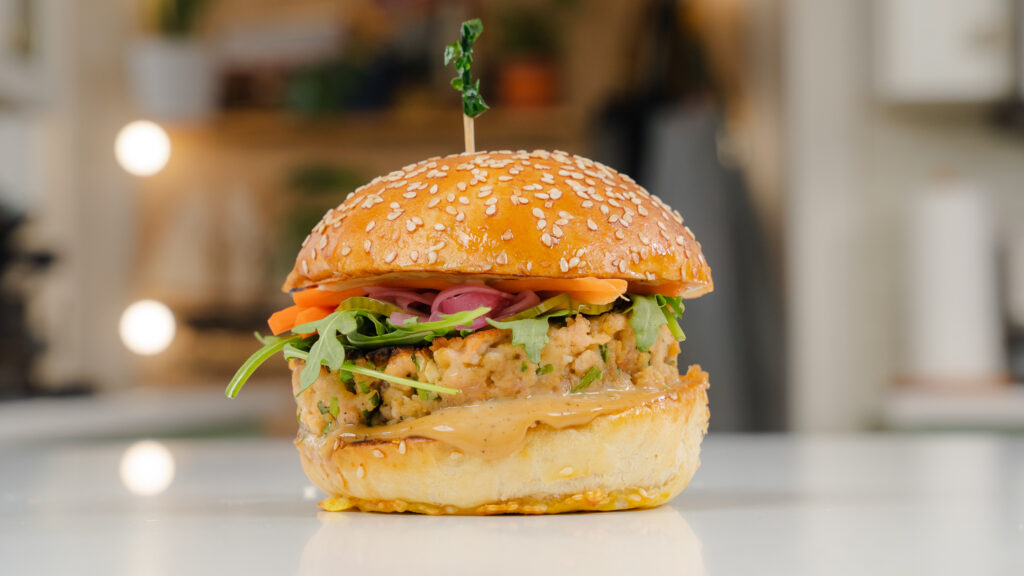 Ingredients
Burgers
1

lb

Atlantic Salmon, skin and bones removed

1/4

cup

fresh cilantro, chopped

1/4

cup

green onions, sliced

1

inch

Ginger, minced

2

cloves

garlic, minced

2

tsp

sesame oil

1

tbs

maple syrup

1

tsp

salt

2

tbs

soy sauce

1/2

cup

panko

1

egg

1/2

cup

rice flour
Hoisin Lime mayo
1/2

cup

mayo

2

tbs

hoisin sauce

1

Zest of lime
Additional ingredients
4

Burger Buns

Arugula

Pickled Red onions

Cucumbers
Instructions
Cube up the Atlantic salmon into inch sized blocks. Add the salmon as well as cilantro, green onions, ginger, garlic, sesame oil, maple syrup, salt, soy, panko, egg, and rice flour into the bowl of a food processor. Pulse until all ingredients are mixed together. You are aiming for some chunks of salmon, not a paste.

One you have the salmon mixture blitzed up, form into perfect burger patties. I like to use a ring mould, but if you don't have one just use your hands. No biggie! Place burger patties onto a tray and fire it into the fridge for 10 minutes to heat everything hold together a bit better.

While patties are in the fridge, place an oiled pan over medium high heat. Once temperature has been reached place burger onto pan and cook for about 3-4 mins per side. You want a nice crust without overcooking the salmon.

After the burgers are ready, quickly make the hoisin lim mayo. Add all ingredients into a small bowl and mix.

Now assemble the burgers and enjoy!!
Print Recipe
(Visited 5,537 times, 1 visits today)