The crunchy, fresh, chicken sandwich is a restaurant quality meal you can absolutely make at home! I love this crunchy chicken gochujang burgers and I really think your family will too. A little bit of spice from the delicious gochujang mayo, freshness from the herb and cucumber salad, and an amazing crunch from the corn flake crumb. This is definitely a crowd pleasure and one I hope you try!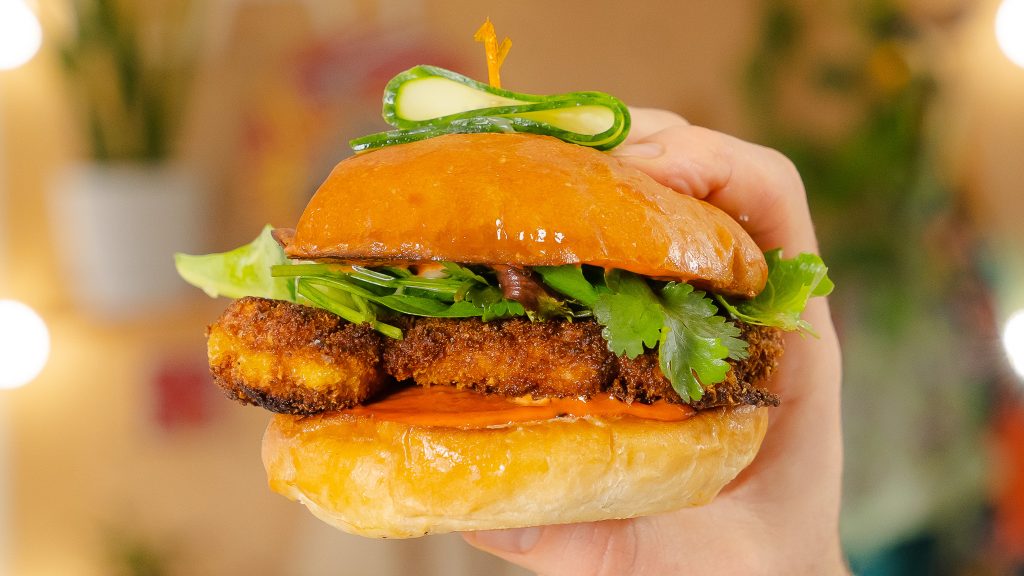 What is gochujang?
Gochujang is a Korean fermented red pepper paste that has started popping up more and more in grocery stores over the last couple of years. It's a spicy, sweet, approachable paste that makes anything it is added too so craveable. This gochujang mayo makes this crunchy chicken burger sing, and I can guarantee people you make it for will love it!
To make the gochujang mayo, all we are going to do is mix together the gochujang, mayo, and lime zest and juice. Give it a stir, and let me tell you, that is a secret weapon in the kitchen!
Getting that crunchy chicken
I love making crispy chicken for lots of different recipes. I will say that this method resulted in the crunchiest chicken yet. The secret ingredient; corn flake crumbs. This classic cereal makes for an amazing outer coating and can be used to replace bread crumbs or panko.
When breading your chicken be sure to follow this process. Start by dipping your chicken into seasoned flour, and then into scrambled eggs, followed by the cornflake mixture. This will result in the best coating and you are on your way to some seriously crispy chicken.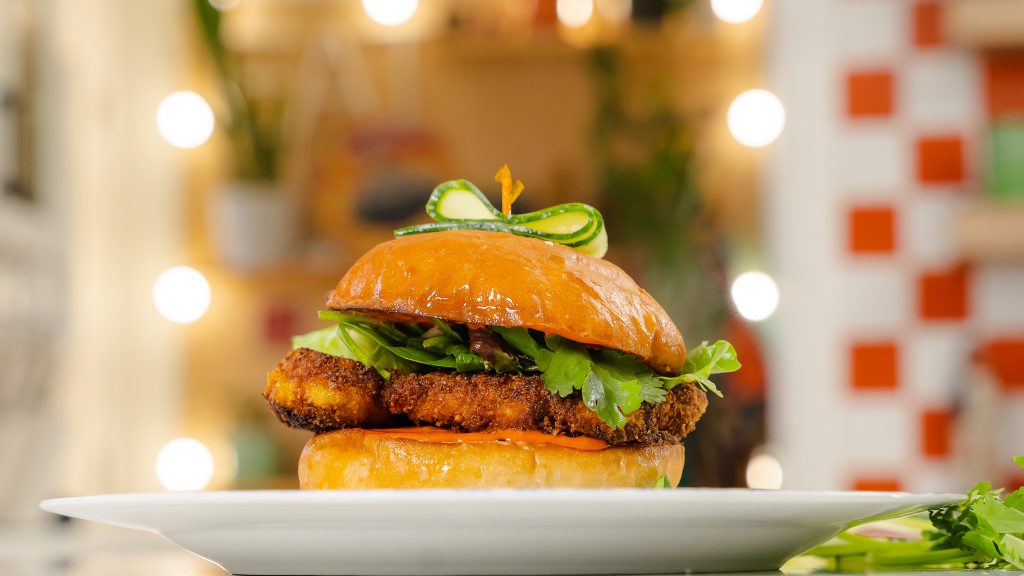 Pan frying your chicken
For this recipe I shallow fry the chicken in canola oil. Shallow frying means using less oil than deep frying. You will add in 4-5 tbs of oil into the pan and fry both sides of the chicken thigh for about 4-5 minutes. Both sides should end up golden brown. Once the chicken is done cooking, remove from the oil and let drain on a cooling rack or a piece of paper towel. Be sure to season with salt immediately after frying.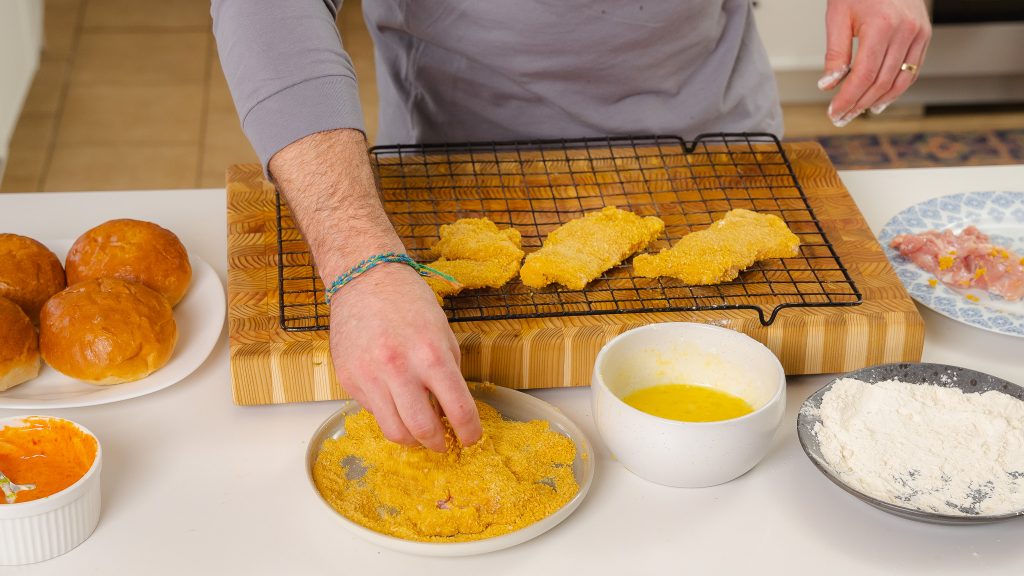 Fresh Cucumber Herb Salad
Good cooking is all about playing with contrasts. Contrasts in temperature, flavour, and texture. This cooling, fresh salad balances out the crunch and spice from the chicken and the gochujang mayo and is the perfect addition to this burger. All i did was thinly sliced cucumbers, tossed it with cilantro, salad mix, and then seasoned with some lime juice and sesame oil.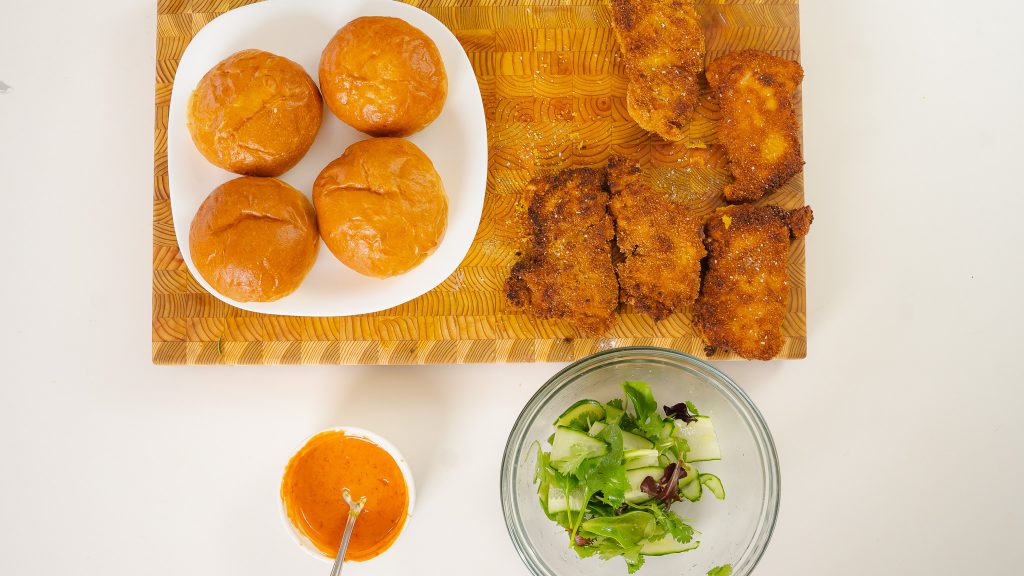 Other Asian inspired recipes from my site you should try
Crunchy chicken gochujang burgers
Print Recipe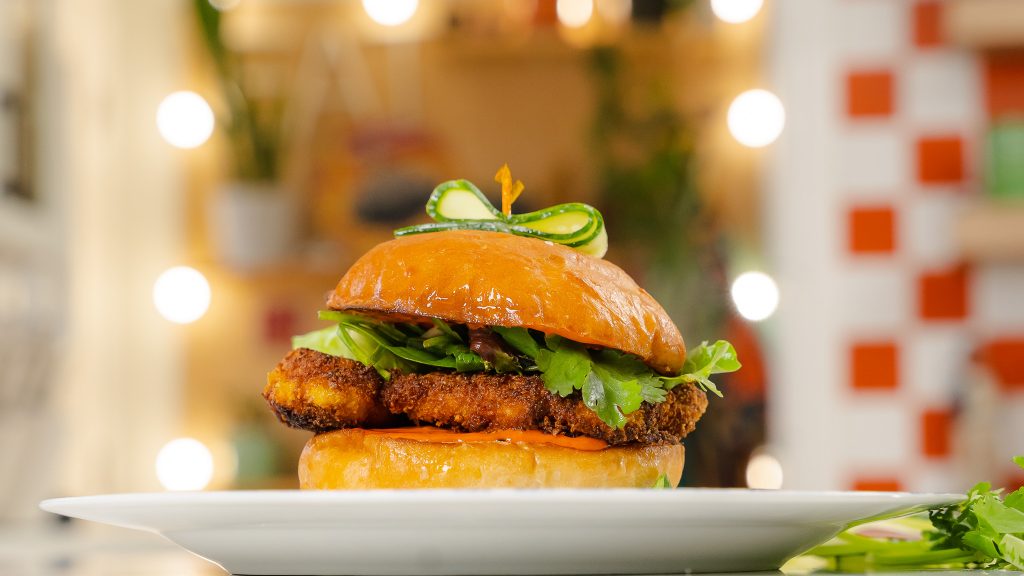 Ingredients
Gochujang mayo 
3

tbs

Gochujang paste

4

tbs

Mayo

1

lime, zested and juiced
Burgers
4-6

boneless skinless chicken thighs

1

cup

all purpose flour

1

tsp

salt

2

eggs, scrambled in a bowl

2

cups

corn flake crumbs

1/4

cup

vegetable oil for cooking

4

buns
Cucumber salad
1

cup

thinly sliced cucumber 

1/4

cup

cilantro

1

cup

spring salad mix

1

lime, juiced

1

tsp

sesame oil

1

pinch

salt
Instructions
Start by making the gochujang mayo. Into a bowl mix together the mayo, gochujang, lime juice, and lime zest. Set aside.

Crush cornflakes in a bowl until their just bigger than breadcrumbs

Crack the eggs into a wide bowl and scramble with a fork. Put the flour onto a plate and season with salt. Put the crushed cornflakes into a third bowl. Dip the chicken into the flour first, followed by the eggs, followed by the cornflake crumbs.

Place a large frying pan over medium heat and pour in ¾ inch depth of oil. When hot, add the chicken pieces and cook for 5 minutes on each side. Once cooked remove from the pan and allow to drain on a cooling rack or paper towel

Slice up your cucumbers, roughly chop your cilantro, and toss into a bowl. Add in the spring salad mix and then season with lime juice, sesame oil, and a pinch of salt.

Split buns in half, toast them in a hot frying pan, and then smear on the gochujang mayo, followed by the crispy chicken, the cucumber salad, and then the top bun
Print Recipe
(Visited 3,363 times, 4 visits today)