These ginger beef noodles are a wildly delicious, really easy, crowd pleasing meal you are definitely going to want to add to your rotation. Slammed with flavour, great texture, this noodles will become something you crave on a regular basis!
Let's talk beef
For this recipe I used a striplion steak. I chose this cut as it has a nice amount of fat, which as we know equals flavour! Always look for steaks that have white fat marbling and healthy bright red colouring. The exact cut doesn't really matter for this dish, use whatever cut you can get your hands on.
Prior to cooking the beef I sliced it into bite sized chunks and tossed it in a ziplock bag with rice flour (any flour works), salt, and pepper. I do this as the flour with help crisp up the beef as well thicken up the sauce we add in.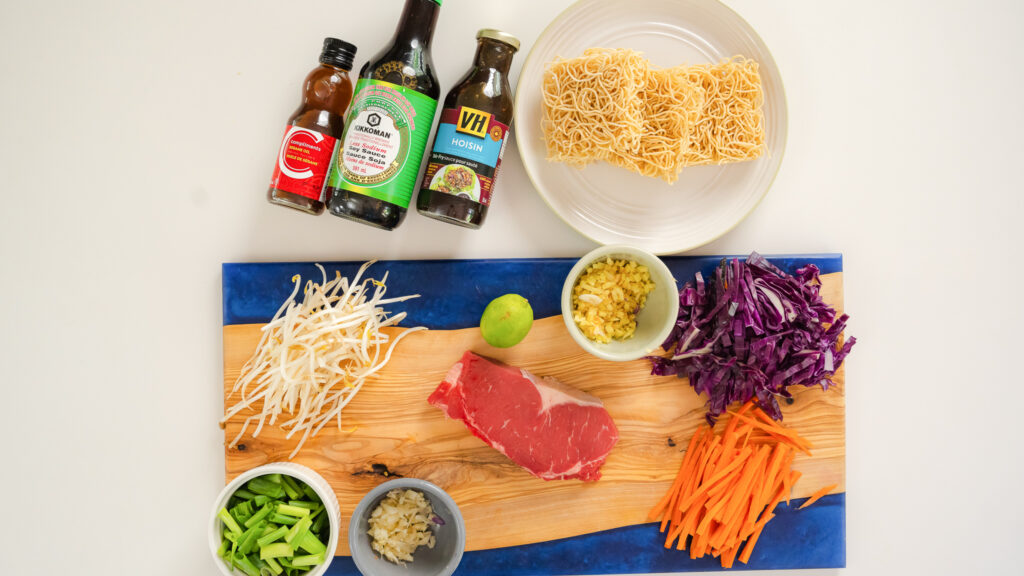 Let's break down the ingredients
So we already talked beef, but keep in mind that this dish works with any protien. Chicken, shrimp, tofu are all amazing options for this dish. Make it your own!
I love this recipe as it is an amazing way to use up whatever vegetables you have in the fridge. I like using brightly coloured veggies as they are packed with nutrients, as well as visually appealing to the eye which is important! Carrots, bean sprouts, and red cabbage are my go to's.
I definately don't skimp on the aromatics for this dish. I am always heavy handed with the garlic, ginger, and green onions. These foundational flavours can make any dish you prepare taste incredible. Don't be shy, and always try to use fresh garlic and ginger!
Noodles! I keep this easy and use 2 packages of instant ramen noodles. Nothing fancy, but they work perfectly!
Lastly, let's chat about the sauce. Nothing fancy here, all i did was pour in some hoisin, which has a lovely sweet and savoury flavour, soy sauce, sesame oil, and sriracha. The balance of sweet, salty, savoury, and spicy is very addicting! You have been warned 🙂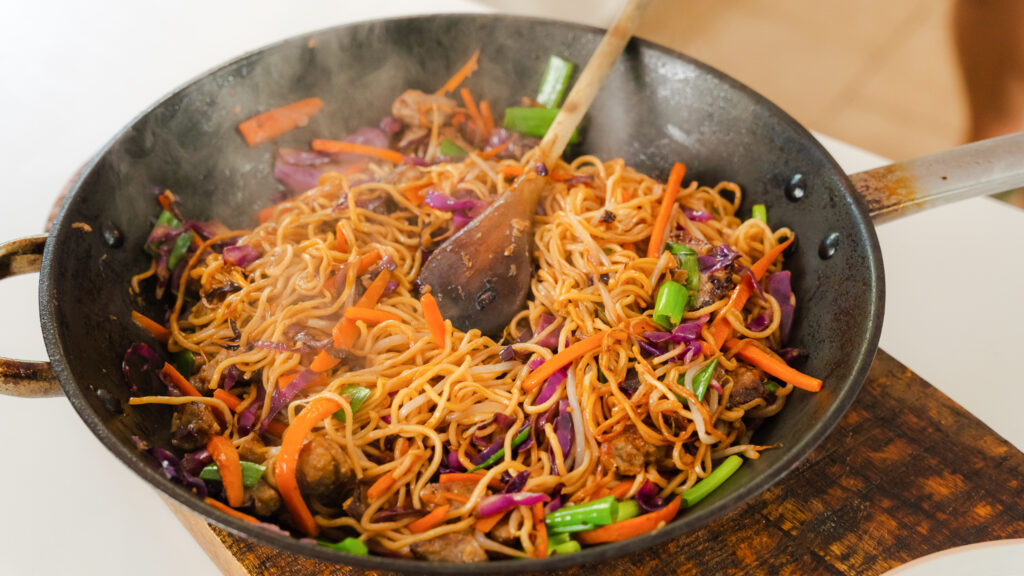 This is a great meal to make on a busy weeknight, or it is also a fun one to make when guests are coming by! Fun flavours, easy to make, and generally is loved by everyone!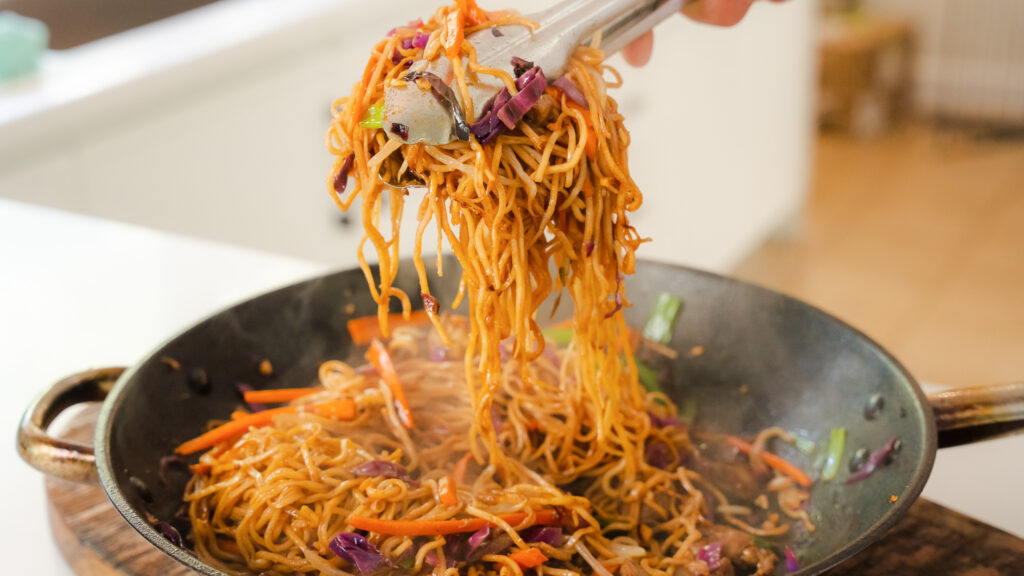 These ginger beef noodles are amazing as left overs as well. Simply reheat in the microwave or in a pan and enjoy the next day! Talk about a lunch you can be excited about!
Ginger beef noodles
Print Recipe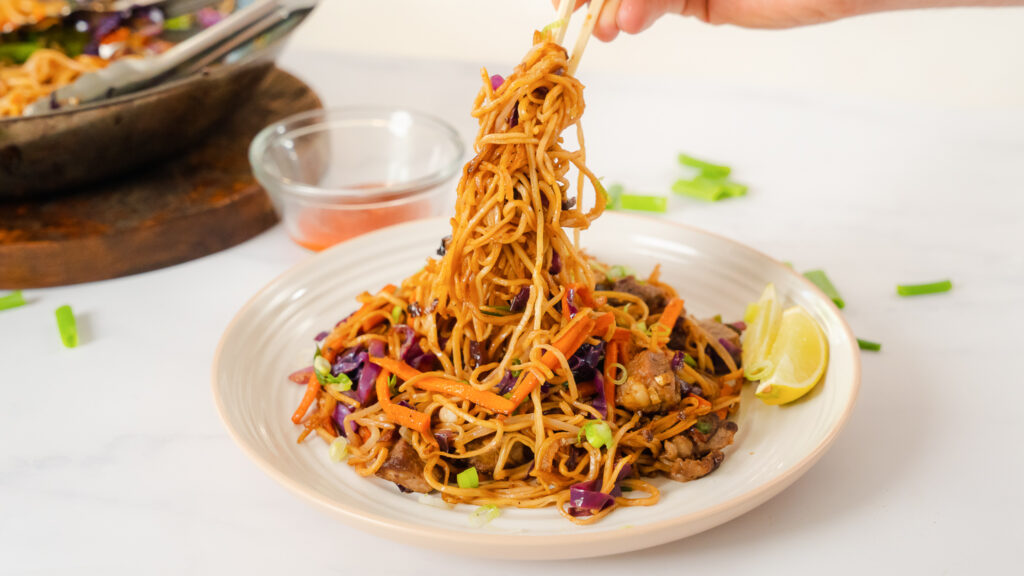 Ingredients
Stir fry
1

cup

Carrots, thinly sliced

1

cup

bean sprouts

1

cup

red cabbage, thinly sliced

1 1/2

inch

ginger, minced

4

cloves

garlic, minced

1

cup

green onions, sliced

2

packages

instant ramen noodles
Beef
1/2

pound

steak, sliced

I used striplion

1/4

cup

rice flour or corn starch

1

tsp

salt

1

tsp

black pepper
Sauce
1/3

cup

hoisin

1

lime, juiced

3

tbs

soy sauce

I like low sodium

1

tsp

sesame oil

1

tsp

sriracha
Instructions
Start by prepping all of your veggies, aromatics, and beef. Once beef is sliced into bite sized chunks, toss into a plastic bag along with the rice flour or corn starch, salt, and pepper. Toss until beef is coated.

Bring a pot of water to a boil and cook the ramen noodles. Once soft, drain out the water and set aside.

Place a large non stick pan over high heat and add 1 tbs of oil. Once pan is at temperature drop in the coated beef and fry until browned, about 4 minutes. Remove beef from pan and set aside.

Using the same pan drop in the garlic and ginger and saute for 1 minutes. Now add in the veggies and stir fry for about 3 minutes.

Next up, add in the noodles and beef into the pan and using tongs combine everything together. Now add in the hoisin, soy, lime juice, sriracha, and sesame oil. Stir and toss to combine. Fry for about 2 minutes.

Remove from heat and add on the green onions. Serve hot and enjoy!
Print Recipe
(Visited 45,710 times, 8 visits today)