This is the ultimate take-out order. Singapore Noodles noodles combine a ton of flavours to make a dish that keeps me wanting more. It's a great meal prep option that feels great to eat. If you've never had rice or glass noodles, this is a great recipe to try out. Hope you enjoy!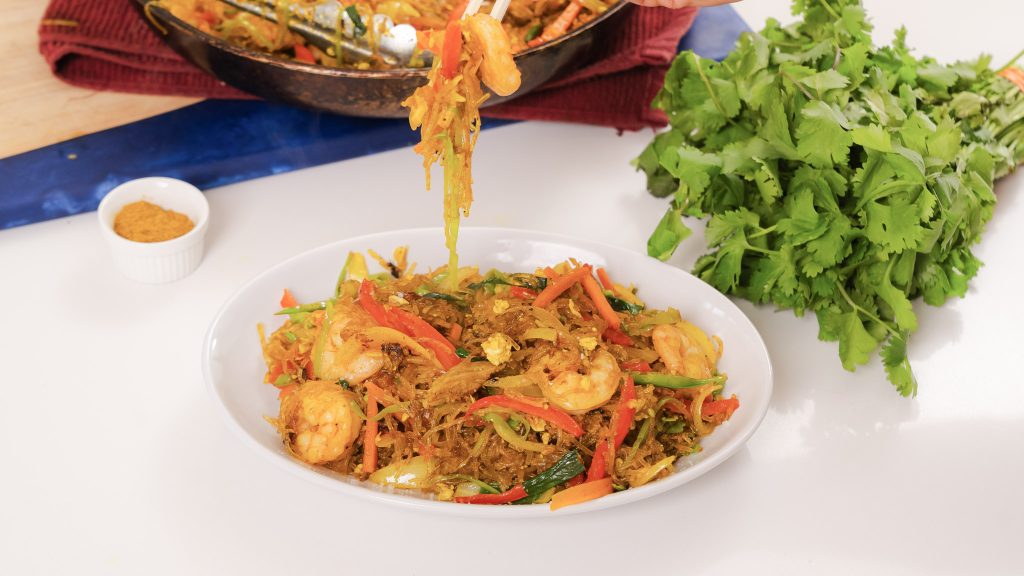 Singapore Noodles – Cooking the perfect egg.
In a dish like this, you want every ingredient to stand out and shine. Adding a quickly scrambled egg is a very traditional ingredient in many Asian recipes, but there is a right way and a wrong way to do it.
1) Make sure your pot is hot. When the egg hits the pan, you want to hear it sizzle and start cooking right away. This allows for a firmer scramble that will stay visible in the sauce.
2) Don't overcook. We want the egg to be cooked, but not to death. Remember, it'll be going back in the pan and will definitely keep cooking. Pull it right as it's firmed up and still bright yellow.
3) Season after. There's something weird that happens to an egg when you season it with salt before it's cooked. It is best to season once it's lightly out of the pan.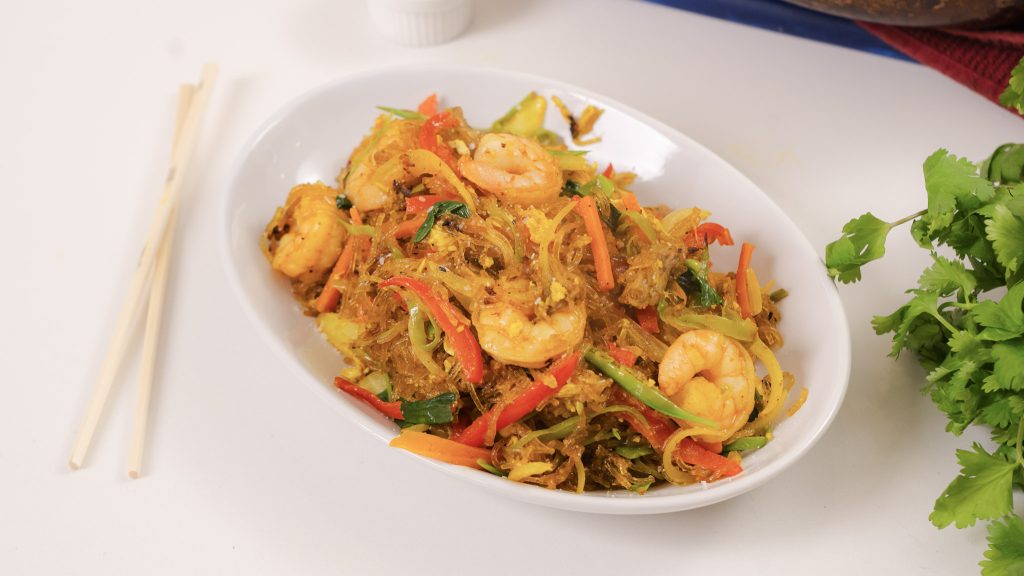 Singapore Noodles – The perfect shrimp.
Shrimp can be difficult to cook; it's super delicate and can become overcooked very easily.
The trick to cooking the best shrimp is by choosing the best cooking methods. In this recipe, we saute them briefly, adding some colour and extra flavour along the way.
The key is to pull them off the heat just before they are cooked. Again, you'll be adding them back into a hot pan; this is crucial to make sure they are nice and tender and not hard little rubber bullets.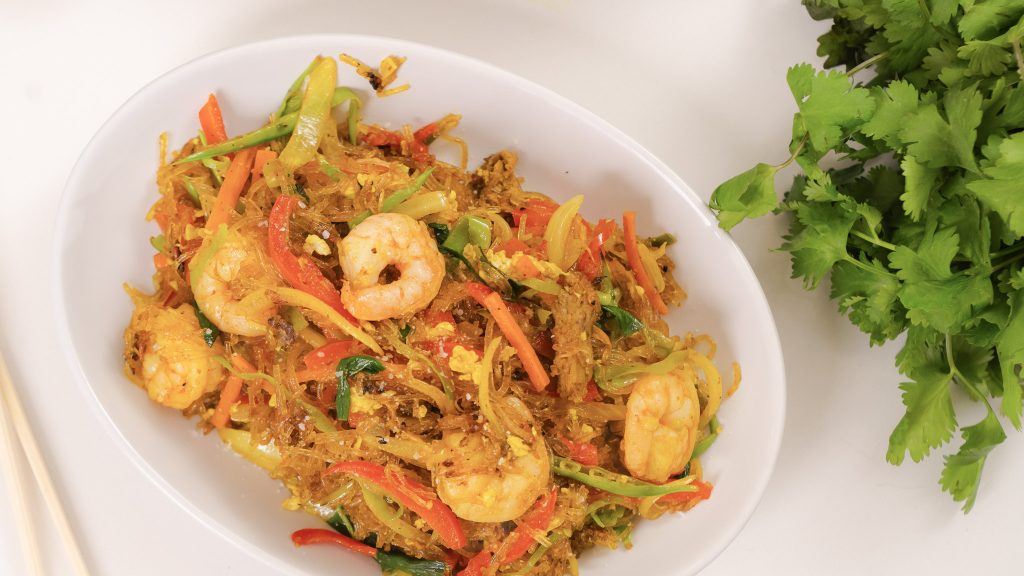 Key Ingredients
The veg: Quickly sautéed to keep a firm texture but soften the rawness. I love this mix of vegetables, and it works perfectly for this recipe.
The noodles: Glass or rice noodles are so fun. It is way easier to cook and has a ton of application in both hot and cold recipes.
The sauce: Quickly made in the pan, its salty and nutty flavours are the perfect final touch to bring everything together.
With one pot dishes like this, it's good to have a reliable pan that will get the job done right. Here's an example of a pan that would work perfectly!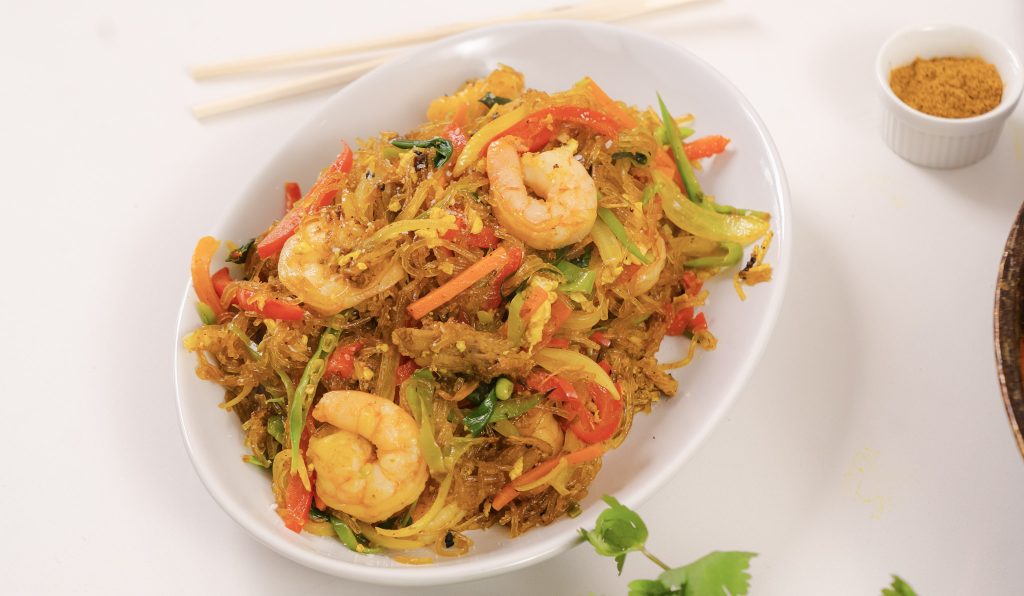 Other recipes to check out!
If you like the sound of these Singapore Noodles, here are a few other recipes to try!
Singapore Noodles
Print Recipe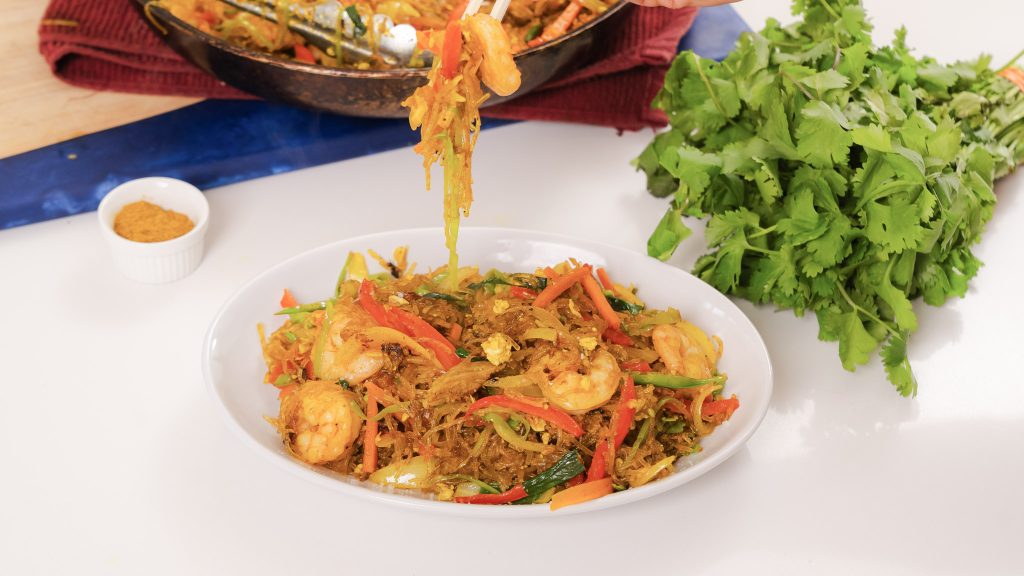 Ingredients
5

bundles

Rice Noodles

1

lbs

Shrimp

1

Bell pepper

Julienned

20

Snap peas

Sliced thin

1

large

Yellow onion

Sliced thin

1

Large

Carrot

Julienned

2

large

Eggs

Scrambled

2

large

Garlic Cloves

2 1/2

tbs

Curry powder

1

tbs

Soy Sauce

1

tsp

Sesame oil

2

tsp

Salt
Instructions
Start by pouring enough boiling water to cover the rice noodles. Allow to sit and cook for 5 min. Set aside.

Place shrimp in a small bowl and season with salt and oil. Set aside.

Place a large frying pan over medium high heat, scramble your eggs and cook until fluffy. remove from the pan and cook your shrimp. set aside.

Into the same pan add in 1tsp of oil along with all of your veggies. Saute until soft and tender. Remove from the pan.

Lastly add minced garlic to the pan, curry powder, your noodles, soy sauce and sesame oil. Saute and mix well, then add your veggies, shrimp and eggs. Mix well and serve hot!
Print Recipe
(Visited 2,848 times, 24 visits today)